SGI has launched the new InfiniteStorage 5600, a next-generation high performance storage platform. SGI has a huge presence in the storage market, delivering over 600 Petabytes of storage last year alone. This next gen RAID platform provides the highest throughput for its footprint, spindle count, watts consumption and investment dollars. Designed to capitalize on many forms of storage, from SSDs to HDDs, this platform is well suited for high performance computing, research and analysis, simulation and modeling.

The flexible modular architecture of this new system allows customers to tune their specific performance and capacity requirements. The IS5600 can intermix multiple drive types and enclosure densities, ranging from 4TB high capacity drives to extreme performance SSDs in a single, scalable system.
With a tremendous advantage in MB/s per spindle over competing solutions, the IS5600 provides higher performance with fewer spindles than any other solution on the market.
The new product is available in three enclosure densities, with 12, 24 and a 4u 60-drive high-density enclosure. Each enclosure can house dual controllers or can be configured as an expansion unit.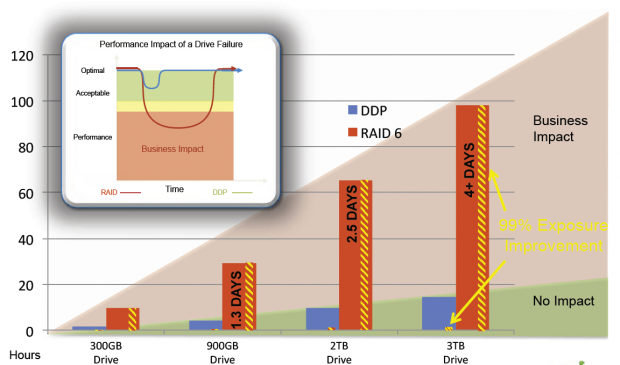 One of the more compelling features of the IS5600 Series is their Dynamic Disk Pools (DDP). These pools allow the customer enhanced flexibility not offered by legacy RAID systems. With typical rebuild times growing exponentially with each increase in HDD capacity, rebuilds have become a huge problem in many environments. This leads to compromised performance from the storage solution for days, and in the right circumstances, as long as a week.
DDP provides 85-90% of normal performance in a degraded state, and only requires a fraction of the time to rebuild the array that typical RAID 5 and RAID 6 architectures require. Even in worst-case scenarios, DDP can reduce the rebuild time by 2X over a RAID 6 implementation. With the continuing
evolution of HDDs, and 4TG HDDS on the horizon, flexible storage solutions that provide faster rebuild times are becoming necessary.
General availability for the IS5600 platform will come in April of this year.