Galaxy S IV benchmarks leaked, dominates the competition
Samsung Galaxy S IV benchmarks leaked, is an undisputed champion.

Published Wed, Feb 27 2013 7:35 PM CST
|
Updated Tue, Nov 3 2020 12:24 PM CST
Samsung is set to launch their competition crushing Galaxy S IV in just over two weeks time, but now we have some benchmarks to share with you. It looks like Samsung's upcoming flagship smartphone has enjoyed some leaked benchmark scores, with a result posted to Browsermark's database today.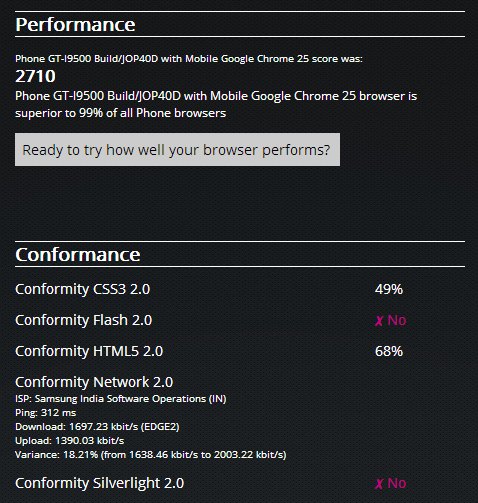 In raw CPU performance, it completely demolishes the competition - scoring 2710 using Google Chrome 25. The previous champion? Apple's iPhone 5 with 2416 using Safari. Samsung's Galaxy S III LTE model scored 2359. If these results are true, the Galaxy S IV is going to be a true powerhouse of a smartphone, and you can't complain at that.
The other thing to remember is that there won't be much in the form of competition against it, as any phone that would trump it would require even faster internals. Sure, we have the Snapdragon 800, Tegra 4 (and 4i) coming, as well as Samsung's own Exynos 5 Octa, but the Galaxy S IV is going to be here, very soon. Those other SoCs are months away.
Related Tags