SMART has announced the new 1.8" SAS Enterprise-Class Optimus SSD. This SAS SSD features random speeds of 100,000 read IOPS and 45,000 write IOPS. Sequential read and write speeds are 500MB/s.
Perhaps the most interesting aspect of this SSD is the intended market. This small form factor SSD is designed for blade servers, caching and other high-density computing environments, which typically have space constraints. Providing smaller robust solutions will address the needs of this market segment. Another impressive feature is the density, with this SSD coming in capacities of 200GB and 400GB.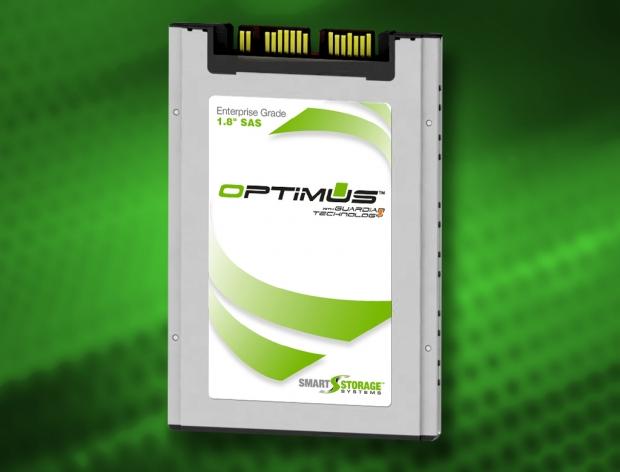 The new Optimus 1.8" SAS SSD leverages the Guardianâ"¢ Technology Platform to provide the endurance and feature set required for enterprise environments. A comprehensive suite of proprietary features, the Guardian Technology Platform is comprised of FlashGuardâ"¢, EverGuardâ"¢, and DataGuardâ"¢ technologies. FlashGuard, an innovative combination of Aggregated Flash Management and Advanced Signal Processing technologies, enables commercial MLC Flash to achieve higher endurance levels, making it suitable for the enterprise environment.
DataGuard and EverGuard technologies ensure that data integrity and drive reliability are never compromised, satisfying the demanding reliability requirements of Tier-1 enterprise storage applications. Additionally, Optimus features full T10 DIF support and TCG enterprise encryption, resulting in an optimal blend of endurance, performance, reliability and value.
The result is endurance equaling 10 full drive writes per day during the warranty period of five years. SMART Storage Systems SAS SSDs are just one facet of their product line, with many different form factors and SAS/SATA SSDs to address different workloads.