Survey says 10% of Netflix subscribers have watched House of Cards, average 6 episodes watched
Data suggests original programming may pay off for Netflix, users less likely to cancel.
Published Tue, Feb 19 2013 6:31 PM CST
|
Updated Tue, Nov 3 2020 12:24 PM CST
It looks like House of Cards has been a success with Netflix, at least according to data from Cowen and Company. According to their survey of 1,200 people, 28 percent were paying Netflix customers with an additional 18 percent having access to a Netflix account. Their data shows that 10 percent of those users have watched at least one episode of House of Cards during its first week.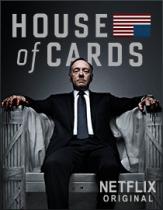 On average, six episodes were watched by a user. Most people--80 percent--responded that the series was "good" or "exceptional." Netflix releasing all 13 episodes at once was also received positively, with 90 percent watching more than one episode per sitting.
The data suggests that Arrested Development could be even better for the company, with the largest group of users being aware Netflix is bringing the show back. 19 percent of the 1,200 surveyed were aware of House of Cards. 34 percent were aware of Netflix's original content plans.
Here's the good news for Netflix: 86 percent surveyed said they would be less likely to cancel after watching House of Cards. It looks like original programming might just pay off. Have you seen House of Cards? Are you more likely to keep your Netflix subscription because of it? Let us know!
Related Tags