EA's Origin game management software (a competitor against Valve's Steam) features some of the biggest titles in PC gaming and up until now, it has been limited to Windows PC users only. That all changed today as EA officially announced Origin for Mac (Alpha).

In a release this morning, Origin said "With Origin for Mac we'll be able to offer the same Origin experience and features that define our PC app - cloud storage, auto-patching, friends list, and more". While the alpha testing is open to the public, don't expect to download Battlefield 3 just yet. The game store is blocked until the official launch.
You may notice that the Origin Store tab is not yet live in this alpha trial; rest assured, the store will be live-with a great catalog of EA and partner titles-when we formally release the client. Additionally, we're not yet able to provide the same one-click streaming live to Twitch in Origin for Mac (we'll be adding this as soon as possible).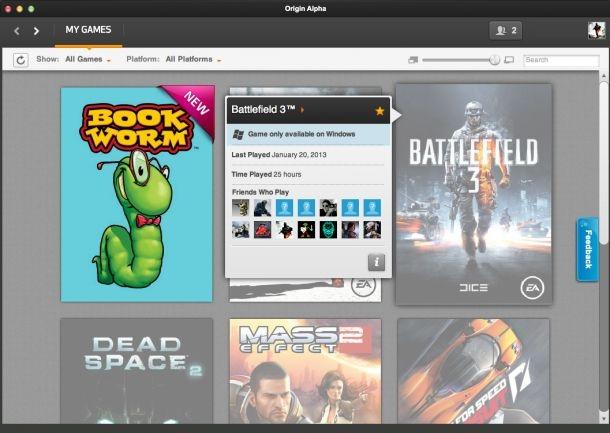 Otherwise, the Mac client feels and behaves exactly like the PC version. Just like PC gamers, you'll be able to add non-Origin games to your library, use the Origin In Game overlay, chat with friends across platforms and games, and can continue your saved progress from any Origin-enabled Mac. In order to make sure you can get the most out of this alpha trial, we've added a free copy of PopCap's smash hit puzzle game, Bookworm, to your My Games library. This game is yours to download and keep, on us. We hope you enjoy it.