Aaron Swartz took his life a couple of weeks ago and we have now seen hacktivist collective Anonymous making a strategic move by hacking a US government website related to the justice system.
They posted on the site informing everyone they would begin leaking a cache of government documents if the justice system is not reformed. Anonymous hacked the website for the United States Sentencing Commission late Friday, where they posted a message about what they're calling "Operation Last Resort", which included a bunch of downloadable, but encrypted files that they say contain sensitive information.
Anonymous' statement reads:
Two weeks ago today, a line was crossed. Two weeks ago today, Aaron Swartz was killed. Killed because he faced an impossible choice. Killed because he was forced into playing a game he could not win -- a twisted and distorted perversion of justice -- a game where the only winning move was not to play.
Anonymous have encouraged their followers to download the files on the hacked site, which includes a set of nine downloads named after the US Supreme Court's nine justices and collectively referred to by Anon as a "warhead". They continue:
Warhead-US-DOJ-LEA-2013.AEE256 is primed and armed. It has been quietly distributed to numerous mirrors over the last few days and is available for download from this website now. We encourage all Anonymous to syndicate this file as widely as possible.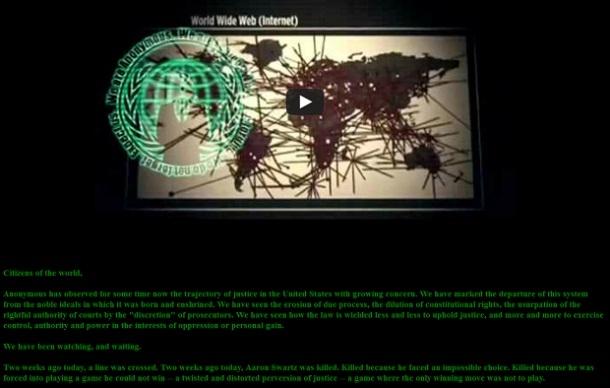 The information within these encrypted files can only be accessed with a decryption key, with Anonymous saying it didn't want to really provide the key to its followers, but mentioned "collateral damage" as a result of any leaks and said "it is our hope that this warhead need never be detonated".