Lego has announced that they will soon be offering up the next-generation of their Mindstorms line. The new system, which is the third-generation of its line, will be the EV3. EV3 sports a bunch of improved features in both hardware and software, where it's headed to the classroom and will also be used in Lego League competitions. Soren Thomsen of LEGO Education told Forbes: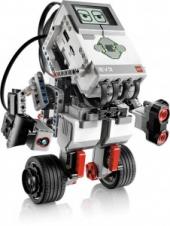 We gathered information from teachers and coaches to meet their needs. This is a strong new kit that should last for a lot of years.
Some of the new features being built into EV3's kit include Wi-Fi and Bluetooth connectivity, the ability to add memory to the units - which is something that the Lego League teams have been asking for - as well as the file sizes of the programs being streamlined. The new EV3 has a 3D instruction manual which should make it easier for users to see all the pieces from all angles, allowing them to design and construct their own robots.
The EV3 is available right now for preorder and will ship in the fall semester of 2013.