CES 2013 - IDT revealed new hardware today that is focused on impending NVMe products. IDT is leading the charge to provide controllers powering the first wave of NVMe equipped SSDs.
First up we noticed the IDT reference SSD board. This is a 2.5" form factor SSD which can be used in numerous applications. This reference board is provided as a template for resellers to manufacture and pattern their own devices after. This SSD will be used in enterprise applications, and actually connects via the PCIe interface.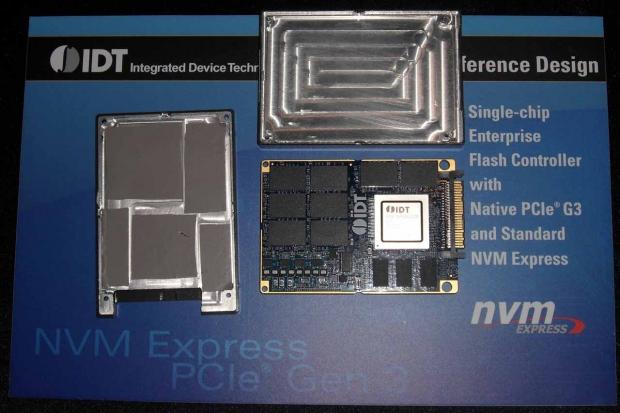 We were allowed to pop off the cover of the SSD, and it is a very heavy milled chassis. There are also thermal pads that shed heat into the heavy milled chassis. The thickness of the case and the thermal pads point to a processor that while powerful, probably creates a bit of heat. Heat typically correlates directly to power draw, and unfortunately we do not have power draw figures for this controller.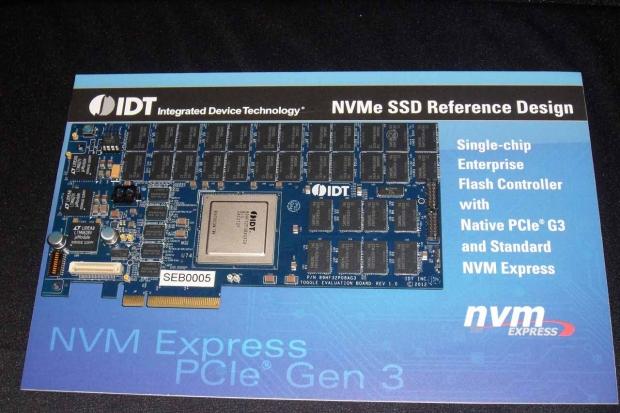 This is a reference board PCIe board that aggregates the performance of large banks of NAND flash using the more efficient and lower latency NVMe connection. The PCIe 3.0 x8 32 channel PCIe controller bears the official designation 89HF32P08AG3. Look for similar designs to be powering your local datacenter as NVMe moves closer to actual deployment later in the year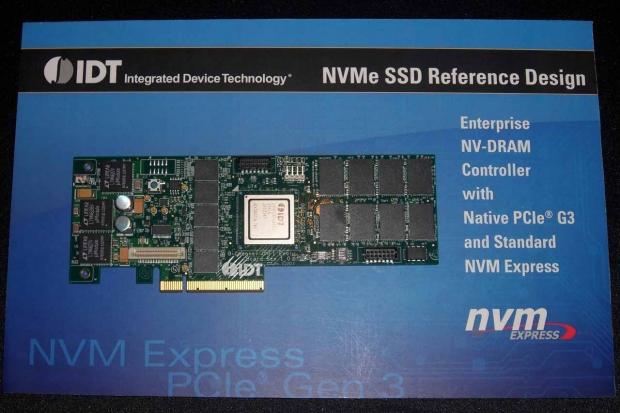 The newest product revealed is the DRAM based NVMe controller. The PCIe gen 3 NVMe DRAM controller allows 32GB of DDR3 SDRAM and 8 channels of NAND to work together in concert to deliver some of the highest bandwidth available from any single PCIe device. The longevity and endurance of the DRAM is miles ahead of NAND, but DRAM unfortunately suffers from its volatility, meaning that it loses its data when powered down, either intentionally or unintentionally. By pairing the DDR3 with the NAND, the data utilized within the banks of DRAM can be flushed to the NAND in the event of a power disruption.
This device reads and writes at speeds up to 3GB/s, but with latency figures that will trump any QOS offered by a typical NAND-only device.