Toshiba launch new MG series of HDDs, includes self-encrypting models
Toshiba unveils new MG series of HDDs, available in up to 4TB.
Published Nov 28, 2012 9:51 PM CST
|
Updated Tue, Nov 3 2020 12:26 PM CST
1 minute & 11 seconds read time
Toshiba have just announced new models in their MG series of HDDs, which includes both SATA and SAS drives. The SATA models arrive in the form of the MG03ACA400 and the MG03ACA400Y, with the SAS drives following with the MG03ACA400 and the MG03ACA400Y models. All four models come in 4TB, which is the company's largest capacity drives to date.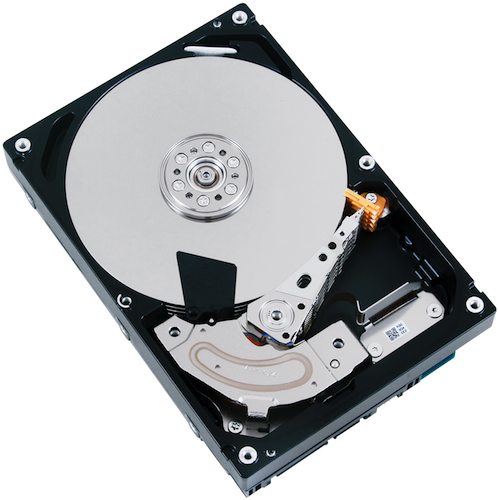 Toshiba are pushing the MG series as the perfect partner for "RAID storage and arrays, tiered virtual infrastructures for public and private cloud deployments, archives, and disk-based backup and data protection solutions." The drives feature Toshiba's latest five-platter mechanical design, with the new 4TB offerings providing a 100% increase in capacity of Toshiba's previous models, which were only 2TB in size.
Not only do the new SATA and SAS models offer double the capacity, but they also offer performance improvements, as well as sporting better power efficiency.The new drives come in the usual 3.5-inch form factor, and offer up to an 18% increase in sustained transfer rates for both the SATA and SAS models, as well as featuring power management features that are designed to lower power consumption during off-peak activity periods.
The company are offering optional SATA self-encrypting (SED) models which will offer fast and secure cryptograhic erase using both the latest T13 SANITIZE crypto-scramble and the older T13 ATA Security Erase command protocol. The optional SAS-based SED models offer support for both the T10 SANITIZE crypto-erase feature, as well as the Trusted Computing Group Enterprise Security Sub-Classification protocols. These security technologies offer "nearly instantaneous" cryptographic erase of users' data, which enable fast and secure device retirement or re-deployment. Using SEDs can waver the need of time-consuming data overwrite cycles, reducing IT department expenses associated with secure data destruction and device sanitization.
Related Tags