Where's Vin Diesel? Because the fast, and the furious just arrived in the form of a new SSD from Texas Memory Systems (TMS). The company has announced the world's fastest PCI Express-connected, flash-powered solid-state drive, the RamSan-70.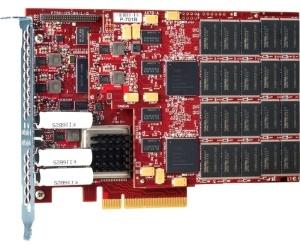 TMS' RamSan-70 uses 685GB of single-level cell (SLC) NAND flash parts, which only 450GB of usable. The rest is given to overprovisioning and RAID parity storage for reliability and performance purposes, as well as sporting a pretty decent PowerPC CPU.
TMS also claim that the RamSan-70 can reach an astounding 2,500MB/sec sustained read, with anywhere between 300K-1,200K read input/output operations per second (IOPS). This is all backed up with a write latency of 30 microseconds,with bandwidth being sustained through a PCI Express 2.0 x8 slot. Isn't that the hottest few lines of text you've ever heard regarding storage? I think so.
TMS also claims that the the RamSan-70 is the fastest flash-based SSD around, considering rivals OCZ with their RevoDrive 3 maxing out at just 1GB/sec read and 130k write IOPS. Comparing that to TMS' solution, it now feels slow.
But, the RamSan-70 is aimed mainly at the professional market, considering there's no cost yet, it could cost you an organ. But, can it run Crysis?