With construction completed on Facebook's new datacenter in Forest City, NC, Facebook has flipped the switch in one of the buildings and now it is serving Facebook traffic. The new datacenter broke ground in November 2010 and should be fully operational by the end of the year.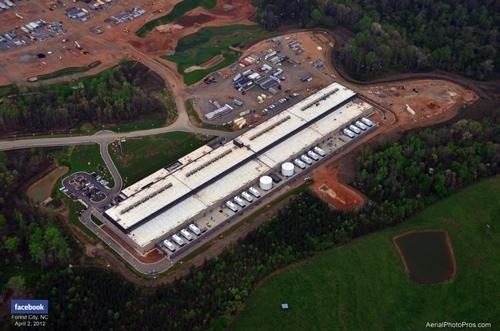 The datacenter is composed of two buildings which house the first major deployment of the v2 Open Compute Project web servers. These servers are based on Intel's lower power Sandy Bridge architecture. The whole of the datacenter was designed to conserve energy, hence the new web servers. The climate in North Carolina will test Open Compute's outdoor air cooling system, as the humidity and temperature is outside of what is normally needed inside a datacenter.
The datacenter stands as a trophy to Facebook's ongoing success as the servers are needed to power Facebook for its 845+ million users. The timing of the opening of the facility is almost perfect because Facebook is nearing an initial public offering which could value the company somewhere around $100 billion.