Samsung's 5.3-inch GALAXY Note smartphone is enjoying a life of great sales numbers, user feedback and now, an Ice Cream Sandwich update that is imminent. Samsung have shown off the GALAXY Note ICS update, which provides a slew of new features and options.
S Note is included, which is a unique tool that combines your notes and sketches with other digital content, this gives GALAXY Note owns a new way to create stories. Also included is the ability of shape- and formula-match functions, instant digitization of tables, and grids as well as knowledge search engines. S Note seems quite powerful with 7 easy-to-use templates including Note, Meeting Note, Idea Note, Magazine, Travel, Diary and Recipe. Each with a new style and layout.
S Note also sports a floating "Productivity tools" bar, which can be moved with the S Pen like you would click-and-drag within an operating system like Windows or OS X. From here, you can use the S Pen to draw shapes within a plan, such as boxes, and even if the boxes aren't dead-straight lines, Shape Match has automatic shape correction and will on-the-fly correct your shapes to perfect squares, triangles, and more. S Note also has the ability of letting you choose from existing shapes, creating your own, and easily editing the size and color of the shapes, too.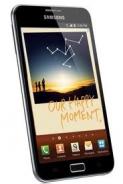 Formula Match allows you to quickly handwrite a mathematical formula, which then goes to Wolfram Alpha and pulls down the relevant answer. The same can be said for Knowledge Search which lets you easily perform a knowledge search on a brand such as "Samsung", where you can just write what you want to know about, and it will provide all of info you need.
One of the standout features is the ability to easily annotate and save PDF documents. It's simple as pie, where you can handwrite info, export to PDF, and send it through e-mail, and more. Importing PDFs is just as easy. Watch the video for many other additions, it seems Samsung have really spent their time with this one, folks.