The latest iPhone app to hit is 'Black SMS'. What does it do? Well, it can keep your text messages covered in a black shroud, until you're ready to read them. Everyone has secrets. Think of it, I know you do. I do. I'm secretly a lady. What? You can't see what I typed there, it has a black shroud over it.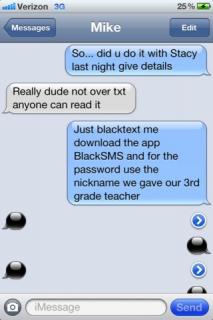 Black SMS is not expensive, either, at just $0.99. The app sends blacked-out messages through Apple's iMessage service, so when you receive a black SMS, you then copy the message from your Messages folder, and paste it into the Black SMS app to reveal what it says. Kind of like a next-gen scratchy.
Even if your iPhone is stolen, Black SMS requires a password to decode the black shroud-laden message. HAHA, pranksters. The app makes a person questionable, though, as if the situation arose that you had secret SMS messages, one would ask what is so secret? But, what if you just didn't want people knowing what you're talking about?
You can get Black SMS directly from the App Store on your iPhone, or, here