CES 2012 - This little bit of news had to wait till I arrived back at home since I don't carry a scanner with me on my work trips. In our meeting Patriot didn't mention the new additions but they were included in the product catalog we were issued. The Patriot Wildfire leap to the the top of our performance charts in our reviews and it was one of the finest drives of 2011. The Wildfire products also included all of the accessories we like to get with our SSDs and included a solid warranty.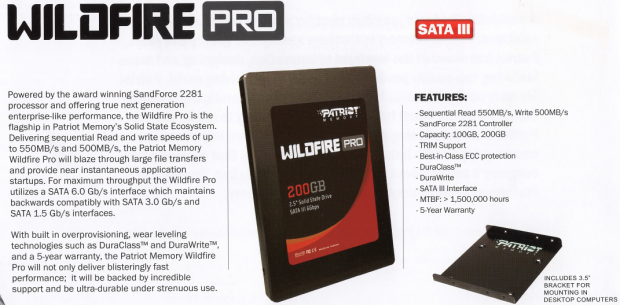 First up is the Wildfire PRO model. The specs of this one are similar to the already reviewed Wildfire other than the user capacity. Patriot has changed the user capacity back to the previous overprovisioning rate found on early SandForce SF-1200 based products, 100GB, 200GB and 400GB. That leaves a lot of space for background tasks and that means these would work really, really well in RAID. Speaking of RAID, we're just about finished up with our RAID Report with 4 Patriot Wildfire 120GB drives that introduces a new test that will be in our 2012 reviews.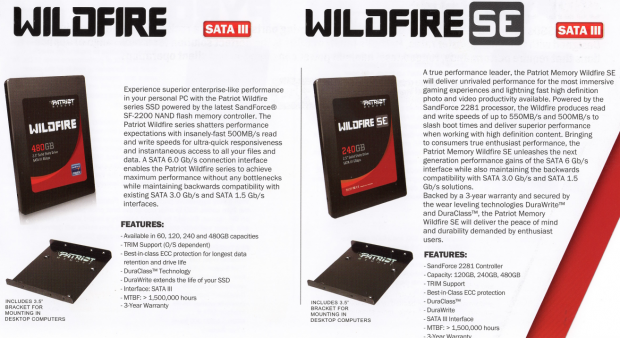 Next up is Wildfire SE. We have no idea what separates the SE from the standard Wildfire but we have some ideas. The original Wildfire used Toshiba 3Xnm Toggle Mode flash. Could this be one of the first SandForce drives with Toshiba 24nm flash? We think so but what the hell do we know.
As far as I can tell we are the first to break the PRO and SE stories. I should mention that none of these products are nailed down in the specs department just yet so let's just wait and see what tips up when we get closer to launch day.