SOPA could mean the end of Reddit
SOPA could ruin the Internet, more specifically, Reddit.

Published Tue, Dec 20 2011 8:59 PM CST
|
Updated Tue, Nov 3 2020 12:30 PM CST
If you haven't heard of SOPA (Stop Online Piracy Act), then I suggest you do some serious reading, because last week the House Judiciary Committee discussed it, and the results of SOPA would not be good, at all.
There was an abrupt end to the markup session on Friday, with a new hearing date set for this week. Opposition to SOPA is growing, with the General Manger of Reddit stepping in and saying that the bill would "almost certainly mean the end" of Reddit.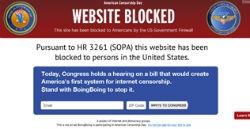 On Wednesday, the House Judiciary Committee will continue discussing SOPA to decide whether the bill should move to the full House. Until then, lobbying groups for and against the bill continue with their efforts to influence the votes of committee members.
Most tech companies and websites support the opposition camps, of course. One of the websites that has backed anti-SOPA efforts from the very beginning is social news community, Reddit. GM of Reddit, Erik Martin has said:
If SOPA passes in anything like its current form, it would almost certainly mean the end of Reddit. It may not happen overnight, but we have a very small staff (~11, mostly engineers), and even dealing with DMCA stuff is a big burden for us," Martin writes in a comment under his username "hueypriest."

SOPA would make running Reddit near impossible. And we have access to great lawyers through our parent company. I can't imagine how smaller sites without those kind of resources could even attempt a go at it if SOPA passes.
One of the main issues with Reddit and SOPA, is that the site includes millions of users and thousands of sub-committees, most of which link to copyrighted material. This content can be anything from photographers' copyrighted images, copyrighted YouTube clips, or even copyrighted movies hosted on a third-party site.
For more of an in-depth read, I suggest checking out the source material, and after that, definitely take a look around at some other articles on SOPA to see just how it will really effect the Internet as we know it.
Related Tags