Microsoft shows off Omnitouch, turns any surface into a navigatable touchscreen
Microsft unveils Omnitouch touchscreen surface
Published
1 minute & 15 seconds read time
Microsoft researchers have unveiled Omnitouch, a new system that uses a Short-Range Depth Camera together with a Pico-Projector and turns any surface area into a navigatable touchscreen. Microsoft, in a joint project with Carnegie Mellon University reveals that the technology works in a similar way to Microsoft's Xbox Kinect, but is "modified to work at short-range" to track finger movements.
In the video below, you can see that the projector superimposes a virtual keyboard image onto a hand, arm, notepad or wall, which a user can tap or drag their fingers and access it like a normal touchscreen device. Of course, in its test stages, it looks completely dorky, but this is some future tech.
It shows a shoulder-based system, with a Kinect sensor sitting on the users shoulder, as well as the Pico-Projector, with the demonstration showing how "you can tap on your hand or drag your interface out to specify the top left and bottom right border," explains researcher Hrvoje Benko.
Benko goes on to say:
All this stems from the main idea that if everything around you is a potential interface, then the first action has to be defining an interface area. The surface area of one hand alone exceeds that of typical smart phones. Tables are an order of magnitude larger than a tablet computer. If we could appropriate these ad hoc surfaces in an on-demand way, we could deliver all of the benefits of mobility while expanding the user's interactive capability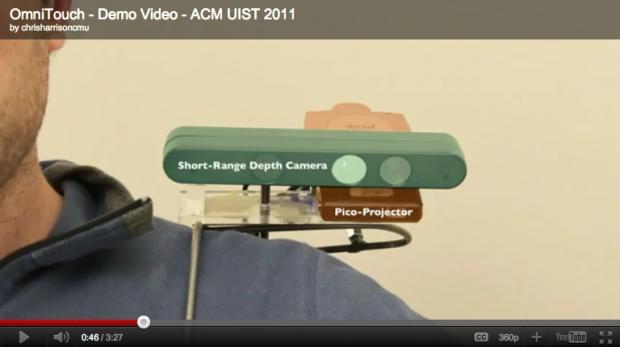 Benko suggests that he can see a future where people would actually strap these devices to themselves and embrace the technology. I really don't see this type of technology happening anytime soon, shoulder strapped cameras and Kinect sensors? But then again, one-hundred years ago people would never have imagined the Internet, touchscreen phones, high-end gaming, LCD/LED TVs, etc.
Related Tags