A little birdy has leaked out some specs on AMD's next generation Radeon HD 7000 series of graphics cards, though the information is most certainly still questionable at this stage with the lack of confirmation on any of it.

Codenamed Southern Islands, these next-gen chips will be 28nm (TSMC) based and as the chart above denotes, sitting at the top of the hill is the dual GPU wielding HD 7990. As per tid bits of info on the two Tahiti XT/Pro Cores the card will use, the max stream processor count is estimated to be around 4000 ALU, with the card featuring a TDP of >300W.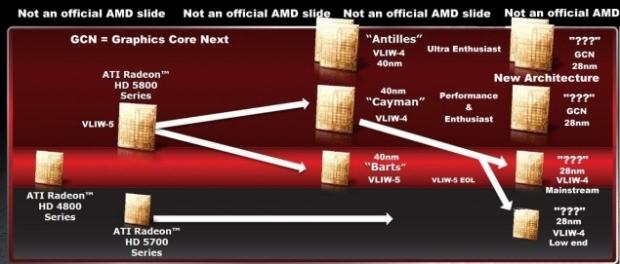 Head on over to the source link for a better idea of how the complete lineup is likely to shape up, with details on 8 known SKUs in the 7000 series shared. But remember, it's all potentially very loose information just at this point, so do remember to take it with a pinch of salt.