DDR4 to make a 2014 debut, takes DDR3 over by 2015
iSuppli says DDR4 will arrive in 2014, takes DDR3 over within a year.

Published Tue, Jun 28 2011 10:00 PM CDT
|
Updated Tue, Nov 3 2020 12:31 PM CST
iSuppli have come out and said that DDR3 modules will remain the dominant DRAM tech throughout 2011 and flowing right into 2012, 2013 and even into 2014 before DDR 4 arrives in its next-generation glory. DDR3 RAM currently represents 85 to 90-percent of today's DRAM market and that will swell to 94-percent by 2013. But in 2014, iSuppli is predicting that DDR4 will emerge out of the flames of the DRAM market with a 12-percent share, within a year they expect this number to expand to 56-percent leading DDR3 with just 42-percent of the market.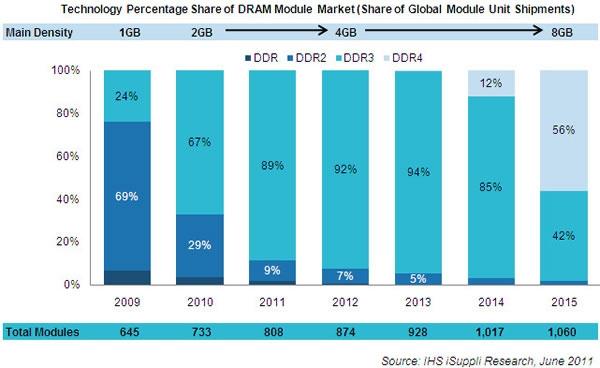 As you can see from the above chart, DDR3 really is the current champion and with 4GB DIMMs available so cheaply these days, it'll be a very hard switch to DDR4 for most people. Keepign in mind that DDR3 launched in 2007, that makes it a seven year life span for DDR3 until it gets some proper competition. Also keep in mind that whilst DDR3 launched in 2007, it was just too expensive for most users to change over to, but we know this has changed considerably over the years. DDR4 will most likely debut at huge prices and eventually fall just like all tech.
Related Tags