Chill Innovation Chill KB-1BT Wireless Bluetooth Micro Keyboard debuts
Chill Innovation's Micro Wireless Keyboard with Touchpad gets released.

Published Wed, Jun 15 2011 8:51 PM CDT
|
Updated Tue, Nov 3 2020 12:31 PM CST
Danish-based Chill Innovation have just announced what they dub "The ultimate Media Keyboard on the Market", a bold statement. The Micro Wireless Keyboard with Touchpad supports not only standard PCs and HTPCs but also Tablet PCs, PDAs, Android and iPhone, iPad, Symbian, Windows Mobile and even the Playstation 3 - not only that, it'll work with any any device that has support for Bluetooth HID keyboards.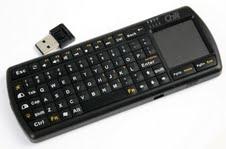 This bit is marketing awesomeness, with Chill Innovation saying it has a "Compact design and high WAF". For a minute, you'll wonder what the heck WAF is, well, WAF is Wife Acceptance Factor. This is a key factor in any marriage, tech that your wife will approve it. The keyboard boasts an impressive compatibility list, as well as standing out from the over-crowded keyboard markt with a compact size that resembles a TV remote yet still holds a fully functional 71 keys keyboard with an integrated touchpad.
The keyboard is also backlit and boasts a powerful integrated LED flashlight which makes looking around in the dark much easier. The keyboard is also equipped with several multimedia keys for easy music and movie navigation. The touchpad direction can even be rotated so that the keyboard can be used with one hand like an ordinary remote.
The Chill KB-1BT Micro Keyboard comes with a small Nano USB Bluetooth Dongle with up to 10-metre range. It is integrated into the keyboard for mobility and is only required for computers without built-in Bluetooth support. Included is a High-Grade Li-Polymer battery has up to 30 days of operation.
If that wasn't enough, the Chill KB-1BT Micro Keyboard can also be delivered with a Laser Pointer instead of the Flashlight.
Related Tags