PNY and Asetek team up for Liquid Cooled GPU solution
PNY and Asetek team up for Liquid Cooled Graphics solution.

Published Tue, Jun 7 2011 9:30 PM CDT
|
Updated Tue, Nov 3 2020 12:31 PM CST
E3 2011
- E3 is not just about games, but graphics that power them also require cooling, this is where the teams at PNY and Asetek have teamed up to provide consumers with a high-end Liquid Cooled Graphics solutions that is geared towards gaming enthusiasts. Enter the XLR8 GeForce GTX liquid cooled graphics system with a combination GPU/CPU version available as well.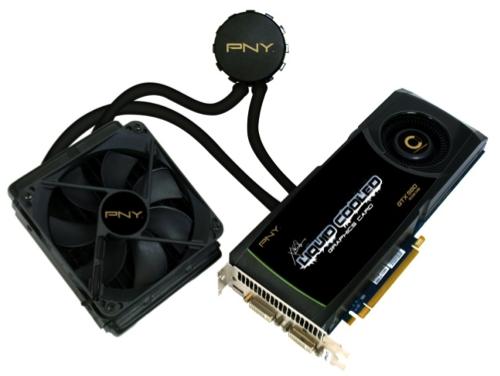 Engineered with a closed loop system and built with an Asetek sealed water cooler already attached, it gives PNY the great pleasure of offering consumers and out-of-the-box ready, simple to install and reliable product. Not to mention, much cooler than traditional cooling systems. This new cooling solution delivers up to 30-percent cooler temperatures, quieter acoustics and faster performance versus the stock reference designed NVIDIA GeForce GTX 580.
Because the GPU is liquid cooled, there is obviously much more headroom for overclocking and because of the lower temperatures that headroom only expands. On top of the overclocking headroom there is also less noise and for gamers this is quite important. A GTX 570/580 GPU can get quite loud when it hits 97C and those of us with SLI know this too well.
The XRL8 Liquid Cooled GTX 580 has an MSRP of $579.99 whilst the XLR8 Liquid Cooled GTX 580 with CPU cooling has an MSRP of $649.99. Warranty wise, PNY offer a 5-year warranty for the Liquid Cooled system, users have a standard 3-year warranty out of the box, extended to 5-years upon completion of product registration on PNY.com within 90 days of purchase. The PNY Liquid Cooled Graphics will be available at the end of June for purchase at select e-tailers, retailers and PNY.com.
Related Tags