Twitter Officially Acquires TweetDeck
Twitter and TweetDeck unite.
Published May 25, 2011 5:06 PM CDT
|
Updated Tue, Nov 3 2020 12:31 PM CST
2 minutes & 4 seconds read time
Twitter has officially won the race with Ubermedia to acquire TweetDeck, the third-party Twitter aggregator. I'm still curious how this is going to play out, as a 3rd-party Twitter app would undoubtedly compete with Twitter's official apps on desktop and mobile, as well as unique views of their social network- but hey, both parties seem pretty psyched about it. We'll start with Twitter's, followed by that of Iain. See the official announcements
here
and
here
.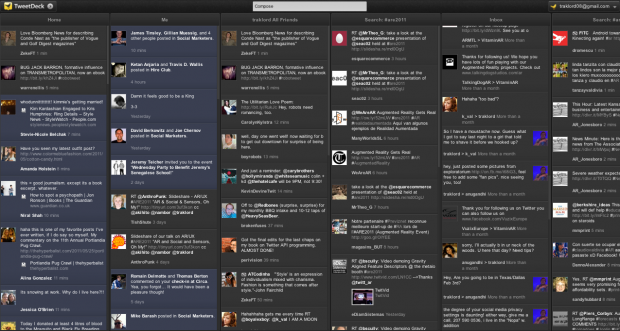 In early 2008, a London-based programmer named Iain Dodsworth began thinking about how to organize everything happening on Twitter. His answer was TweetDeck, a groundbreaking dashboard for monitoring what people are saying in real-time. Today, we're pleased to announce that the TweetDeck team has joined Twitter.This acquisition is an important step forward for us. TweetDeck provides brands, publishers, marketers and others with a powerful platform to track all the real-time conversations they care about. In order to support this important constituency, we will continue to invest in the TweetDeck that users know and love.TweetDeck is a great example of a third-party developer that designed tools for the incredibly important audience of Twitter power-users and, in turn, created value for the network as a whole. As Iain's journey suggests, there is significant opportunity for developers who deliver insights that foster a more engaged Twitter user base. For TweetDeck's perspective on today's news, check out their blog here.
Now from Tweetdeck:
I am extremely happy and proud to let you know that TweetDeck has been acquired by Twitter. We completed the deal on Tuesday and are now in the process of "joining the flock". The past three years have been an epic journey, with many highs and lows, accompanied by the constant thrill of never really knowing what to expect next. We've grown from one team member and a single user, to a team of fifteen and a user-base of millions. The reason for this growth is simple - our unwavering focus on providing high-quality tools and services for the Twitter-centric power-user. This has always been our core audience - the most active, influential and valuable users of Twitter and social media in general. Quality over quantity. It is precisely for this reason that Twitter has acquired TweetDeck. The mainstream Twitter user-base is well catered for by twitter.com and the official mobile clients. And by becoming part of the official platform, TweetDeck will now fill that role for brands, influencers, the highly active and anyone that just needs "more power". Change may well be inevitable, but we remain the same team, staying in London, with the same focus and products, and now with the support and resources to allow us to grow and take on even bigger challenges.

I'd like to finish with a big thank-you to all our investors for their support and guidance over the past few years, especially Betaworks, TAG, SV Angel and PROfounders. And of course a huge congratulations to the whole TweetDeck team - I'm extremely proud of you and this is a huge win for us all.

Time to celebrate!

Iain
Related Tags