Microsoft Unveils App Marketplace For Mango
Mango gets an App Store. WHOOPS! I mean, "Marketplace"
Published May 25, 2011 4:43 PM CDT
|
Updated Tue, Nov 3 2020 12:31 PM CST
2 minutes & 52 seconds read time
Not entirely sure why Microsoft didn't announce this
when they announced Mango
, but hey, today it's
confirmed
: Microsoft Mango will have a Windows Phone Marketplace, just like Apple or Android.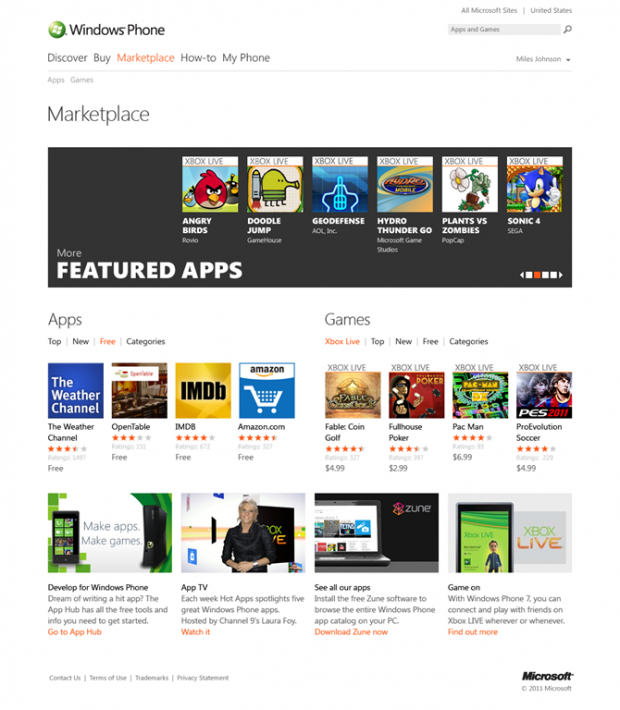 Once again, I don't know what it is with tech firms and naming their operating systems after
edible items
, but the Mango update should bring a lot of new features and functionality to what has been a fairly silent contender in the mobile front. Check out the press release below for more info.
Yesterday at events all around the world, Microsoft unveiled the key features of the next version of Windows Phone, code named Mango. The demonstrations focused on Mango's ability to make it easier to connect and share with friends and family, take the Web beyond the browser and what we think is a smarter approach to apps. Matt Bencke blogged about the new beta developer tools for Mango and announced that we'd be adding a Web-based Windows Phone Marketplace with Mango. As promised, I'm providing some more detail. Also, if you're interested in taking a closer look at some of the new Mango features from a developer perspective, check out the new Channel 9 videos we're posting today featuring Andrew Clinick discussing the application platform, Ian Todd on communications and Jared Brown talking Search.

The Web version of Marketplace will launch with the new OS later this year and give customers another vehicle for discovering your great apps and games. And as a Windows Phone developer, you get all of the added visibility with no extra work. Just as on the phone, customers will be able to browse the full catalog, view screenshots, read application details and reviews and choose from all of the supported languages for that app. This offers customers another way to more thoroughly and confidently browse your apps from the comfort of their PC's web browser. With the Web version of Marketplace, we will also have more placement areas in which to provide featured apps with extra visibility and merchandising possibilities.

In addition to easy shopping, Web Marketplace will also enable customers (and you) to promote your apps among friends, family, partners and social networks. Customers will be able to share their favorite apps via email with a link to the app, embed a link in articles or make a recommendation through Facebook or Twitter; each in just a single click.

Marketplace will also take even greater advantage of the power of Bing and Bing Visual Search. Your apps will appear in search results and be displayed in Bing Visual Search (in countries where available). Customers will be able to browse through the full catalog of apps in Bing Visual Search as they do today, but now when an app is selected it will take them to that app's details within the more comprehensive Web Marketplace.

Buying and installing apps from the Web Marketplace is fast and easy, just like the phone experience. Purchases are charged against the credit card already linked to the customer's existing Windows Live ID. If they prefer, the customer can also opt to assign a new credit card. The apps then download over-the-air to the customer's Windows Phone via SMS or email. Web Marketplace will also be able to maintain a customer's download history to make it easier to reinstall apps (when changing phones, for example). Finally with Parental Controls, parents can determine which apps their kids access based on ratings or keep them from downloading paid apps.

As you can see, we continue to invest in Windows Phone Marketplace to make it more accessible and engaging. We remain equally committed to ensuring a great developer experience based on fair and transparent policies, as well as steadily improving the shopping experience for customers. With the new Web version of Marketplace, we can provide your app with extra visibility, more merchandising possibilities, new end user features that promote app sales and a simplified application purchase experience. By creating more opportunities for customers to get to your great apps, and maybe even discover something they didn't expect to find, we hope to help you make more money and inspire you to continue creating great apps for Windows Phone. To that end, if you haven't already, be sure to check out the new beta tools.

Thank you,

Todd Brix
Related Tags