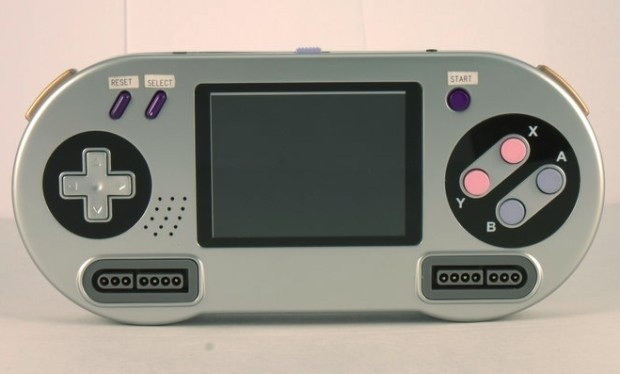 Hey hey hey,
remember when
I was just talking about how amazing the SNES was? Well instead of waiting on Nintendo to ponderously release amazing retro games amidst a sea of irrelevance, why not just check out
Hyperkin's
SupaBoy instead?
It looks like an SNES controller! And it plays SNES games! If you're going to start whining about the 3.5" screen, you probably didn't read the part about how it has Video Out and controller ports for actual SNES controllers. Yeah that's right, you can play any SNES game (that you own or can find) on your flatscreen or, you know, anywhere else you take the SupaBoy with you. It's coming out Summer of 2011, so stay tuned for more information.
Check out the press release for more info.
SUPA' COOL SUPABOY HANDHELD FOR SNES GAMES

Hyperkin Announces Handheld Console Shaped Like a SNES Controller

With a 3.5 Inch Screen that Plays SNES Cartridges

NEWPORT BEACH, CA (APRIL, 2011) - Hyperkin, a rapidly growing 3rd party developer of video game peripherals, has announced the upcoming launch of the SupaBoy Handheld Video Game Console designed for SNES game cartridges. Equipped with a 3.5" screen, the SupaBoy is designed to look like one of the original SNES controllers and has a port built into the top that plays original 16-bit SNES cartridges. SupaBoy is supa' cool!

The SupaBoy will play original SNES cartridges on a built-in 3.5" LCD screen and is designed to emulate an original SNES controller including a D-pad and buttons on the front as well as right and left shoulder buttons. Hyperkin has even included two front loading ports that are compatible with full-size SNES controllers and video/audio out, allowing up to two players to play the SupaBoy on a regular TV screen. How supa' cool is that!

SupaBoy will be compatible with multiple SNES titles including: Super Mario™ RPG, Starfox™, Super Mario™ World, Donkey Kong™ Country, Zelda™, Noah's Ark 3D™, Aerobiz™ and others.

"The SupaBoy is by far one of the coolest products we've developed," stated Steven Mar, Hyperkin's Business Director. "Not only does it look similar to an original SNES controller, it's also compatible with original SNES cartridges. You can even run it through your TV to play it with a friend!" Mar continued: "The SupaBoy is going to blow people away."

PRODUCT HIGHLIGHTS

· Innovative lock feature holds game cartridge securely in place

· Two seven-pin ports in front for wired controllers

· SNES controller design

· SNES Super Scope

· Super Multitap

· Mario Paint Mouse

· Screen size (diagonal): 3.5 inches

· 5.5 Hours battery life

· Measures: 8.5 x 4 x 1.5 inches

· Weight: 11.5 ounces

· Stereo sound

· AV Out

· Headphone jack

· Adjustable volume control

· Launch Date: Summer, 2011

· SRP: $79.99

About Hyperkin

Since its inception in 2009, Hyperkin has been steadily growing as a reliable and innovative developer and distributor of cost-effective video game peripherals. The company's philosophy is simple: make great products at affordable prices. Hyperkin is constantly searching for new product ideas, emerging technologies and innovative ways to enhance the video game experience. Hyperkin believes that its most important asset is its business partners and is dedicated to developing long and successful relationships with each individual client and each individual consumer. The company's executive office is located in Newport Beach, CA. For more information, please visit: www.hyperkin.com or call 877-337-1238