HiSaver power strip uses motion sensing to turn off peripherals
Green power strip uses motion sensing tech to save money.
Published Fri, Sep 24 2010 10:02 AM CDT
|
Updated Tue, Nov 3 2020 12:33 PM CST
Power strips are something that just about every computer user has a few of around the house or office. There are a number of green power strips on the market today that use a switch to turn off all the power to connected devices when not needed. There are also some that are on timers to turn things off at specific times to save power.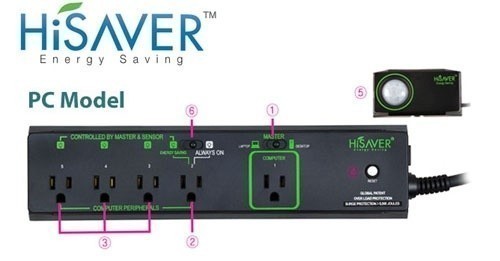 A new power strip called the HiSaver has turned up that uses motion sensing technology to determine when no one is in the room and turn off your gear. The power strip has a motion sensing box that sits on the desk. When it senses no one in the room it waits ten more minutes and then shuts devices attached to three power saving outlets off. The device has one outlet that is always on.
That always-on outlet is for a computer or notebook and one of the four power saving outlets has a switch that can be flipped to turn it into an always-on outlet as well. The HiSaver is a cool green product that will also protect your gear for power surges. It sells for a bit more than $100 and can be purchased right now. The reason for turning off the peripherals is to save power and money on your electric bill.
Related Tags