Aussie iPhone 4 plans unveiled from Telstra
Beginning at $49 up to $99 per month.
Published Tue, Jul 27 2010 4:40 AM CDT
|
Updated Tue, Nov 3 2020 12:34 PM CST
With the official launch just around the corner, details on various iPhone 4 plans are surfacing left, right and centre from all the big providers including Telstra, Optus, Vodaphone and 3.
Telstra were first out the gate to share details of its plans for both the iPhone 4 and the new entry-level 3GS 8GB. There are going to be three plans on offer for these phones, beginning at $49 a month.
The $49 per month plan gives you 200MB of data and $400 worth of talk and text. If you link it to a 24 month contract, you can get the 3GS 8GB on this plan with no upfront charges, whilst the iPhone 4 16GB will set you back $149 up front on this plan and the 32GB model costing $299 up front.
The $79 per month plan gives you the iPhone 4 16GB for free, as well as giving you an allowance of 500MB data and $750 worth of talk and text. If you want the 32GB iPhone 4 on this plan, however, you'll still need to hand over $199 up front.
The third plan on offer is the $99 one which gives you the ability to grab any of the three phones without any up front charges. But otherwise, there are no other real benefits to it. You get $750 of talk and text and you're still pegged to a 500GB data limit.
Keen to get one as soon as they're available? - The below chart let's you know where to go in your state. Telstra is opening 25 stores in total across the country from midnight this coming Friday.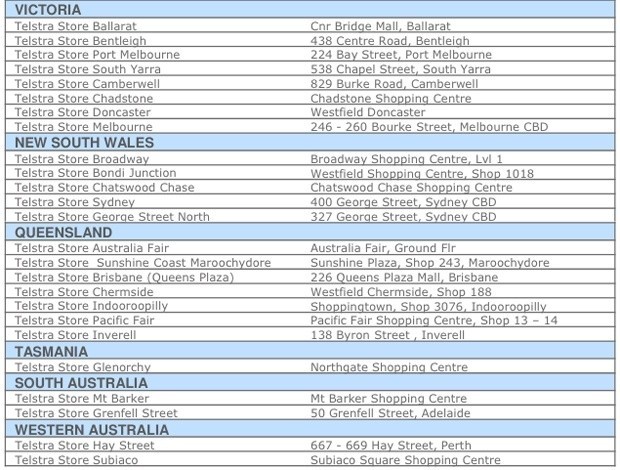 Related Tags