Crucial Releases RealSSD C300 Firmware (again)
A Firmware Update for the Firmware Update.
Published May 20, 2010 2:44 PM CDT
|
Updated Tue, Nov 3 2020 12:34 PM CST
1 minute & 2 seconds read time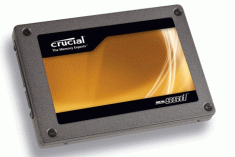 After a brief stumble with the first release of the firmware 0002 that left a handful of users locked out of their drives Crucial is ready to give it another go. An hour ago we recieved word that the new update tool is ready for mass consumption so users can update their RealSSD C300 drives to the latest 0002 FW that has working TRIM.
To implement the firmware update, please follow the source link below.
The Crucial Performance Lab, in conjunction with the Micron Compatibility Lab, has performed extensive testing of the new update tool functionality, and we've confirmed it works properly across multiple platforms. Before implementing our revised C300 firmware update, please take the following items into consideration and under advisement:

The upgrade requires a Low Level Format to the SSD which will erase any data on the drive. Please ensure that your data is backed up prior to performing the Firmware Update. We are hopeful that future Firmware revisions/updates will not be destructive.

The upgrade needs to be implemented using a native 3.0Gb/s SATA port. It will not work in a 6.0Gb/s SATA port. However, once the upgrade is complete, the SSD will run as a 6.0Gb/s drive in a 6.0Gb/s port.

The upgrade needs to be done directly in the motherboard, not via HBA. Again, once the upgrade has been completed, the C300 drive can be utilized in an HBA.


We truly appreciate your patience while we ironed out the compatibility issues experienced with our previous version of the tool!
Best regards,

Crucial
Related Tags