Patriot claim to have built fastest PC in the world
40 SSDs, Dual Xeon, 155,000 IOPS/s.
Published Tue, Mar 2 2010 10:57 PM CST
|
Updated Tue, Nov 3 2020 12:35 PM CST
Whilst entirely impractical on so many levels, Patriot went on a mission with a PC build to produce something they could sit on display during CeBIT and call it the "fastest system in the world".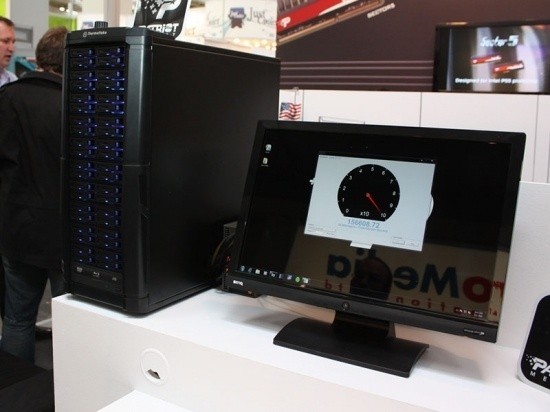 That might be true as far as the storage sub-system goes, but the PC itself certainly doesn't appear to be anything unlike we've seen before. The system itself comprises a SUPERMICRO MBD-X8DTH-6F-O motherboard running dual Xeon W5590s along with 96GB of ECC DDR3-1333 memory.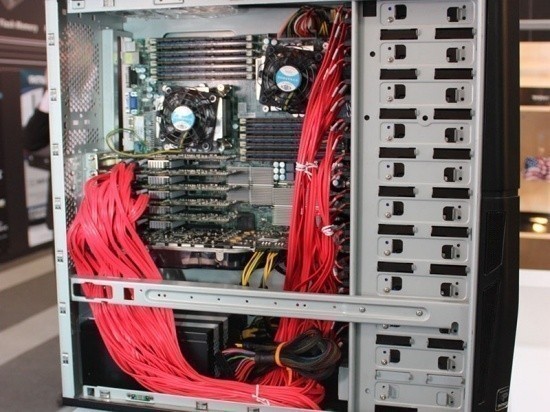 But the real standout that Patriot claims to deliver the best performance in the world is the use of 40 256GB TorqX SSDs in conjunction with five LSI SAS PCI-E cards to produce a sustained rate of 155,000 IOPS/s.
Patriot gives an odd example of what this does for the end user; the ability to 'rip' a Blu-ray in just under 1 second. That might be true if moving the contents of a Blu-ray from one part of the SSD array to another, but correct me if i'm wrong; an optical blu-ray drive is the #1 bottleneck and sure as hell aint' fast enough to do it in under 1 second.
Patriot reckon you'll be forking out 60k for this setup. However, when you factor in that 40 256GB TorqX SSDs come to around 30k, it's hard to see where the other 30k has gone. In any case, this is clearly put together as an SSD attraction magnet and would never be a setup someone could justify for real world use.
Related Tags