SilverStone shoves an HD5970 into an SFF case at CES 2010
Along with a P55 Mini-ITX board and 600Watt PSU.
Published Thu, Jan 21 2010 9:45 AM CST
|
Updated Tue, Nov 3 2020 12:35 PM CST
CES 2010 - On the last day of the show we finally had the chance to just wander around and take things in. During my wanderings I found the SilverStone booth and had the time to really take a good look at some of the existing and new products.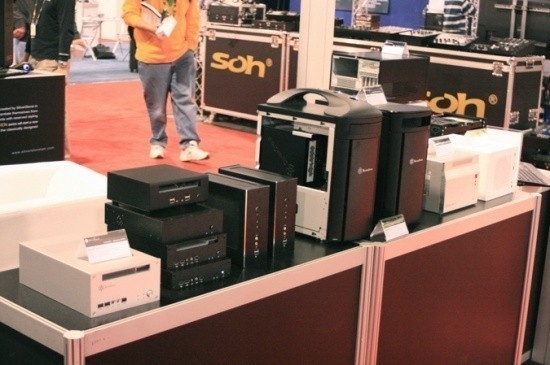 The first thing we saw was what appeared to be an extension of the Raven line, but with a few differences. We noticed that SilverStone has removed the awkward plastic cowling and replaced it with some nice smooth (and rounded) top and bottom panels. They did leave the 90-degree tilt in the case layout though. We asked about the importance of this and were told that SilverStone intended this design for use with cards that have a low (on the board) fan that pulls in air to exhaust out of the case. This type of graphics card have shown (in their testing) to be an issue in many standard cases.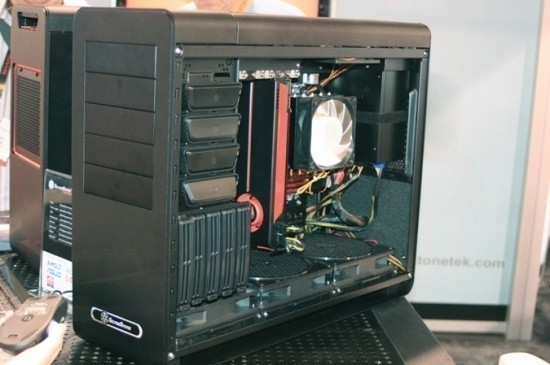 If you think about when a card like a 5970 or GTX 285 is in your stock mid tower you have it pulling in hot case air and pushing it out into a wall or into a very small area between the case and the wall. This does nothing to help cool the GPU. With the 90-degree tilt you have multiple fans pulling in cool air from under the case which is then drawn into the card and out the top. So I can see what they were talking about. SilverStone does warn that this type of setup does not work for all cards. For cards that use a central fan (as shown below) you can actually hinder proper cooling. So while the 90-degree tilt is good for many. It is not a solution for all.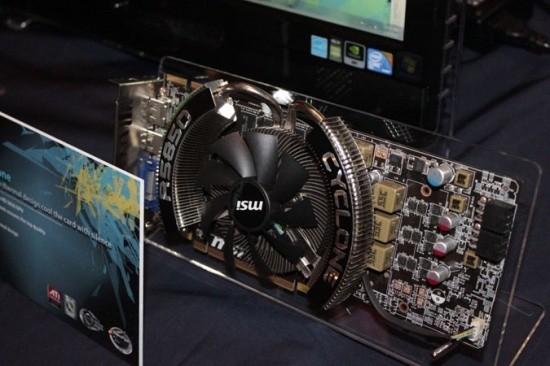 But even though that new case was the center of attention (literally being at the center of the booth) the case that really caught my eye was a much smaller one sitting off to the side.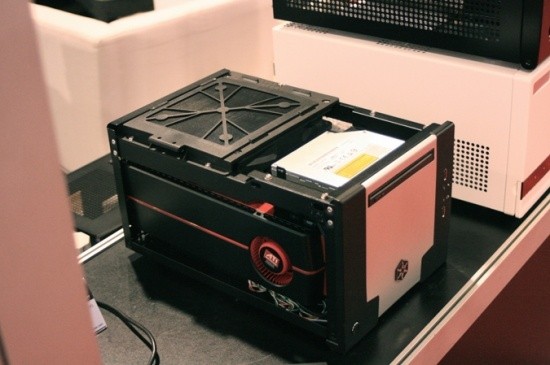 When I first saw this little SFF box I did a double take. I simply could not believe what I was seeing. An HD5970 (yes a 5970) stuffed into an SFF case. I did some asking and was told that the HD5970 was not the only surprise in store. The new enclosure will come with a built in 600 Watt PSU and space for a mini-ITX board like the DFI MI-P55-T36. This tiny (6.7-inch x 6.7-inch) board fits perfectly in here and can be loaded up with an LGA 1156 Core i5 or Core i7 CPU.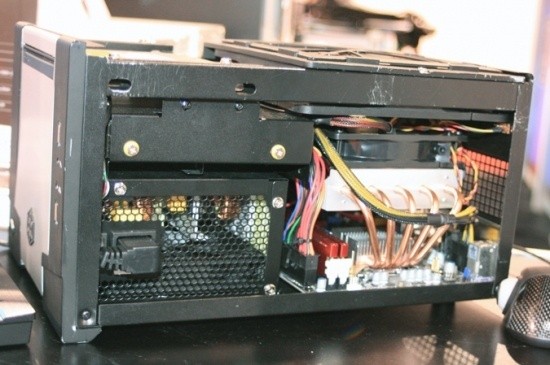 To help keep the air flowing SilverStone stuck a 220mm fan on the top for exhaust. But that is rapidly becoming a standard in case design now.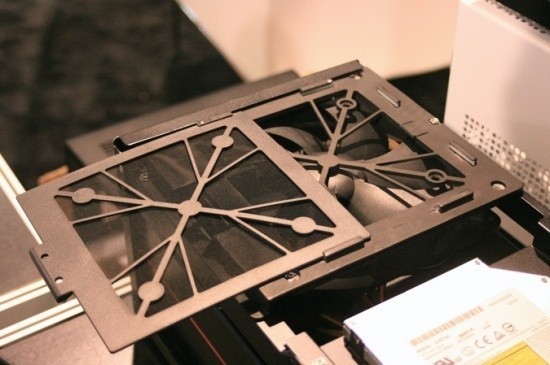 I kept going back to the massive HD5970 on the side and wondering how in the word they were going to keep that thing cool in there. Well as you might expect they had an answer for that. They have designed the case cover to work with the intake fan on the card. There is a rounded intake adapter that can be moved to suit the card you have. This ducts the air intake directly from outside and into the card.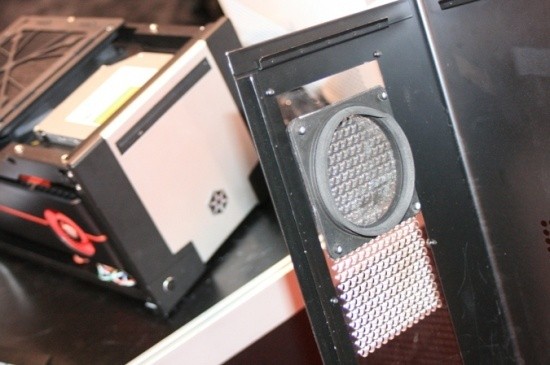 As an extra measure, SilverStone also put a duct on the bottom of the case. This allows to leakage of hot air to be pushed out of the case and towards the rear instead of pooling under the case. In all this new case is pretty impressive. Unfortunately we were not able to get information as to when this will be launched or the final price. We were told that the model we looked at was one of the final designs but that there may be small changes in appearance and internal layout (improvements). I do hope this hit the market soon though as I have a feeling it will do quite well.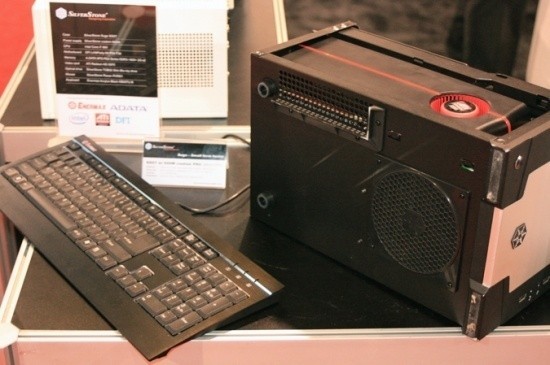 But of course no visit to SilverStone would be complete without a look at their classy line of HTPC cases. We took a look at the GD05 in this case. SilverStone showed us that even thought this is a SFF case they have improved the airflow enough to even deal with a GTX 295 and an Asus Xonar D2 stuck right next to it! Now that is what I call impressive in an SFF case and you do not have to wait for the GD05. This case has been out for a while (SilverStone) just wanted to do a little showing off...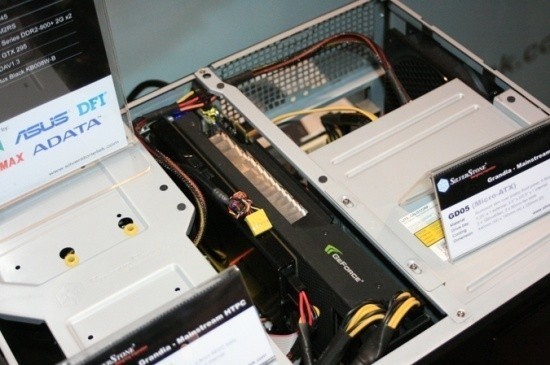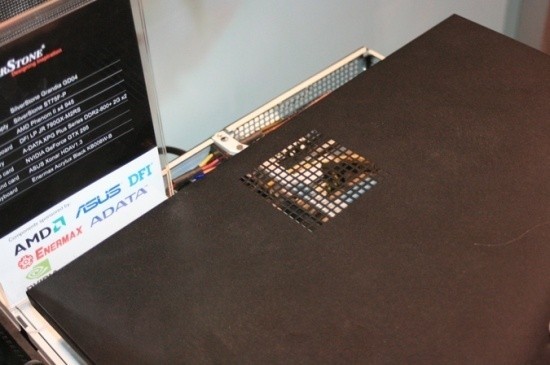 We should expect some pretty exciting things from SilverStone this year if what we saw at their booth in any indication.
Related Tags