A-DATA makes installing Windows 7 off USB Flash easy
announces OStoGO application.
Published
|
Updated Tue, Nov 3 2020 12:36 PM CST
0 minutes & 50 seconds read time
A-DATA has today announced a very cool self-developed application it calls OStoGO. This allows one to easily set up an A-DATA branded USB Flash Drive to install Windows 7; particularly handy if the user doesn't have an optical drive and / or likes to decrease the install time by using a quality high-speed flash drive.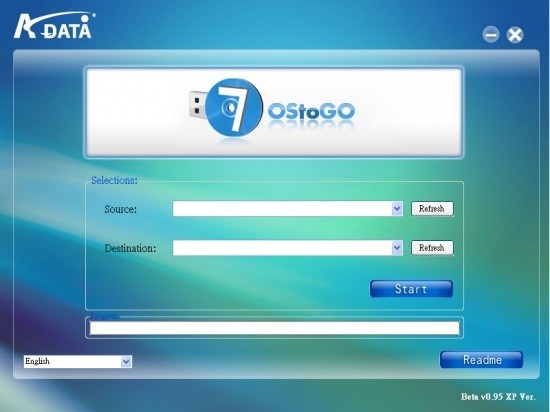 As to whether or not the application will work for other branded flash drives is not known for sure. The application will be released in early November.
For PCs without optical drives such as Netbooks, UMPCs and MIDs, installing a new OS could be a time-consuming task. With A-DATA OStoGO software, users are capable of converting bootable DVD to USB flash drive and install OS themselves via bootable USB flash directly. Featuring user-friendly interface (UI) and one-click-conversion, OStoGO can easily solve your installation issues by three simple steps. First, insert your Windows 7 DVD(*1) into optical drive. Second, plug your A-DATA USB connector into a USB port. Thirdly, specify drive letter and click start. Then, the Windows 7 setup system is fully transferred into the USB flash drive(*2)! Now you can setup windows 7 at a blazing booting speed by A-DATA USB flash drive!
You can read A-DATA's full press announcement on their new OStoGO application
here
folks.
Related Tags