AMD finally gets back to Physics on the GPU
Partners up with Bullet for OpenCL Physics.
Published Thu, Sep 17 2009 9:08 AM CDT
|
Updated Tue, Nov 3 2020 12:36 PM CST
Back in the days of the X19xx series Radeon GPUs, AMD and ATI were talking about using the GPU to process in game physics. This was in contrast to anything that was being thought about over at NVIDIA and, at the time, was even denounced by NVIDIA as a bad idea.
Unfortunately, AMD and ATI did not put much effort into moving physics onto the GPU and NVIDIA did. NVIDIA even went so far as to buy Agiea, so that they would own the complete PhysX library. This left AMD out in the cold as yet another AMD idea was openly taken and implemented by another company.
Well now, a few years later, AMD is getting back to physics on the GPU. They have partnered up with Pixelux and Bullet to bring an Open Physics library to not only the Radeon GPU, but to pretty much any GPU. This move should help to bring a more standardized physics library to developers.
Why is that important to you? Well, for starters it allows game developers to use a standard set of tools for in-game physics. As it stands right now, about 26% of developers use PhysX. This means they have to code triggers in the game to know when an NVIDIA GPU is present and when it is not. If an NVIDIA CUDA enabled GPU is not there, they have to offload the PhysX load to the CPU properly. This creates code overhead and reduces performance on non-PhysX enabled systems.
Now, this is great for NVIDIA as they feel it will compel (to say it nicely) to buy an NVIDIA GPU. But it is bad for developers and consumers. A completely open source physics library allows for anyone to use the GPU they want. Yes, it will still require triggers, but they should be less complex and the offload to CPU is usually much simpler to code.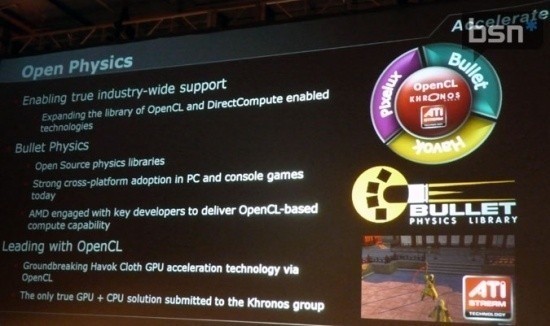 I hope that AMD really does stay behind this and does not follow its usual pattern of dropping projects; sort of like a teenager gets bored of something and walks away from time to time.
Related Tags