Clarkdale 32nm CPU+IGP tested early
Beats GMA X4500HD but not GF9400.
Published Thu, Aug 20 2009 11:07 AM CDT
|
Updated Tue, Nov 3 2020 12:36 PM CST
Remember when AMD talked about integrating a GPU into the CPU? Remember when this was going to be the next big thing? Well somewhere along the lines AMD seems to have stopped working on this new technology.
Intel, on the other hand, did not. They have been at work and are close to the release of their Clarkdale CPU. This is a 32nm CPU that has an IGP stuck under the IHS with the CPU core.
Now we have all heard about this but with the recent fervor over leaked Lynnfield CPUs, e-tailers and retailers selling Lynnfield early and pretty much everything else about Lynnfield many have lost track of Clarkdale.
But Clarkdale is still there and kicking. This new package should debut sometime in 2010 and will partner up with the H55, H57 and Q55 chipsets. These chipsets will feature something called the Intel Flexible Display Interface (FDI). FDI will allow the IGP to talk to the Video connectors on the mainboard as connecting your monitor to your CPU would be a problem.
The new IGP, should be able to handle all the current HD video standards as well as DX 10.1 Shader 4.0 functions. Early performance testing shows that while the nVidia 9400 still is the better performer the Clarkdale IGP can outperform the current GMA X4500HD.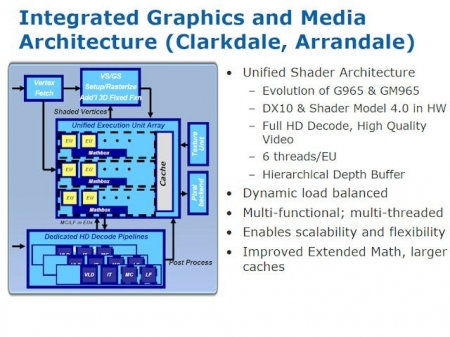 Source
Related Tags