Managed Copy finally comes to BluRay
Will need a hardware upgrade though.
Published Fri, Jun 12 2009 11:37 AM CDT
|
Updated Tue, Nov 3 2020 12:36 PM CST
In what is pretty much a win for fair use BluRay movies will have to move to Managed Copy next year. This means that you should be able to make at least one backup copy of your BluRay movies.
The problem is that the current hardware will not support it and it is uncertain if the newer players hitting the market will.
In most cases you will need to upgrade any existing players and make sure you check on any new purchases to see if it supports the Managed Copy feature.
Read more
here
.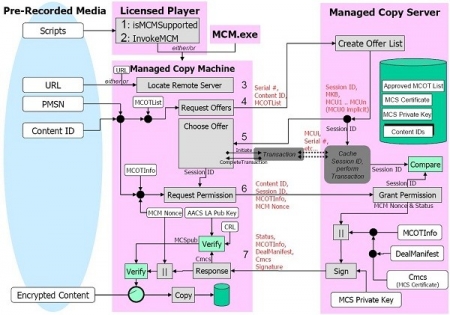 each studio is required to sign the recently finalized AACS license by December 4th 2009, and any studio that signs early receives up to a 25 percent discount on licensing fees. What isn't mandatory, though, is hardware support, and although the current generation of players definitely won't work, most expect the majority of new BD devices to. The cost (you didn't think it'd be free, did you?) and the number of copies is up to the studio, but at least one copy will be allowed. That copy can be made via a menu on the disc and can take the form of another Blu-ray Disc or a DRM-laced Microsoft file.
Related Tags