eVGA to jump on the Larrabee bandwagon
or so the rumor goes for June 10, 2009.
Published Wed, Jun 10 2009 12:27 PM CDT
|
Updated Tue, Nov 3 2020 12:36 PM CST
Although this is not really a surprise (people have been talking about this for some time) it looks like eVGA could be making a switch from nVidia to Intel.
I am not talking about chipsets either. It seems that Intel might have got eVGA all excited about the Larrabee GPU and they are looking to push them on the public.
As it stands eVGA is one of the last nVidia only AIBs out. They have increased their reputation by standing behind their cards with Life-Time warranties, Upgrade programs, and free overclocking tools and software (might explain why they do not work with AMD/ATi).
If this is the case and eVGA moves to Larrabee it will mean that the first Boards with this new GPU will at least come from a good company.
Read more
here
.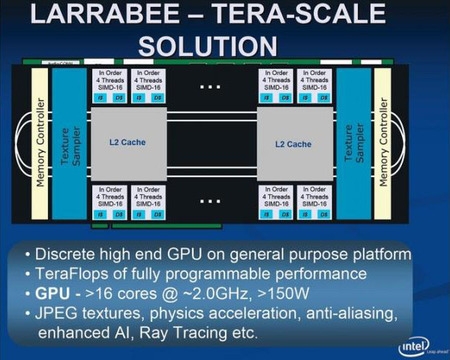 EXPECTATION DICTATES that Intel's long-awaited Larrabee offerings will follow the same production model pioneered by rival Nvidia at the start of the decade. But what the Green Goblin might not have counted on is that its most loyal partner would be leading the charge to bring Chipzilla's products to market.

By all accounts, EVGA is currently Nvidia's number one partner, having shown 100 per cent loyalty to Jen Hsun Huang and his Green Goblin... until now.

Following a path blazed by Asus, Gigabyte and MSI, EVGA looks set to be the latest to jump the Nvidian ship and seek other product partners.
Related Tags