BioShock 2 multiplayer by Digital Extremes
Unreal Tournament vets on hand.
Published
1 minute & 42 seconds read time
The original BioShock was an instant hit on both consoles and PC alike, and for good reason - it was definitely an interesting and fresh take on single player only FPS gaming. Without any degree of a multiplayer mode, however, BioShock was destined for the shelf to collect dust relatively quickly after purchase for most gamers.
So it is without much surprise that for the upcoming sequel, BioShock 2, 2KGames have opted to include a multiplayer mode. In an announcement today, 2K have confirmed they will be partnering with Digital Extremes to deliver this mode.
If the name Digital Extremes doesn't ring a bell, it probably should - these guys have had their fingers in the FPS MP pie for quite some time, most significantly in a co-development role with Epic for most of the titles in the Unreal Tournament series across its various platforms. It goes without saying then that the multiplayer gameplay in BioShock 2 is starting to generate some large expectations, and if it can deliver, the sky is the limit for the series. No pressure, Digital Extremes!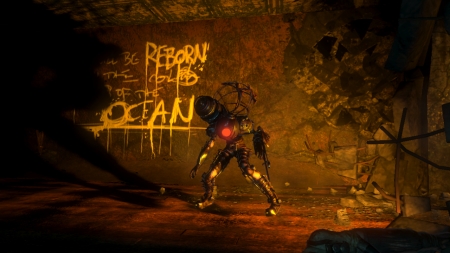 Multiplayer in BioShock 2 provides a rich prequel experience that expands the origins of the BioShock fiction. Set during the fall of Rapture, players assume the role of a Plasmid test subject for Sinclair Solutions, a premier provider of Plasmids and Tonics in the underwater city of Rapture that was first explored in the original BioShock. Players will need to use all the elements of the BioShock toolset to survive as the full depth of the BioShock experience is refined and transformed into a unique multiplayer experience that can only be found in Rapture.

- Evolution of the genetically enhanced shooter - Earn experience points during gameplay to earn access to new Weapons, Plasmids and Tonics that can be used to create hundreds of different combinations, allowing players to develop a unique character that caters to their playing style.

- Extend the Rapture fiction - Players will step into the shoes of Rapture citizens and learn more about the fall of Rapture as they progress through the experience.

- See Rapture before the fall - Experience Rapture before it was reclaimed by the ocean and engage in combat over iconic environments in locations such as Kashmir Restaurant and Mercury Suites, all of which have been reworked from the ground up to deliver a fast-paced multiplayer experience.

- FPS veterans add their touch to the multiplayer experience - Digital Extremes brings more than 10 years of first person shooter experience including development of award-winning entries in the Unreal® and Unreal Tournament® franchise.

Related Tags