Microsoft has made a last minute
change
to Windows 7 in an effort to try and increase security even more. This time around they have removed the AutoRun feature for most USB drives.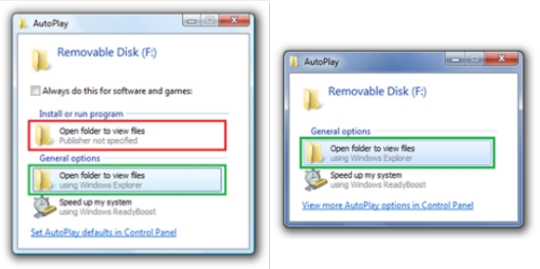 This will hopefully prevent malware from tricking users into running an application, at least that is Microsoft's intent. All USB drives won't be affected however. Drives that use specialized software such as U3 will still continue to show up as DVD drives, thus allowing them to still utilize AutoRun.
Microsoft has managed to squeeze this change into the release candidate that it will make available to the public next week as well as the version that is going out to developers this week. They are also planning on making the change available for XP and Vista users, although it is unclear as to whether Microsoft will offer the change as a hotfix or a patch.
Fixed removable media, such as CDs and DVDs will still be able to use AutoRun. Also, some specialized "smart" USB flash drives such as those containing U3 software will still be able to appear as DVD drives, effectively allowing them to also use AutoRun, Microsoft cautioned.

The AutoRun functionality has been blamed for malware that has infected USB thumb drives, leading to a temporary ban on their use at the U.S. Defense Department, and digital photo frames, among other storage types.

Microsoft detailed additional security features in Windows 7 during the RSA security conference last week.