Asus shows off Dual Nehalem Xeon Board
Eight Cores, 16 threads, feel the power.
Published Mar 5, 2009 10:25 AM CST
|
Updated Tue, Nov 3 2020 12:37 PM CST
1 minute & 2 seconds read time
For those Dual CPU fans Asus is showing off a board that can handle two of the new Nehalem Based Xeons.
The new board, dubbed the Z8NA-D6, sports six slots for memory (three for each CPU) and can take registered, unregistered, ECC and Non-ECC memory. Unfortunately this monster does not support Crossfire or SLI as there is only one x16 PCI-E slot. You also get six SATA II ports and what would appear to be eight additional ports run by an SLI MeagRAID IHC. For an added bonus the Z8NA-D6 can run off of standard 24+8 ATX power or SSI.
As a content creation board this will certainly put some raw power into the hands of its owner with eight cores and 16 threads.
V16 anyone?
Read more
here
.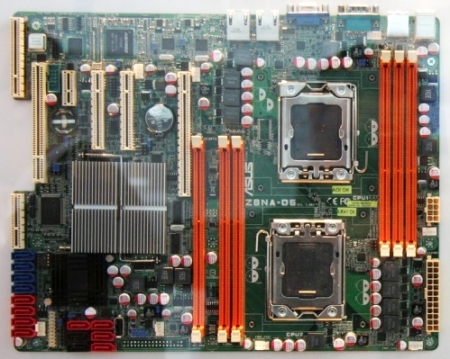 The board ultimately begins the generation of Intel's Nehalem-EP (Efficient Platform), which consists of dual Xeon 'Gainestown' CPUs and two QPI links per chip. One link communicates with the Tylersburg chipset while the other link communicates with the second processor, both at 25.6GB/s bidirectional bandwidth.

Because the Nehalem platform also consists of Simultaneous MultiThreading support, this desktop board is capable of running no less than 16 virtual cores on two of Intel's new Xeon 5500-series CPUs.

Additional specs of the board include 14 SATA ports, one PCI-E x16 slot, two PCI-E x8 slots, and six DDR3 memory slots capable of up to 24GB with unbuffered DIMMs and 48GB with registered DIMM modules. Moreover, power is drawn using a 24 + 8 pin connector supporting both desktop ATX and server SSI power supplies.
Related Tags