February 7th, 2009 - "Hell on Earth" in Australia
over 100 dead and climbing.
Published Mon, Feb 9 2009 2:17 AM CST
|
Updated Tue, Nov 3 2020 12:37 PM CST
As many of you would have heard no matter which part of the world you reside in, parts of Australia were engulfed with massive raging fires on Saturday the 7th of February in what is being deemed by local officials as "Hell on Earth".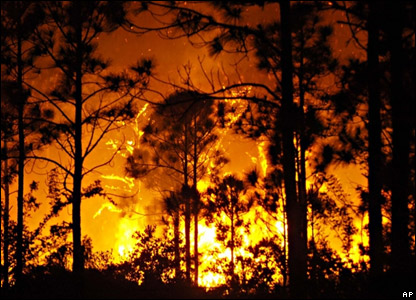 The weather here in Victoria where I live reached the highest temperature in recorded history, peaking just 3.5 degrees Celcius short of 50c (over 115F). Not only that; very strong northerly winds were pushed across the state and allowed these fires to develop extremely quickly and hit towns with little to no warning, some of which are now nothing more than streets full of ash, rubble, car shells and just overall decimation.
The loss of life from this disaster is still growing as bodies of the aftermath continue to be discovered. And while the heroic efforts by the Country Fire Authorities and civilians have certainly paid off and now brought many of these fires into a controlled state, Saturday the 7th of February 2009 has now been officially stamped as the worst natural disaster in Australian history and there are still many fires raging out of control now, causing mass destruction in their wake.
Although it might not seem like much compensation for such extensive damage and in some cases, loss of life, Australia's telecommunications company Optus has
offered their support
to stranded bushfire survivors by giving out free prepaid mobile handsets loaded with $1,000 in calling credits.
"We extend our sympathy to all the people across Victoria," an Optus spokesperson told APC. "The full extent of damage to the Optus facilities is still to be determined due to ongoing fires across Victoria. We are working with the relevant authorities to ensure quick and safe access to restore services to our customers."

"Our technicians are working on-site to restore mobile services that have been affected in Victoria. We have generators there and temporary mobile base stations. The majority of mobile network facilities that have been affected are because of loss of power or fire damage.

"We have 16 mobile towers still affected in Kinglake, Marysville, the Alexandria area and Gippsland. We've boosted our mobile capacity in Whittlesea, as that's where a key emergency relief centre has been set up and where many bushfire survivors have been relocated to.
The Google blog folks down under have also kindly put together a flash map which shows up-to-date information about the fire locations and their status (whether the areas are safe, controlled, contained or out of control) and an RSS feed linked to the CFA website to retain these up to date details.
My heart goes out to all those who have lost their properties and / or loved ones under such tragic circumstances.
Related Tags