New Toy allows you to use the Force
Neural control games are coming.
Published Fri, Jan 9 2009 1:44 PM CST
|
Updated Tue, Nov 3 2020 12:37 PM CST
This one goes into the "why couldn't they have that when I was a kid" category.
Finally for all of us that wanted to be a Jedi when we were little (I still want to be one ;)) there is a new toy that will let you explore your hidden force potential.
Ok so not really but it is a very cool idea and is one of the first mass marketed brain impulse controlled games out.
With this you use a neural sensing device (similar to an EGG reader) to control a small ball in a tower. With concentration you can move the ball up and down. Matel wants to make additional and more complex games based on the same technology.
Read more
here
.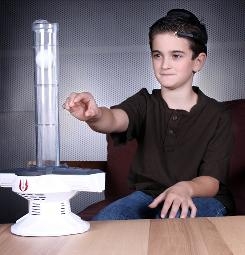 No, you're not tapping into some "all-powerful force controlling everything," as Han Solo said in the movies. But you are reaching out with mind power via one of the first mass-market brain-to-computer products. "It's been a fantasy everyone has had, using The Force," says Howard Roffman, president of Lucas Licensing.

Mind-control games may be the coming thing: Mattel plans to demonstrate a Mind Flex game (also due this fall), which uses brain-wave activity to move a ball through a tabletop obstacle course, at the Consumer Electronics Show in Las Vegas on Thursday.

In the Force Trainer, a wireless headset reads your brain activity, in a simplified version of EEG medical tests, and the circuitry translates it to physical action. If you focus well enough, the training sphere, which looks like a ping-pong ball, will rise in the tower.
Related Tags