MacBooks having heat related failures
More nVidian Heat Woes.
Published Mon, Dec 1 2008 5:08 AM CST
|
Updated Tue, Nov 3 2020 12:37 PM CST
I am sure you all remember the fiasco around the Dell and HP notebook failures. These notebooks had nVidia GPUs stuffed under the hood and seemed to be dropping like flies due to cracks in the solder bumps after a number of heat cycles.
Now it seems the new MacBooks with nVidian chipsets are having heat related failures too. Charlie Demerjian, the person who first started talking about the nVidia heat issues, has a very nice (and scathing) read over at the Inquirer about the latest in the mobile GPU heat drama.
Read more
here
.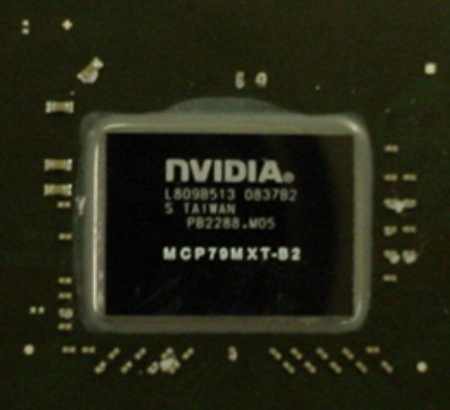 Please note the last three characters, the "-B2" part, this means the Macbooks are using the B2 stepping of chips. The letter connotes a major revision, the number a minor stepping, counting from zero. Parts start out with 'first silicon' being labeled A0, then minor fixes make A1, A2... Ax. GPUs and chipsets are usually marketed by A1 or A2 silicon. Seeing a B probably means something went really pear-shaped, and as it could not be fixed with several minor changes, a ground-up rethink was needed. Seeing a Bx in the first version of a chipset on the market is a really, really bad sign. B2 means this is likely the sixth stepping of the chip, including some major redesign work.

If you have been following this chipset like we have, you know that boards with it were supposed to be out at CeBit in early March. During that show, several mobo makers expressed dismay at how late it was then, and gave us a " don't hold your breath for this chip before summer." Deeper questioning revealed that the problem was heat, it was running far too hot to be passively cooled, and that was mandatory for the intended market.
Related Tags