Samsung Shows off 256GB SSD
starts your apps 10 times faster than 7200 RPM HDD.
Published Thu, Nov 20 2008 5:42 AM CST
|
Updated Tue, Nov 3 2020 12:37 PM CST
If you have been following the SSD game, the one thing that tends to turn most people off from (aside from the ridiculous prices) is capacity. Considering we have games in that take up tens of Gigabytes along with ripped movies and MP3 collections of vast sizes the 40, 80 and 128GB SSDs do not have enough room to make them worth the cost.
But Samsung wants to change all of that. Today they announced the release of a 256GB SSD drive that not only outpaces all other available SSDs on the market in terms of size, but (if Samsung is to be believed) can outperform the others too.
TechPowerUp has the scoop
here
.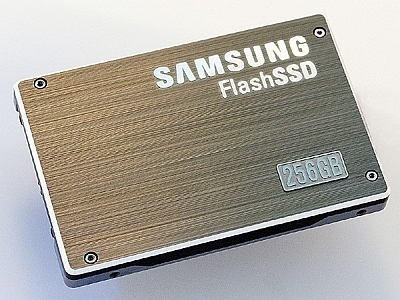 The new 256GB SSD more than doubles the performance rates of Samsung 64GB and 128GB SSDs to become the SSD with the highest overall performance in the personal computer industry, combining sequential read rates of 220MB/s (megabytes per second) with sequential write rates of 200MB/s. This sharply narrows the performance gap between read and write operations to only 10 percent, compared to a read-write speed difference of between 20 and 70 percent for other SSDs. In addition, erase cycles are a rapid 100GBs per minute, allowing the entire drive to be re-written much faster, when needed.

"While SSD's have always been touted for their performance, Samsung is turning the storage industry upside down now with an SSD that delivers truly disruptive performance," said Jim Elliott, vice president, memory marketing, Samsung Semiconductor, Inc. "Getting our exceptionally high performing 256GB SSD in a notebook is analogous to having a 15,000rpm drive, without all of its size, noise, power and heating drawbacks.".
Related Tags