NVIDIA give into pressure, allow native SLI on X58
Not without SLI Certification licensing, though.

Published Aug 28, 2008 12:22 AM CDT
|
Updated Tue, Nov 3 2020 12:38 PM CST
From what we have seen, heard and observed over the past few weeks or so and even much longer actually, it was clear one of two things was going to happen to NVIDIA's SLI technology when we came to a cross roads like it is at now.
We once heard from a certain NVIDIA employee two years ago who sits quite high up in the company after
quite a few
a lot of drinks at a certain Taipei hang-out that and we quote, "
Intel will only get SLI on its chipsets in exchange for allowing us (NVIDIA) to make chipsets without any licensing fees
". That chances of that happening were obviously really slim. That didn't happen, so...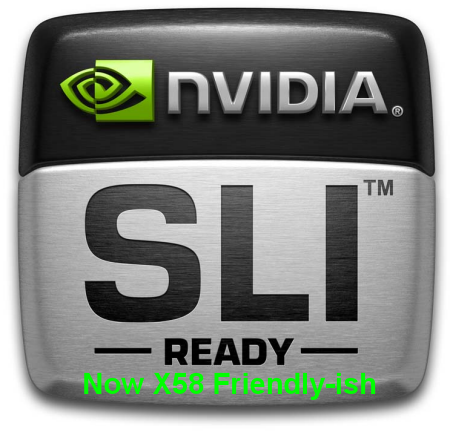 We were told never to repeat that information but it's not like it matters much now or at least so it appears. It seems like NVIDIA strong arm tactics with SLI didn't really work out since NVIDIA will not be producing its own SLI chipset for the upcoming range of Intel Core i7 processors. What does the green team do now?
Scott Wasson of Tech Report has just published a news story from the final editors meeting of NVISION stating that NVIDIA has decided to enable native SLI on
certified
X58 motherboards, without the need of using an annoying nForce 200 SLI bridge chip. This is sure to make motherboard makers a little bit happier since the comments we heard were along the lines that the NF200 chip not only would add $30 - $60 USD price to each board but the chip also runs hot and makes the boards harder produce, since the chip is so big and takes up too much room.
While this sounds lovely for consumers, NVIDIA are still sticking its hand in the cookie jar and charging motherboard makers an SLI certification licensing fee for each product that gains the "SLI Certified" sticker. It was not mentioned how much NVIDIA would charge for each motherboard to be certified but we can't imagine it being a small amount. So while there will no longer be the need for motherboard makers to attach an NF200 chip to its boards for SLI support, the cost of this SLI certification licensing fee will be passed onto consumers.
Once a board is certified, Nvidia will provide the board maker with an approval key (called a "cookie") that it must embed in the system BIOS. The combination of this approval key and an X58 chipset will then unlock SLI support in Nvidia's ForceWare driver software. Nvidia acknowledged to us up front that users would more than likely hack the BIOSes of non-certified X58 boards and add "cookies" to them, but said it won't get in the way of such things. The certification program is intended for motherboard and PC makers, and end-users' actions don't appear to be a big source of concern.

X58 SLI will come in a variety of flavors, since the firm will support a fairly broad array of PCI Express lane configurations for PCIe graphics slots on motherboards, including everything from dual x16 to quad x8 lanes of Gen2 PCIe connectivity. (Yep, it looks like we may see quad SLI in four cards make its debut with the Core i7.) The nForce 200 will still get a piece of the action, too-configs with four true 16-lane PCIe slots via dual nForce 200 chips will of course be supported. X58 boards with nForce 200 chips are likely already deep into the development process by now, or we likely wouldn't see many of these, I suspect.
You can find the full story
over here
from Tech Report.
Related Tags