Street Fighter V Graphics Quality & Port Report
We examine the PC features of Street Fighter V and show you its various graphics options and how they affect gaming image quality.
Published
6 minute read time
Introduction, Testing Setup, & System Requirements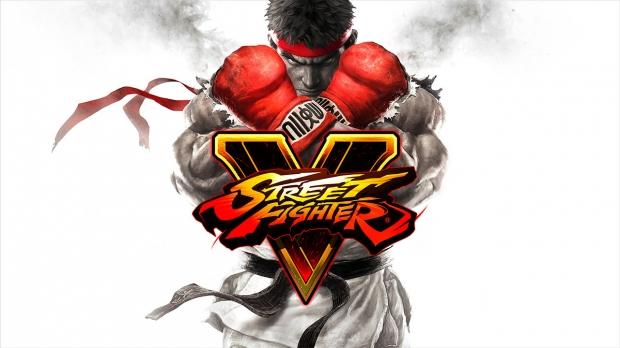 The latest entry in the nearly 30-year-old Street Fighter series has arrived. Long-time and new fans alike can get excited about the V-Gauge system, which features a meter that builds and allows you to pull off special attacks, utilize attack boosts, or parry. Additionally, new characters Rashid, Laura, F.A.N.G, and Necalli freshen up the gameplay, and cross-platform play unites the PS4 and PC community.
Street Fighter V is built on the ever-impressive Unreal Engine 4, making for improved visuals and performance over the game's predecessor. I'll be taking a look at both today, although focusing much more on the visual aspect and the PC features as unfortunately the game doesn't include an uncapped benchmark à la Street Fighter IV.
Test Setup and System Requirements
The Max Picture Quality setting was used as a baseline for the visual portion of this guide. As well, 3200x1800 resolution via VSR was chosen for the purpose of providing 4K quality screenshots. Multiplayer tests were performed after the post-launch status update volume 5 (published February 27), so my impressions will differ from those who played the game at launch, as various server-side changes have been made since.
Our Test System
OS: Windows 10 64-bit

Processor: Intel Core i5 3570K 3.4GHz (Stock)

Memory: Corsair XMS3 8GB DDR3-1600 (Stock)

Storage: Crucial BX200 2.5'' 480GB 6GB/s SSD

Video Card: Sapphire Tri-X R9 290X 4GB (Stock)

Driver: Radeon Software Version 16.1.1

Resolution: 3200x1800

Input: Logitech G400 mouse, G.SKILL Ripjaws KM780 Mechanical Keyboard
System Requirements
Minimum:
OS: Windows 7 64-bit

Processor: Intel Core i3-4160 @ 3.60GHz

Memory: 6 GB RAM

Graphics: NVIDIA® GeForce® GTX 480, GTX 570, GTX 670, or better

DirectX: Version 11

Network: Broadband Internet connection
Recommended:
OS: Windows 7 64-bit and above

Processor: Intel Core i5-4690K @3.50GHz or AMD FX-9370

Memory: 8 GB RAM

Graphics: NVIDIA® GeForce® GTX 960 or AMD Radeon R7 370

DirectX: Version 11

Network: Broadband Internet connection
Resolution, Picture Quality, Resolution Scaling, Anti-Aliasing
Resolution
The quality at which the scene is rendered, corresponding to the number of pixels; higher resolutions mean more pixels, which means higher quality.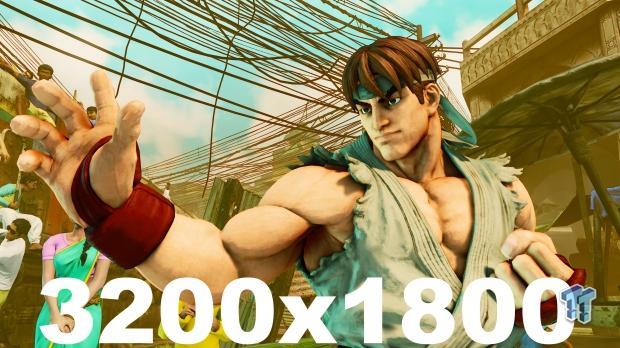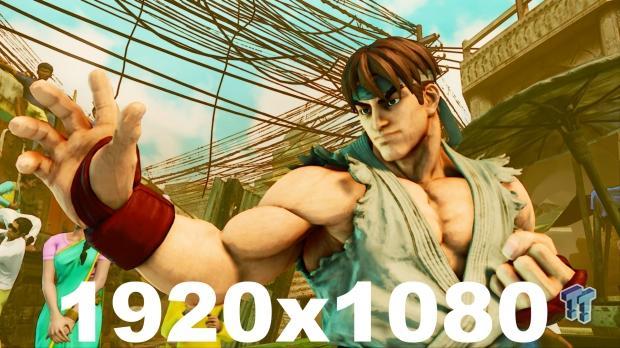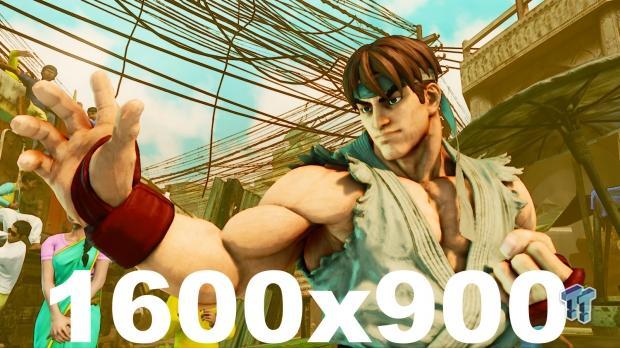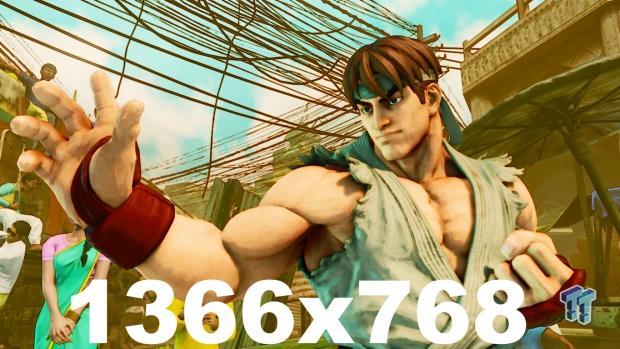 Mild differences here can be observed in the bottom three settings, mainly in the level of detail found in the power lines above Ryu, as well as the umbrella and balcony behind him. At the top 3200x1800 setting, a major improvement in visual fidelity can be observed scene-wide: on Ryu's uniform, body, on the background characters, on the power lines, on the balcony, umbrella, and everywhere else.
On a high-end machine, even enabling 4K won't cause a performance drop, so I strongly recommend enabling it whether or not you have a 4K monitor.
Picture Quality
The presets allow for easy changes in visual fidelity in performance by affecting all graphics settings. They are imprecise and don't cater to individual preferences, however, so it's very unlikely you'll see the optimal result by playing with these. In any case, it's interesting to observe what happens when you change multiple settings at once.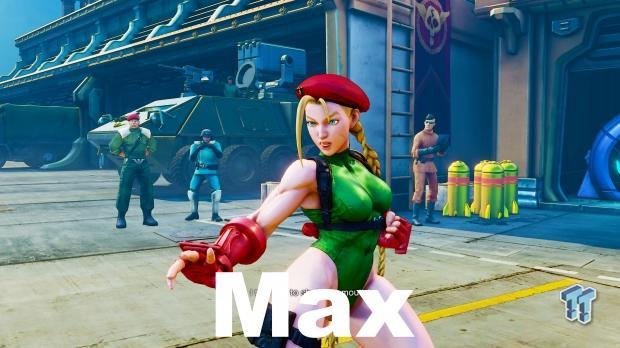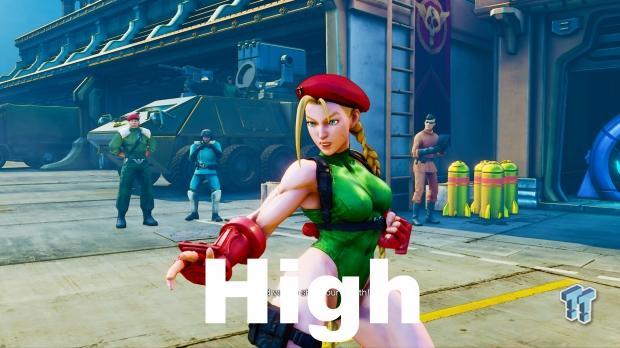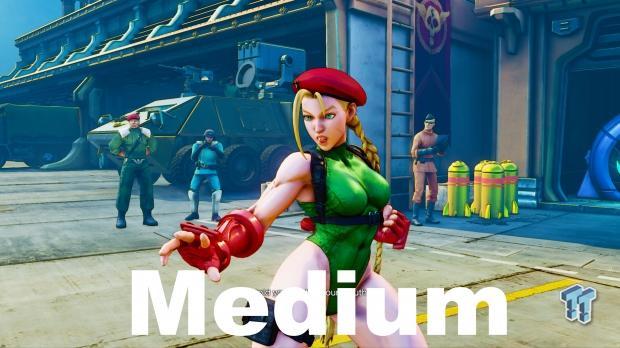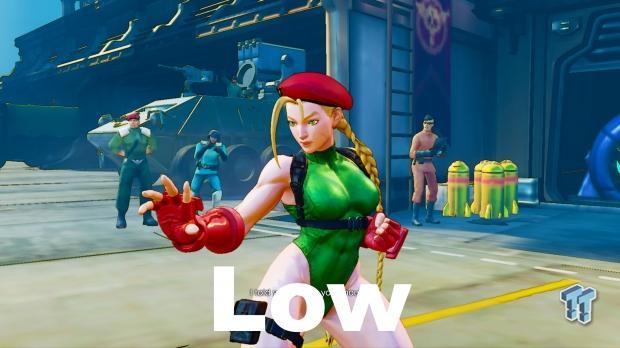 Moving from High to Max, you can see a moderate increase in texture quality; not much change is seen between Medium and High while Low is clearly aimed at users on truly old machines: texture quality, shadow quality, and various other settings at the truly bare minimum.
Resolution Scaling
This setting allows you to render the game at a higher resolution than you monitor natively supports, then downsample it to your native resolution through a process referred to as supersampling, thereby producing a sharper quality image. Alternately, you can downsample to a lower resolution, then upsample it for improved performance at the cost of image quality.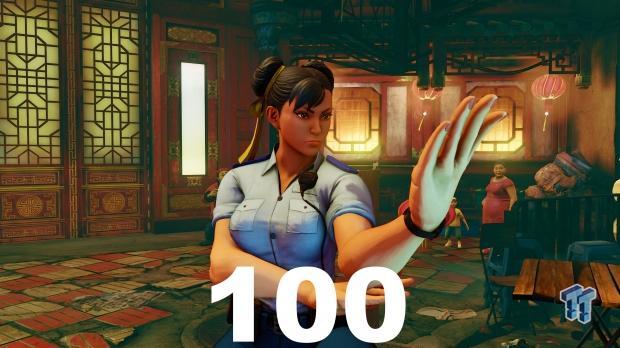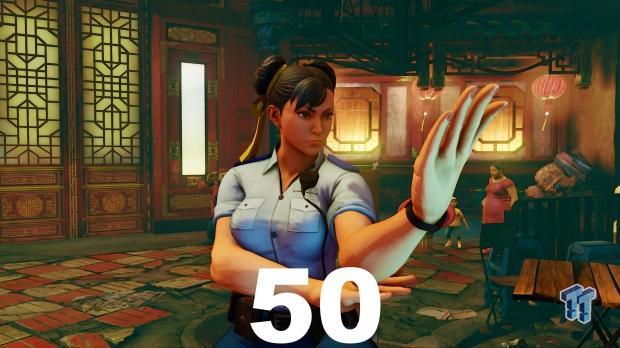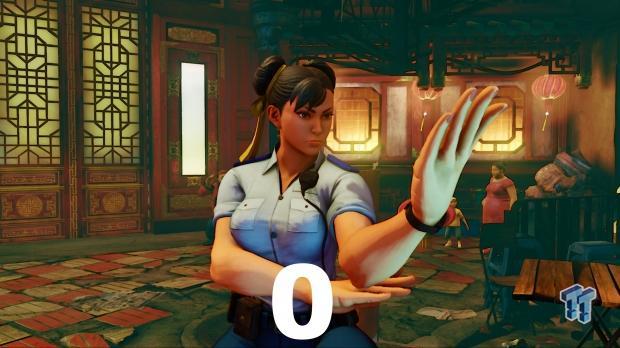 Each of the screenshots shows marked difference in rendering quality of the scene across the board, most noticeably in Chun-Li's uniform and face, the door, wall, and floor. You definitely want this at 100 if you can help it.
Anti-Aliasing
This ever important option controls the appearance of jagged edges (jaggies) seen on various surfaces throughout the game.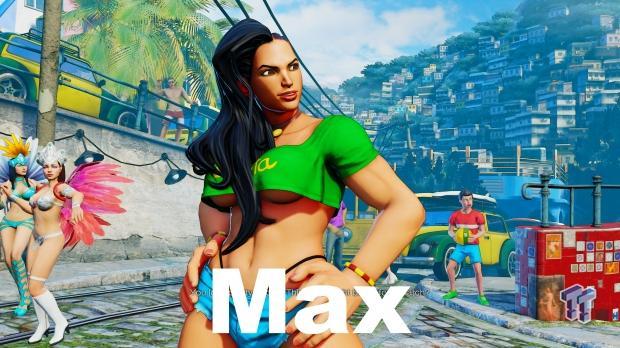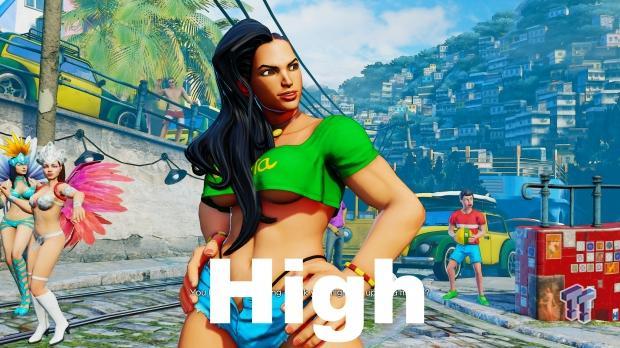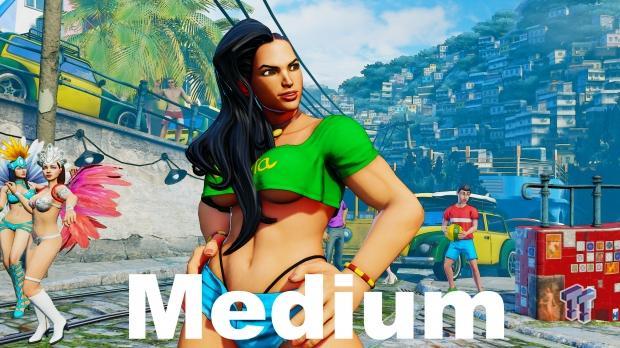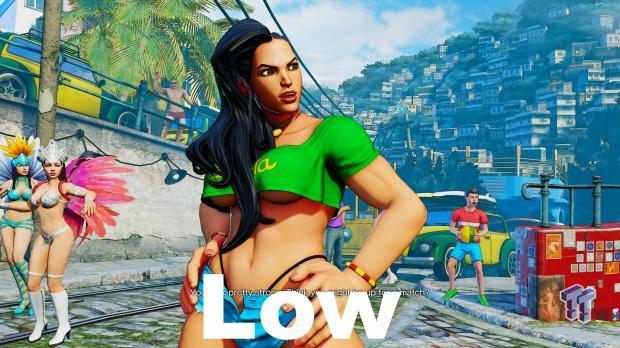 The Low setting sees an absence of blur but minor jaggies on surfaces such as the two different railings, the cobblestone, the tracks, and erm, the edges of Laura's top. Increasing the setting to Medium introduces slight blur, which stays even moving to High and Max. As you go up the ladder, aliasing improves a little more each time, with Max offering very smooth surfaces.
Post-Processing, Shadow, Texture, & Effects
Post-processing
This setting controls the quality of various post-processing effects.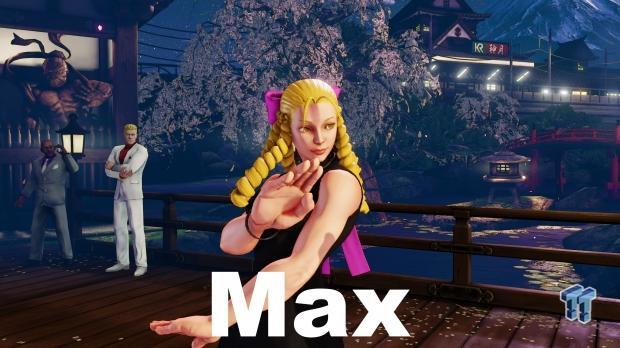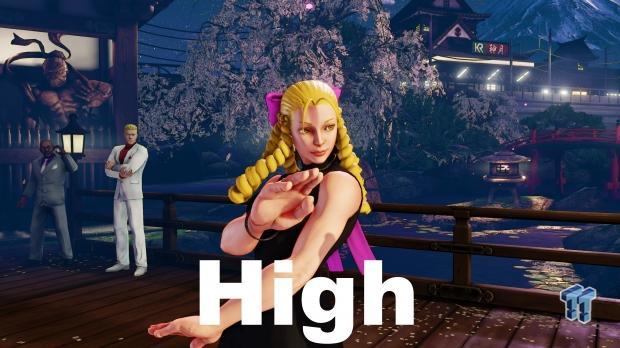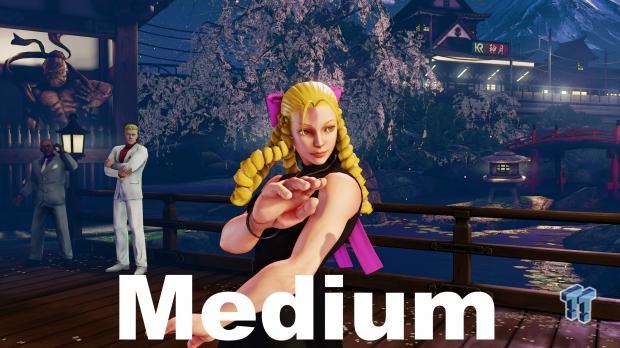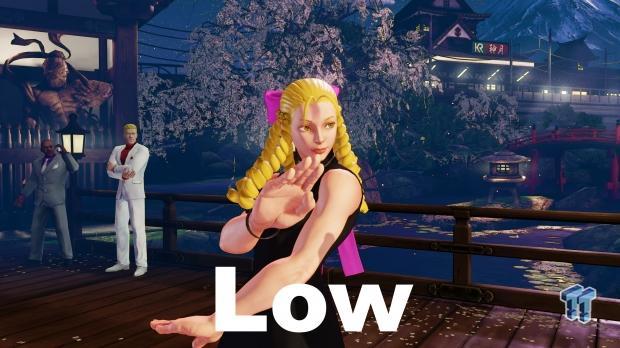 In practice, I could only see what appears to be the introduction of Ambient Occlusion when moving from the Low to the Medium setting. When moving from Medium to High, the bridge and tree in the far distance get coverage, which is enhanced further when moving from High to Max. Similar behavior is shown when examining the near bridge.
Shadow
This setting alters the quality of various shadows in-game.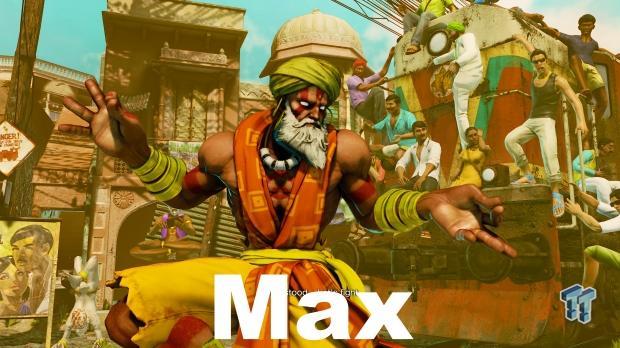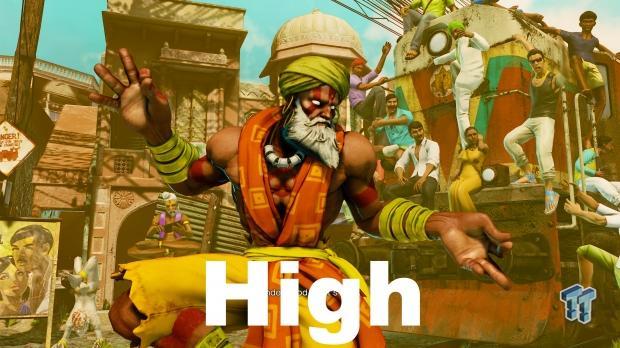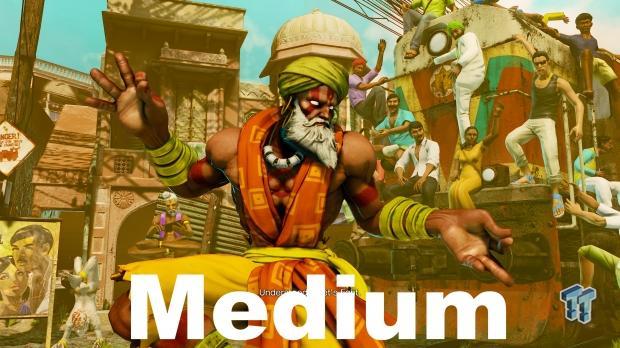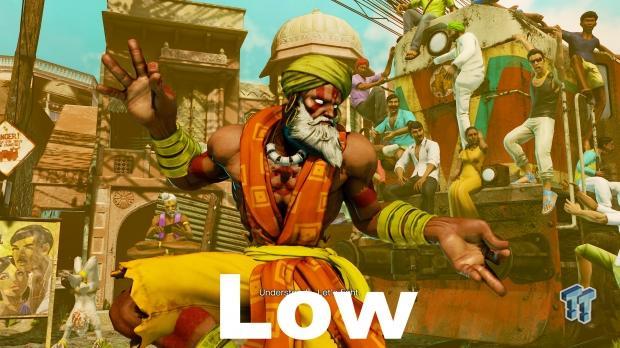 The screenshots show the shadows setting has a sparse effect on visuals, really only touching on select parts of Dhalsim's body: beneath his necklace and his arms. At low, these shadows are rudimentary and jagged or pixelated; moving up each setting from there sees a steady increase in depth. This setting is a good candidate for tweaking, but keep it at Low or above if you can help it.
Texture
Sets the quality of texture in the environment. Does not affect characters, at least not player characters.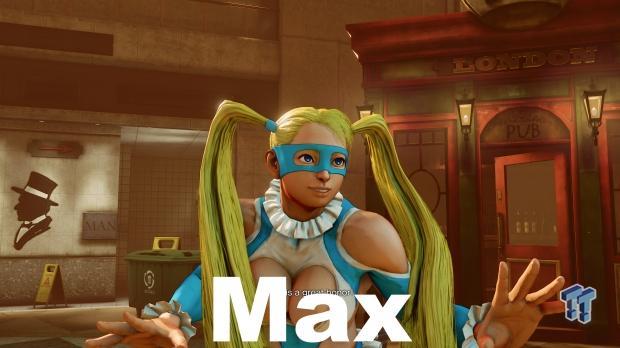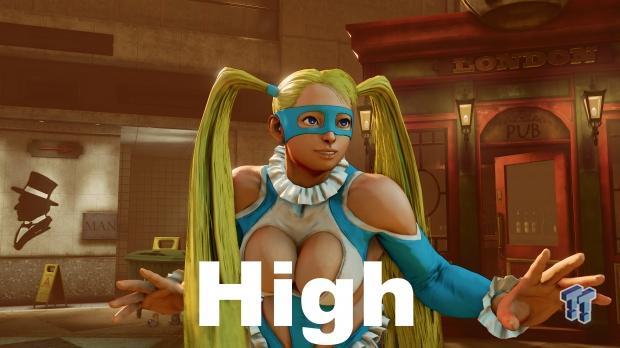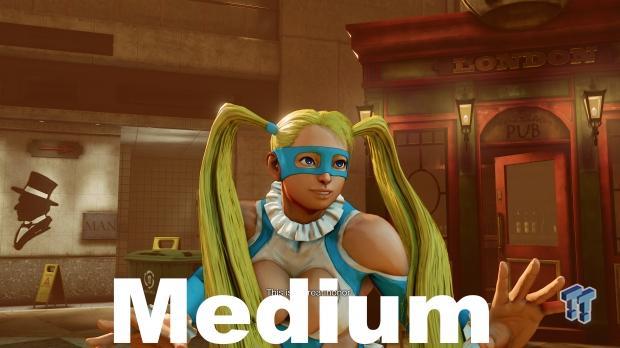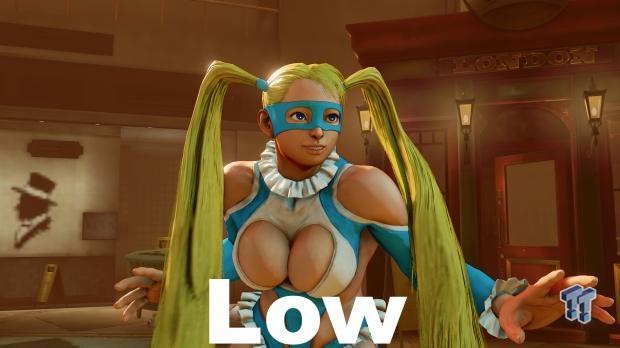 The Low setting brings extremely blurry background textures that would only be advisable for users on appropriately very low-end hardware. Increasing this setting to Medium introduces much, much sharper textures; increasing it again to High and Max offers only the most minute of improvements to floor textures in our chosen scene.
Effects
Alters the quality of various effects in-game.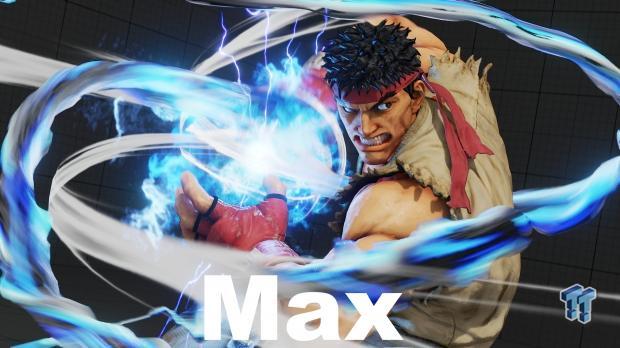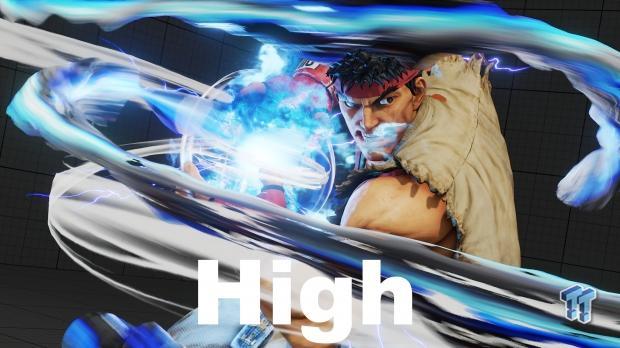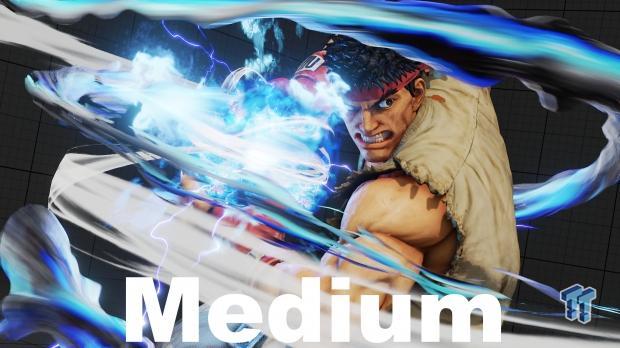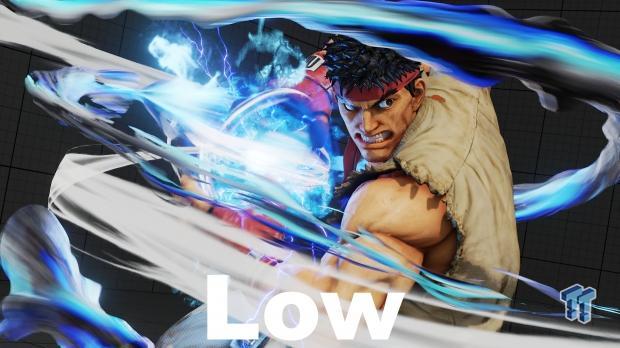 As always, this setting is extremely difficult to capture properly. I attempted it anyway, but as you can see from the different screenshots, there is no definitive difference between any of them due to the volatile nature of the effects themselves.
Controls, Network Performance, Graphics Options, & Final Thoughts
Controls
If you're one of the ones that prefer the keyboard for fighters, Street Fighter V features some strange bindings. While the normal fight controls make sense as they are organized similar to what you'd see on a fight stick, the non-fight controls boggle the mind: Start is B, Back is N, and the Network menu when in the main menu is Enter, whereas in-game, Enter allows you to exit the game. Just to name a few examples.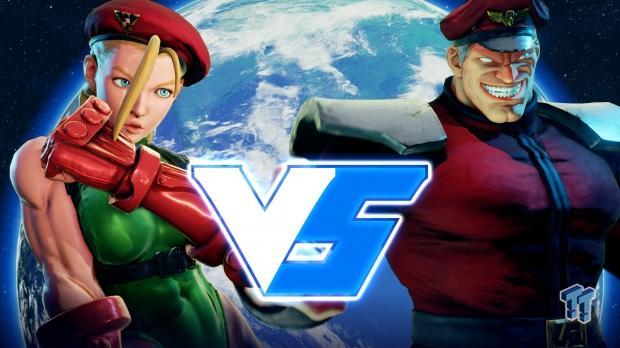 Worse, none of these bindings are displayed anywhere in-game, nor can you rebind them. Capcom has said it will change this, but for now, you suffer.
As for controllers, 'official' controllers like the Xbox One controller are supported (mine worked great), but others like the DualShock 4, which depend on DirectInput, are not. Capcom says support for this is coming in a future patch.
Network Performance
The game may have had lag and disconnect issues at launch, but I'm happy to report those were not present for me at all in my testing: online play is smooth. And I observed no FPS drops (only a constant 60FPS) or lag spikes, even when playing people from other countries or on different platforms.
Now for the bad news: matchmaking is vastly inferior to what Street Fighter IV offered. This time around, there are no skill filters. You can see skill levels after searching, but you can't actually filter out anything you don't want. This is especially bad with the current lack of arcade mode and the lackluster training mode (which features only Ryu), as there's no great way to learn a character before jumping in, resulting in you getting your ass beaten by veterans.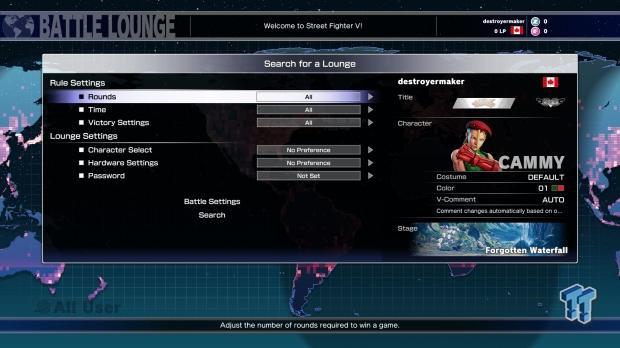 As well, there is no live updating of available matches, which often means you'll try to get into a game only to be told it's not available. Finally, while casual and ranked matches are said to be more or less fixed, I couldn't for the life of me get into one even after minutes of waiting. Instead, I stuck to the Battle Lounge.
Graphics Options
Graphics are excellent, providing a moderate improvement over Street Fighter IV with richer textures, more demanding effects, and possibly better shadows as well.
Graphics options are not as extensive as in the previous game (it's missing the FPS options, different types of AA, Anisotropic Filtering, V-Sync, Shader options, and the Extra Effect option), but it's still respectable. Also, keep in mind some of these missing settings are likely rolled into the all-encompassing Post-Processing setting.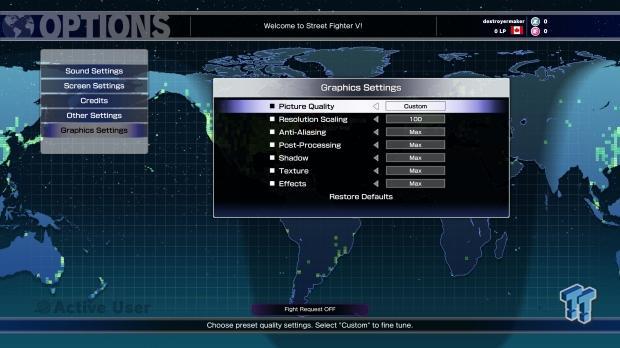 A final note on the graphics options front: a Fullscreen Borderless mode is missing, which is more disappointing given the less than smooth Alt-Tab process Street Fighter V employs.
Final Thoughts
Street Fighter V has some ways to go in its support for PC controllers and keyboards, but the real concern is with the matchmaking, which for me, at least, is not nearly as strong as I'd figured based on Capcom's communications on the matter. Street Fighter IV suffered similar problems once upon a time too, though, and that game runs smooth as butter all around now, so I'd expect the same before too long from this game.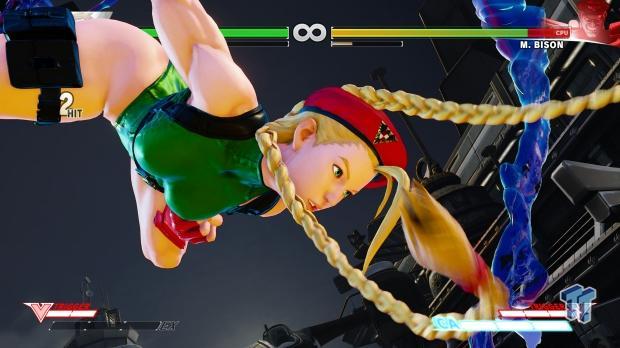 The good: it looks great and should scale well for those on low-end hardware while those on high-end will notice major visual improvements from the 4K resolution.
Overall, Street Fighter V is a strong port with one key issue that needs ironing out.
PRICING: You can find products similar to this one for sale below.

United States: Find other tech and computer products like this over at Amazon.com

United Kingdom: Find other tech and computer products like this over at Amazon.co.uk

Australia: Find other tech and computer products like this over at Amazon.com.au

Canada: Find other tech and computer products like this over at Amazon.ca

Deutschland: Finde andere Technik- und Computerprodukte wie dieses auf Amazon.de
We openly invite the companies who provide us with review samples / who are mentioned or discussed to express their opinion. If any company representative wishes to respond, we will publish the response here. Please contact us if you wish to respond.