MSI X99S MPower Motherboard Overview and Overclocking Guide
Steven has found MSI's X99S MPower Intel X99-powered motherboard to be one of the best on the market in terms of overclocking, features and price.
Published
8 minute read time
Introduction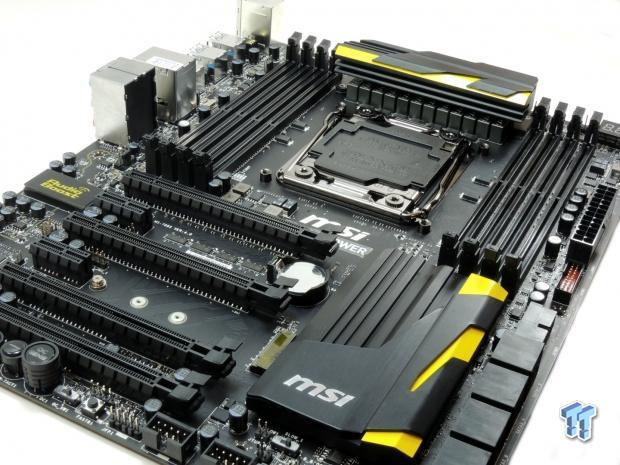 My last experience with an MSI board in the past three years was with the X79 BigBang XPower 2, which turned out to be one of the strongest X79 motherboards. This didn't surprise me, as MSI has made a name for themselves over the years as a go-to for enthusiasts, gamers, and overclockers alike, but what impressed me was how well MSI had executed the hardware and BIOS to overclock better than most X79 boards I had tested.
Since the X79 days, MSI has revamped their hardware and lineup, offering motherboards targeted at specific segments. While the X79 BigBang XP2 I had tested was aimed at those who want everything tossed into one board, today I am looking at one of their segmented boards, specifically aimed at giving users the best overclock possible.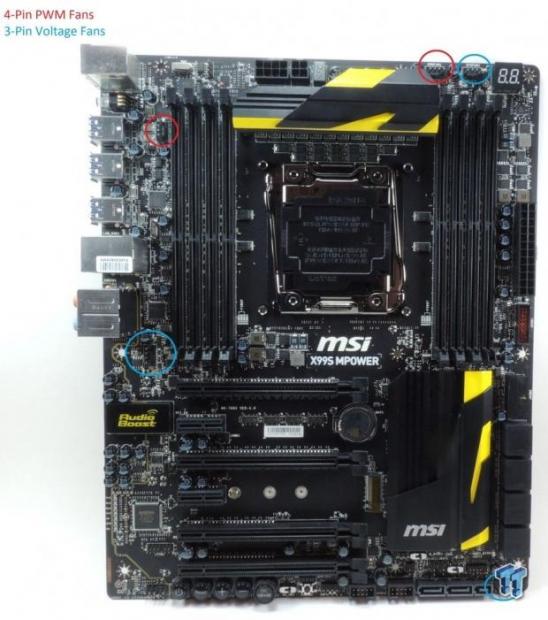 MSI provides five fan headers on their X99S MPower; two of the headers are PWM, and three are voltage mode. Both CPU fan headers are PWM controlled, and the system fan headers are voltage controlled. The board itself is well setup for extreme cooling. The heat sinks for the PCH and VRM are separate, which helps a lot when using extreme cooling, since you can remove the VRM heat sink without affecting the PCH cooling. The PCI-E layout is a bit different than some other boards we have seen; it supports 3-Way SLI. The M.2 slot is very fast, supplying 32GB/s of bandwidth, which is more than double the speed of standard M.2 ports.
PRICING: You can find the MSI X99S MPower for sale below. The prices listed are valid at the time of writing, but can change at any time. Click the link to see the very latest pricing for the best deal.
United States: The MSI X99S MPower retails for $284.30 at Amazon.
Canada: The MSI X99S MPower retails for CDN$322.00 at Amazon Canada.
Voltage Regulator Circuit Analysis
CPU Regulator Analysis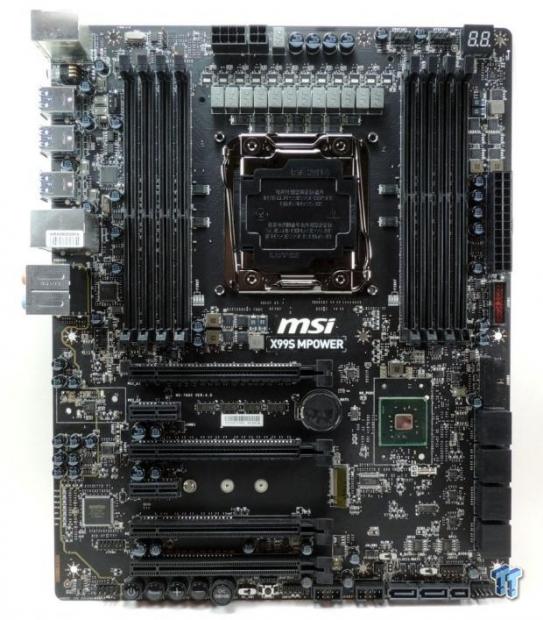 With more and more things being integrated into the CPU and PCH, there isn't much that sets motherboards apart, but the voltage regulator is still one part that differs greatly between motherboards. With the X99 platform, the VRM area has been effectively reduced by half, while the current demand has been almost doubled due to the high TDP of the new CPUs. The X99 VRM is possibly one of the most important parts of any X99 motherboard, especially when it comes to overclocking.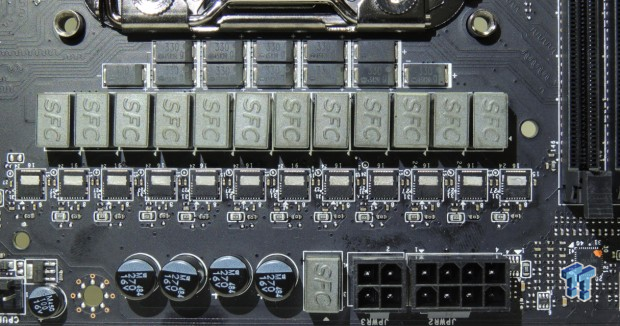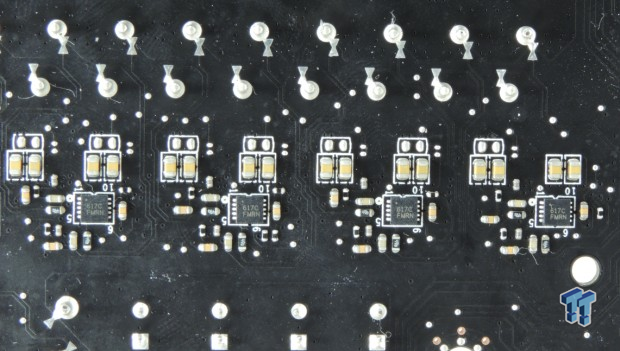 The CPU VRM features a total of twelve phases. Each phase is made up of an integrated power phase. The whole thing is controlled by a six-phase digital PWM from Intersil. MSI is utilizing six ISL6617, which are phase doublers, to get twelve phases from the six phases the PWM provides. These phase doublers do a nice job of taking in one PWM signal and providing two. MSI is using 12x 330uF (3960uF total) tantalum capacitors, which have great properties when it comes to varying temperatures (like subzero). The inductors are MSI's SFC, and should support up to 60A each. This is undoubtedly a strong arrangement.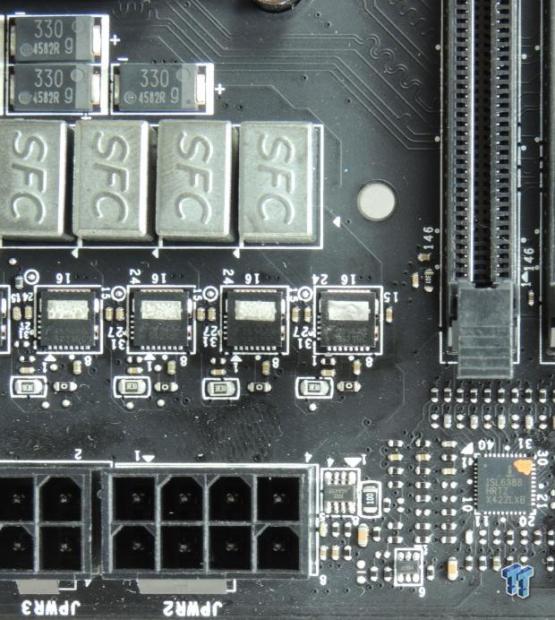 The power stages integrate one high-side and one low-side MOSFET, along with a driver. These are from Fairchild Semiconductor. These FDMF5823DC are capable of outputting up to 55A each. They seem to also have an extra pad on the top, perhaps to act as a heat sink. The PWM (the ISL6388) is from Intersil, and is Intersil's first digitally programmable PWM.
Memory Regulator Analysis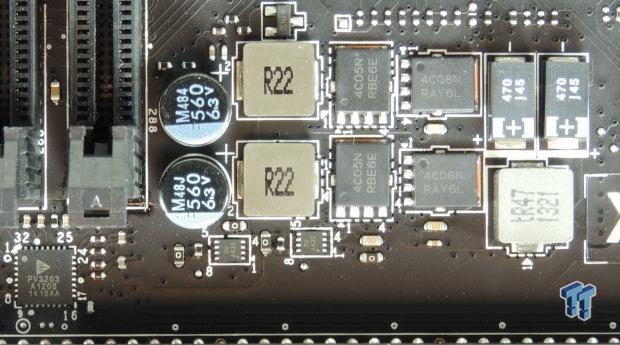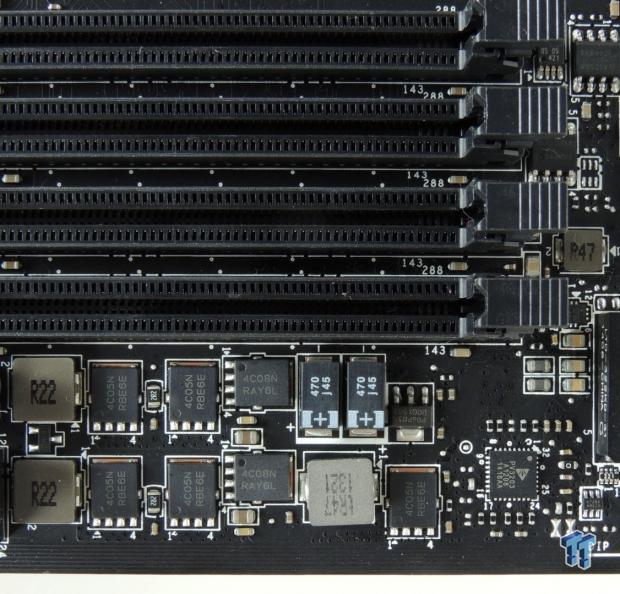 This is the first time I have seen a Powervation branded PWM used on a motherboard; they seem to be focused only on DC/DC buck controllers. MSI is using two of them here, one for each memory set. The PV3203 is a dual-phase digital PWM. Each memory phase is made up of two ONSemi NTMFS4C05N, and a single NTMFS4C08N, which are more than enough for the DRAM's main voltage rail.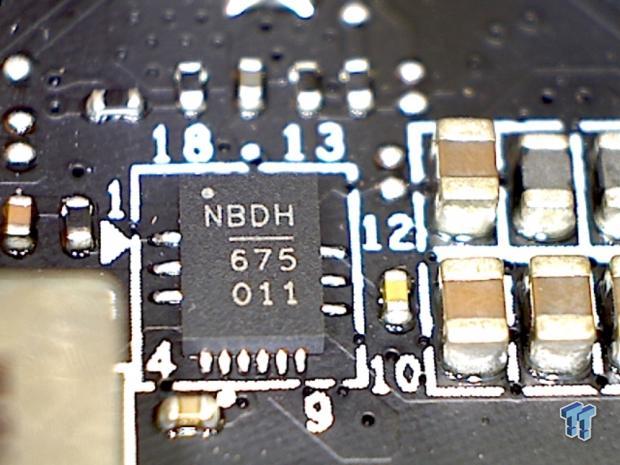 On the left, we have two drivers; there are two sets of these on the back of the board for both sets of memory VRMs. On the right, we have an unknown chip, but it is most certainly in charge of PCH power.
Overclocking and BIOS Setup
Overclocking Features
I will now cover all the overclocking specific hardware features this motherboard offers.

MSI provides OC features towards the bottom of the motherboard. This makes it better for those using liquid nitrogen to cool the memory, CPU, or GPUs. Power, reset, BCLK up, BCLK down, OC Genie, and FastB1 buttons are provided. The OC Genie buttons works in unison with the OC_SW1, providing two OC performance profiles that we will check out later in this article. The FastB1 button goes straight into the BIOS upon reboot.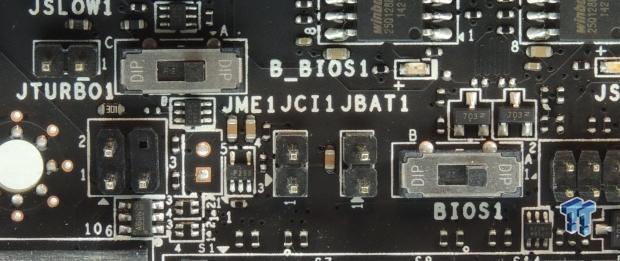 MSI provides a JSLOW1 switch that will reduce the CPU and Cache ratios to 12x when it is engaged. The second switch is used to select between two BIOS ROMs.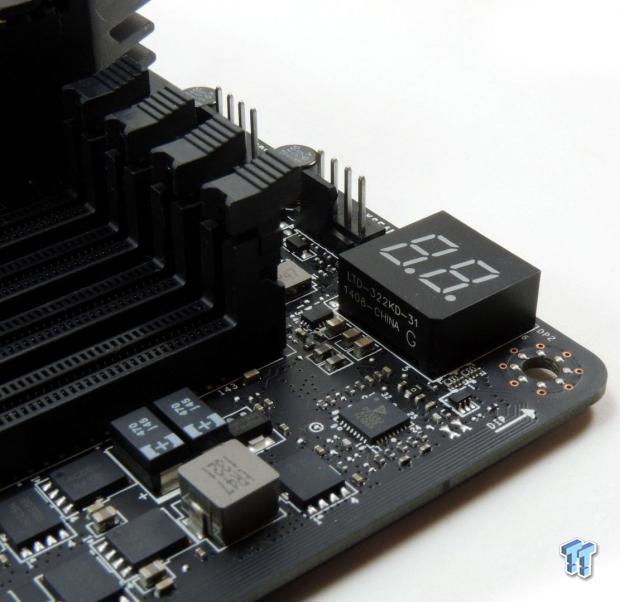 MSI provides a POST code display, but they also programmed it to show the real-time CPU temperature!
CPU and BCLK Overclocking
Max CPU Overclock is found by setting the VCore to 1.5v, Input voltage to 2.1v, cache voltage to 1.2v, CPU multiplier to 45x, memory and cache multipliers to 12x, and disabling any features that would result in CPU frequency fluctuation.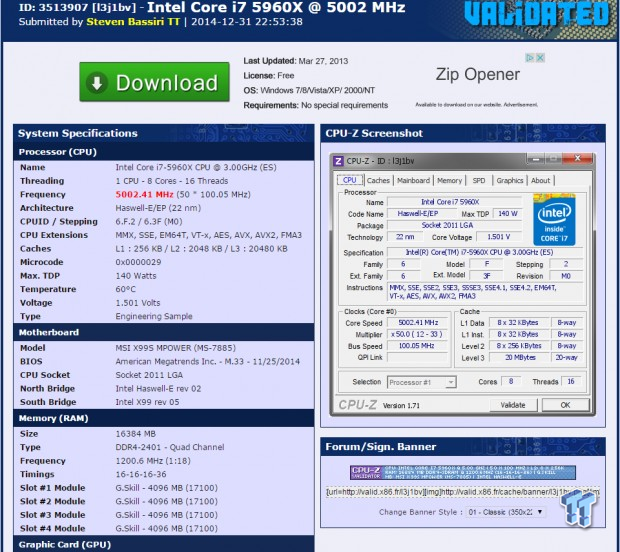 5.0GHz is the maximum of our CPU on many boards, including the X99S MPower.
Max Stable Overclock (BIOS settings are located further down):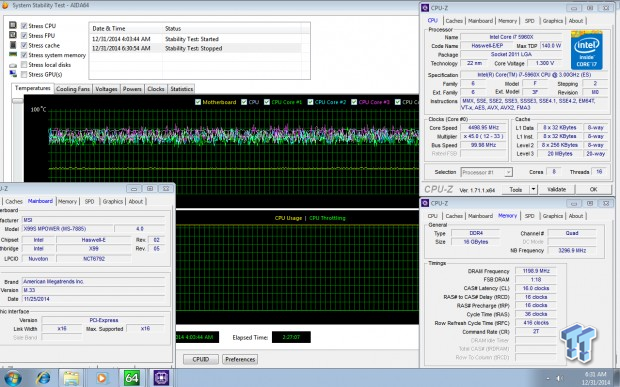 I was easily able to pull off 4.5GHz on the CPU with 3.0GHz cache, and a 2400MHz memory overclock (16GB) on my memory, by manually tuning the UEFI. I will cover auto OC features later on.
Max BCLK is found at the 1.67x (if it's operational), with fixed PCH Core voltage of 1.25v, and System Agent Voltage of +0.3v. All other ratios are tuned back to 12x (memory at 8x), to ensure they don't bottleneck the BCLK overclock.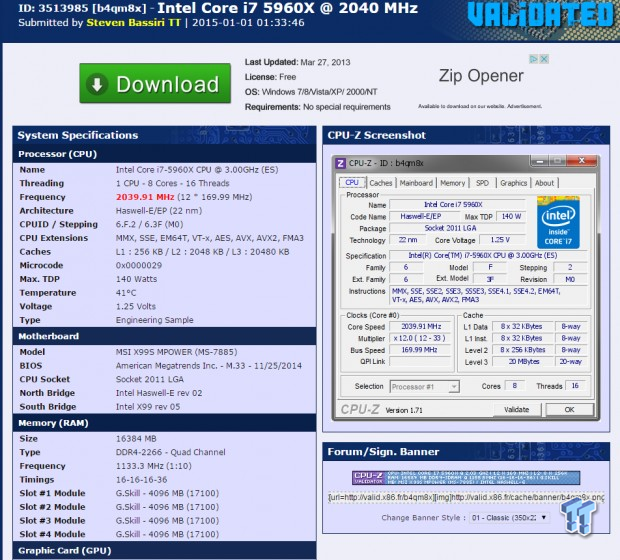 The maximum BCLK OC I could achieve with optimal settings was 169.99.
Memory overclocking with G.Skill 3200MHz 16GB Kit (Single sided Hynix modules)
Maximum clock on this memory is usually achieved by using the 1.00x BCLK ratio, and the 32x memory multiplier. If these don't work, then I use 1.25x BCLK and 24x memory, and higher multipliers instead. DRAM voltage is set to 1.5v, and system agent to +0.5v; timings were set at 16-16-16-36 2T, and the rest on auto. These high voltages are for testing purposes. For the efficiency test, the 1.25x divider is used with 21.33x memory multiplier. The 24x multiplier is used for CPU and Uncore. HyperPI 32M is used for the efficiency test.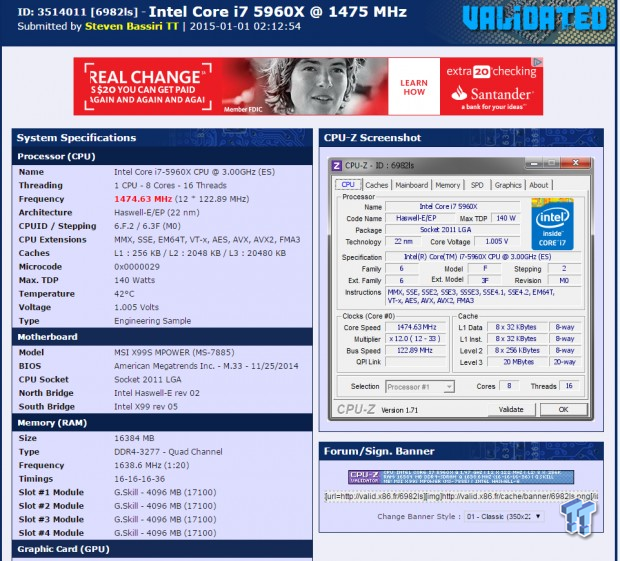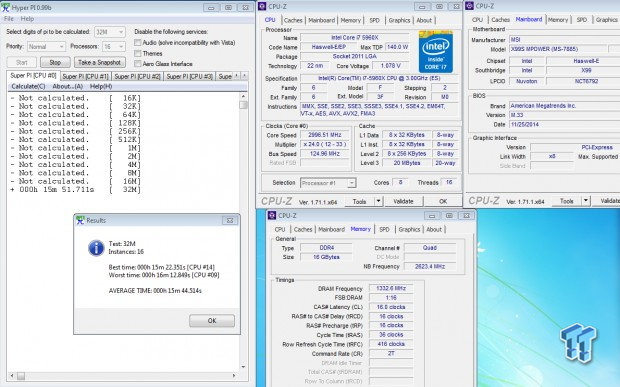 Max OC: 3277MHz
Efficiency time: 15min 44.514s
The X99S MPower does support dividers higher than 26x; both 26.66x and 32x are fully supported. I was able to boot at 32x (with XMP, and without), but I had stronger memory overclocking using the 1.25x BCLK divider. The memory OC frequency is among the highest I have done on the Intel X99 platform.
BIOS Settings for 4.5GHz Overclock with 32GB of 2133MHz Memory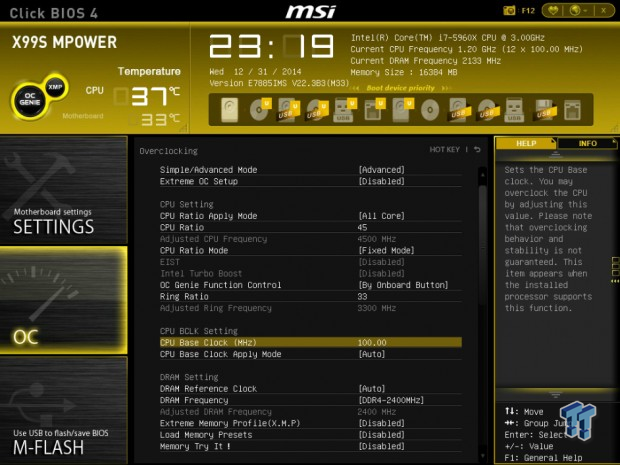 I set the CPU frequency to 45x, selected fixed mode (which disables Turbo and EIST), set ring (cache) to 33x, and DDR to 24x.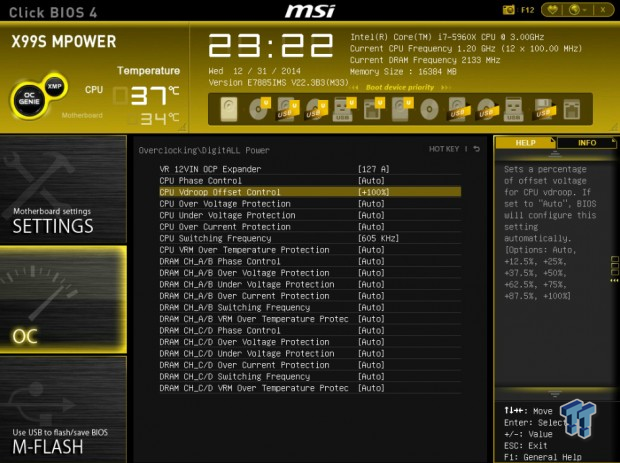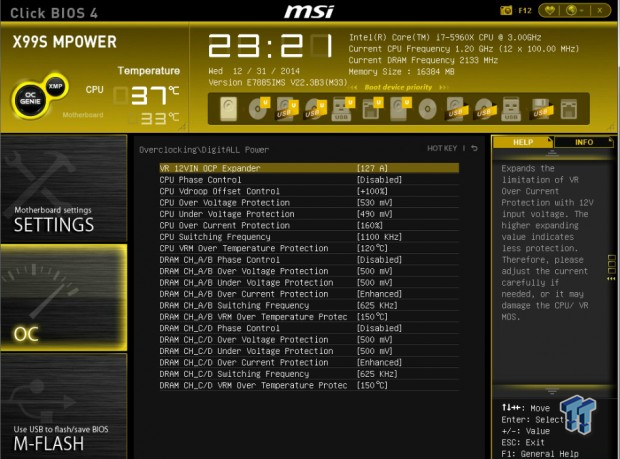 These are the controls for the VRM, specifically to increase power limits. You really don't need to touch anything, the board has good auto rules, but in this case, I decided to increase a few things like LLC and current. I also increased the switching frequency, as MSI said it helps in their provided OC guide. The other image above shows the VRM settings when you select the aggressive LN2 profile.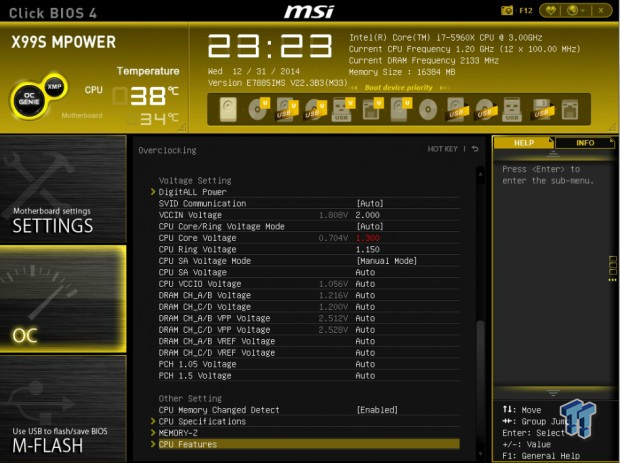 Here I set the voltages; you just need to type them in.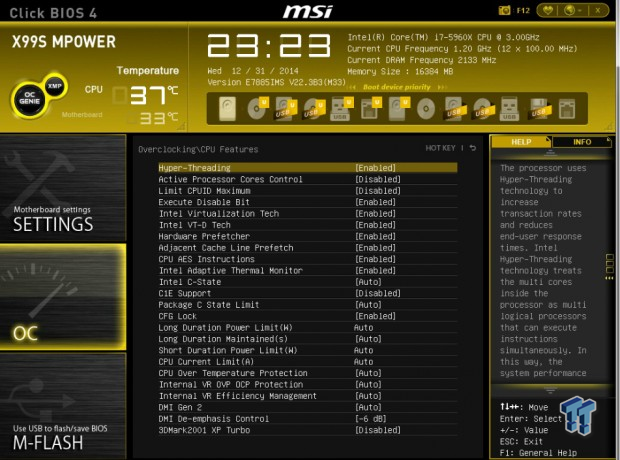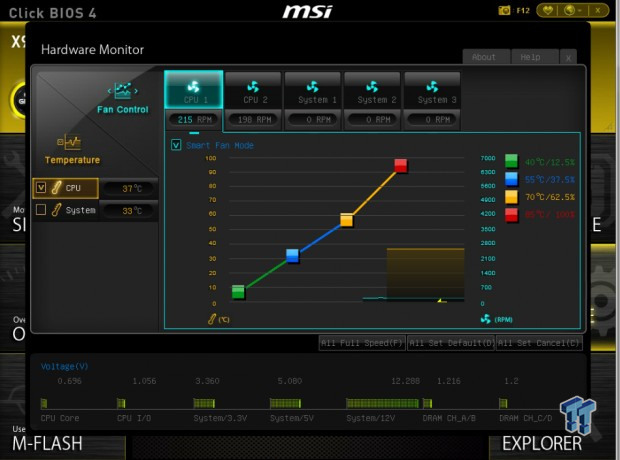 On the left are the advanced CPU features; you don't really need to mess with them. If you OC the BCLK, the option to disable DMI Gen2 is here. On the left, we have the fan controls, which are very nice. I would say this is possibly the best in-BIOS fan control GUI I have seen to date.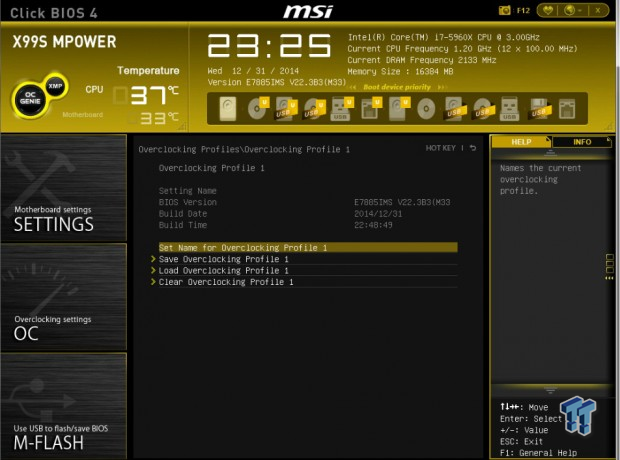 BIOS OC profiles are also available.
OC Recovery Experience:
Overall, this is pretty good. I really liked the fact that upon reboot the BIOS would ask if I wanted to load the last settings, clean the settings up, or load a profile. MSI has done an excellent job of polishing the OC experience in the UEFI.
Test System Setup and Feature Testing
Test System Setup
In this section, I will test MSI's features, OC Genie, and power consumption.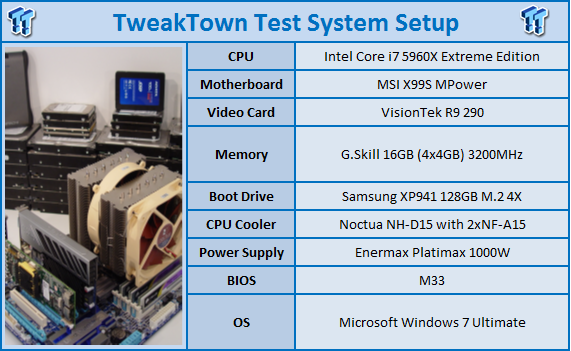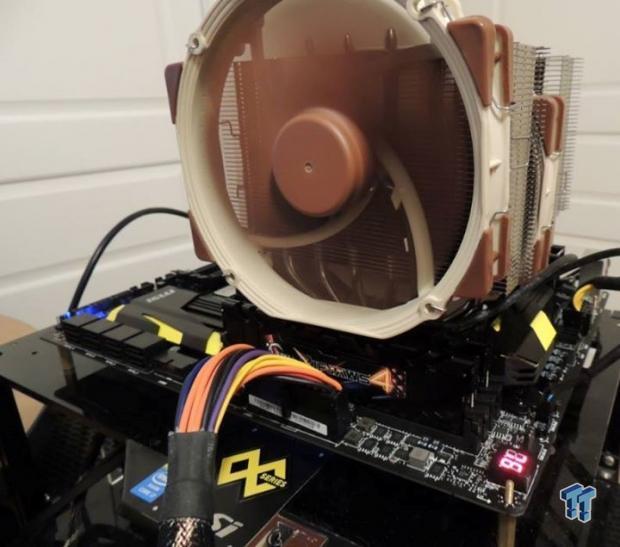 The X99S MPower is one of the few boards that is compatible with the Noctua NH-D15 and a PCI-E card in the first slot.
MSI's OC Genie Results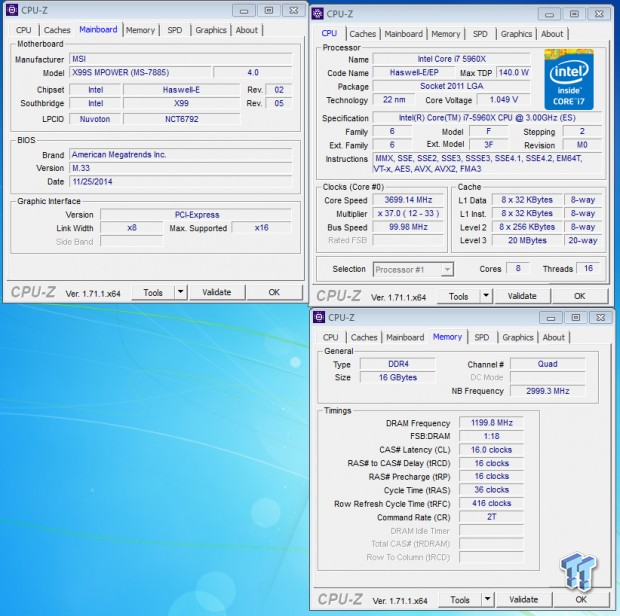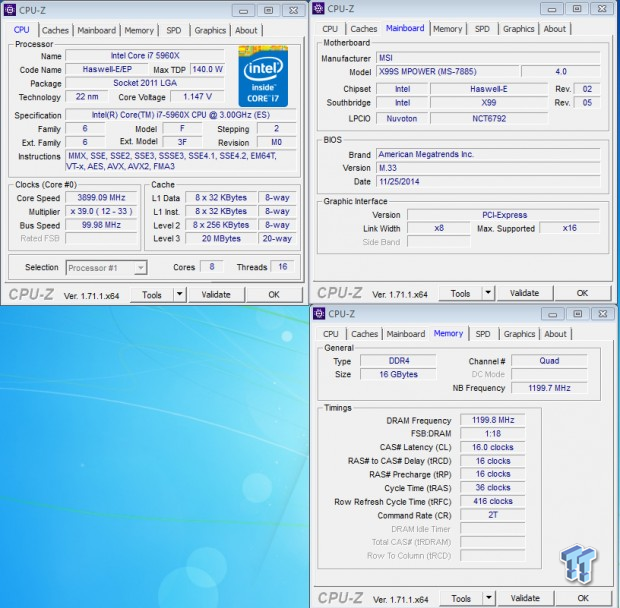 MSI's OC Genie is more modest than other auto OC offerings I have seen; however, it is much more practical. With the switch in position "A," it overclocked the CPU to 3.7GHz, and the memory to 2400MHz, whilst leaving the CPU voltages alone, which is something I really like. In position "B," the auto OC was at 3.9GHz with a very slight increase in voltage.
I prefer this type of auto OC to more aggressive types, because if you are going to risk your CPU, you should learn how to overclock, and manufacturers always use too much VCore to support the large range of CPUs. MSI takes a different approach, and provides minor overclocks with very slight increases in VCore; this ensures low temperatures, and reduces the risk of damage and instability.
OC Software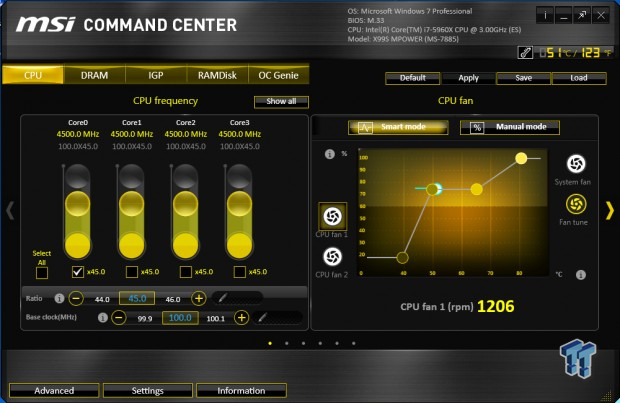 MSI has their full-fledged Command Center where you can set up overclocks and fan control, and even make a RAM disk.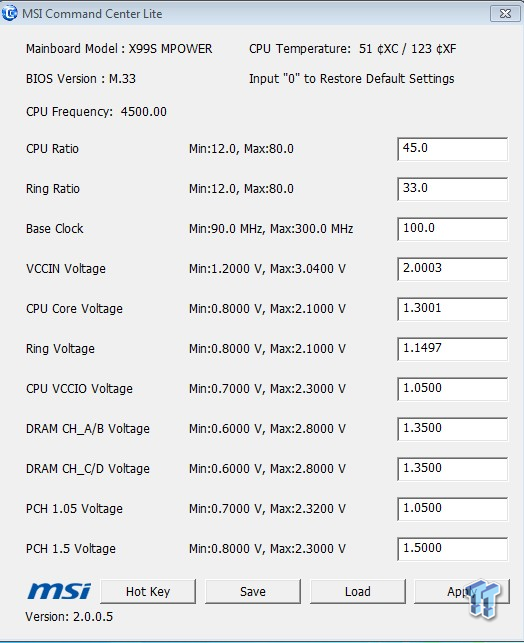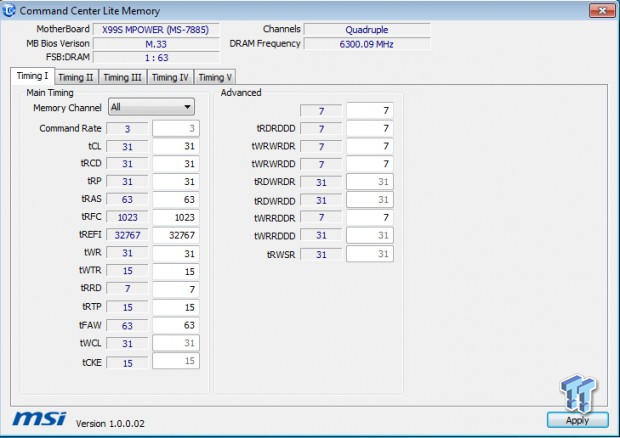 I prefer more lightweight programs, and MSI delivers with Command Center Lite, and Command Center Lite Memory. Both programs work well.
Power Testing
I tested the power at the wall socket, and at the eight-pin CPU power connector on the motherboard, which supplies the CPU power. Measurements were taken at 0% load for idle, and 100% load (at max spikes) using IntelBurnTest.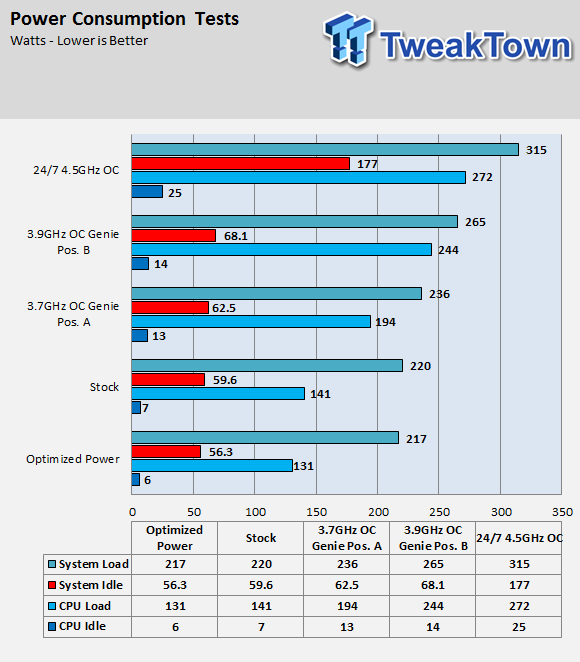 Windows power settings:
Power Saver: Optimized Power
Balanced: Stock, Auto OC (4.3GHz), 4.5GHz Preset
High Performance: 4.5GHz Manual
Final Thoughts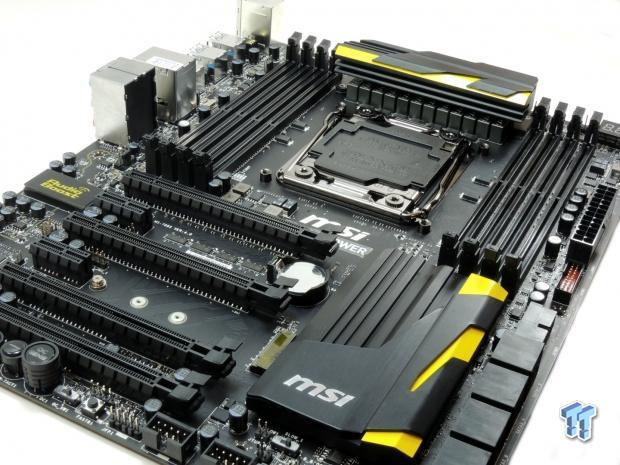 MSI really delivers with the X99S MPower. The board provides simple overclocking with an abundant amount of features, many of them in the UEFI and software. The BIOS is well polished, the settings are all-in-one page, and they have simplified things a lot. I really liked how I could choose if I want my CPU at fixed or variable frequency, right off the bat.
The advanced power menu was a bit confusing; however, the preloaded LN2 profile will clear up how you should set the advanced power menu if you don't want the PWM to get in your way. The fan control in the MSI BIOS is one of the finest I have ever seen; the GUI is superb, and the Windows software mirrors the finished feeling of the UEFI.
In terms of CPU overclocking, the board kept up with others I have tested. In terms of memory, it also did a great job of providing the right multipliers and settings to provide the user with different options. This board can push higher CPU and memory frequencies. The X99S MPower boots up very fast, and if you fail to boot, the options that appear upon reboot are very handy.
The VRM stayed pretty cool during overclocking, and power consumption tests prove that the VRM has great efficiency. MSI has done a wonderful job with the X99S MPower, and at $299.99, it's not only less expensive than other X99 overclocking motherboards, but it will also prove to be a worthy challenger in the OC arena.
PRICING: You can find the MSI X99S MPower for sale below. The prices listed are valid at the time of writing, but can change at any time. Click the link to see the very latest pricing for the best deal.
United States: The MSI X99S MPower retails for $284.30 at Amazon.
Canada: The MSI X99S MPower retails for CDN$322.00 at Amazon Canada.
PRICING: You can find products similar to this one for sale below.

United States: Find other tech and computer products like this over at Amazon.com

United Kingdom: Find other tech and computer products like this over at Amazon.co.uk

Australia: Find other tech and computer products like this over at Amazon.com.au

Canada: Find other tech and computer products like this over at Amazon.ca

Deutschland: Finde andere Technik- und Computerprodukte wie dieses auf Amazon.de
We openly invite the companies who provide us with review samples / who are mentioned or discussed to express their opinion. If any company representative wishes to respond, we will publish the response here. Please contact us if you wish to respond.