Supermicro C7Z97-OCE Motherboard Overview and Overclocking Guide
Supermicro is known for its range of enterprise and server motherboards, but they tried their hand at the enthusiast market recently. Here's Steve's take.
Published Wed, Dec 10 2014 9:11 AM CST
|
Updated Tue, Nov 3 2020 6:59 PM CST
Introduction
Supermicro is a very well-known server brand, especially in the USA. They are known for their high-quality components, and super stable design. Today we are taking a look at one of their first consumer boards aimed at gamers and overclockers, the C7Z97-OCE.
You can easily buy a Supermicro board in stores like Microcenter, and on websites like Newegg, but they are one of the smaller brands when it comes to DIY PC building. Let's see if Supermicro has what it takes to compete against the bigger players in the DIY market.
The C7Z97-OCE features an interesting mix of complimentary colors; while the heat sinks have a vibrant orange color, the slots are blue. The heat sinks make good contact with the chips, and they seem to cool everything just fine. There are a total of six, four-pin fan headers. These fans run on a pre-set profile by default. You can only control these headers through the UEFI, and there are only two choices: standard and full speed.
PRICING: You can find the Supermicro C7Z97-OCE for sale below. The prices listed are valid at the time of writing, but can change at any time. Click the link to see the very latest pricing for the best deal.
United States: The C7Z97-OCE retails for $194.99 at Amazon.
Voltage Regulator Circuit Analysis
Voltage Regulator Analysis
With more and more things being integrated into the CPU and PCH, there isn't much that sets motherboards apart; however, the voltage regulator is still one part of the motherboard that differs greatly between manufacturers, and even between models of the same brand. It is important to review the hardware to see exactly what you are paying for.
The VRM on this board is unlike any other seen on consumer DIY motherboards. Supermicro is using server grade 45A Vitec inductors, along with Infineon branded DrMOS, and a Primarion PWM. For the most part, everything on this board is server-grade. There are six 560uF polymer can-type capacitors for a total of 3360uF. There are also a few MLCC used in the output filter, which hints that this is a high frequency VRM.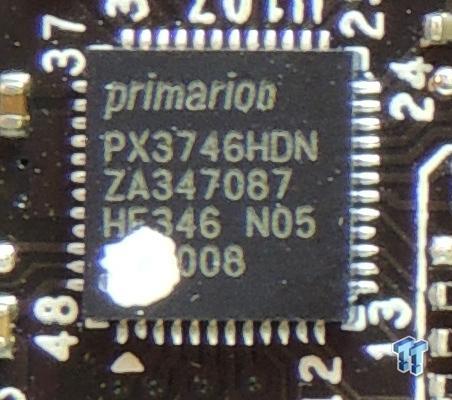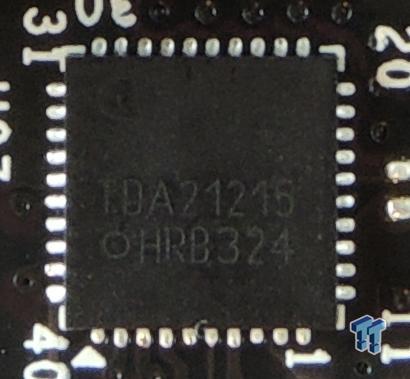 The PX3746 is a six-phase digital PWM from Primarion (Infineon). Infineon is known for high-quality products, but the cost of their products is usually higher than companies like uPI or Richtek. The C7Z97-OCE uses 6x DrMOS TDA21215 - there is no datasheet on this part, but it's from Infineon. We can assume that it is at least a 35A DrMOS, and perhaps even 40A. The only datasheet available is for the TDA21220, and it is a 50A part.
This is the memory VRM using the same TDA21215 DrMOS; however, a different Primarion PWM, the PX3743, is either a two or three-phase digital PWM. I am glad Supermicro decided to go digital for both the memory, and CPU VRs.
This is a Z123201; I believe it to be a POL (point of load) device, which is like an all-in-one VRM used to power low current devices - in this case, the PCH. The use of all the heavily integrated components in the VRs (DrMOS and POL) increases board real-estate for other devices, which is something you often see on servers. This all points to engineers who work on servers working on this board, and that is a great sign for those who want high-quality and solid engineering.
Motherboard Circuit Analysis
The C7Z97-OCE is very well built, and its features are far and wide. However, I should note that the black 4x slots are actually only 1x in bandwidth, but they are larger, and can fit 16x sized cards for folding. From the top blue 16x slot downward, the PCI-E wiring layout is 16x/8x/4x.
This is the PCI-E layout. The Flexible I/0 that Intel gave the Z87 and Z97 PCH is used here in a 4:8:6 arrangement. There are four native USB 3.0 ports, six SATA6Gb/s (two to M.2, and four to connectors), and 8x PCI-E. The reason they are able to do USB 3.1 is because Supermicro allocated 2x lanes to the ASM1042 for 10Gb/s of bandwidth (PCI-E 1x is 5Gb/s). They also allocated 2x PCI-E to the M.2.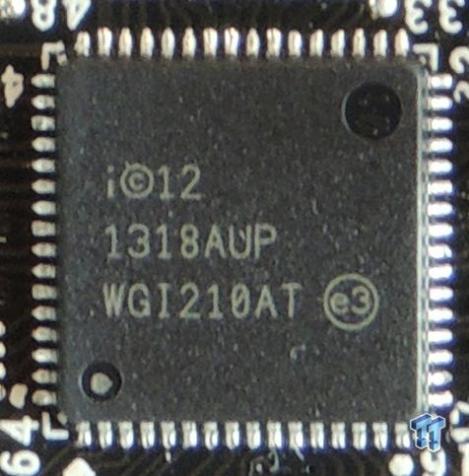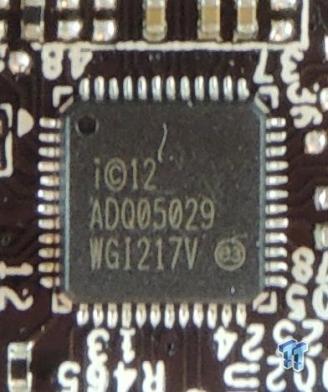 An Intel WGI217V (a very common PHY) is used in conjunction with the PCH to provide GBit LAN. However, half of the NIC is in the PCH, and this physical layer device (PHY) provides the actual port signals. Supermicro also went with a WGI210AT, which is a commonly used secondary NIC for boards with dual Intel NICs.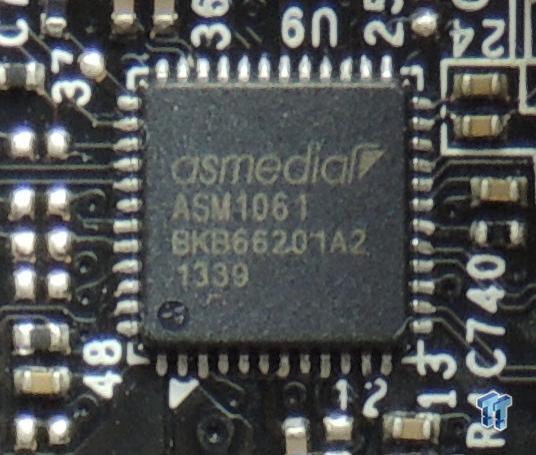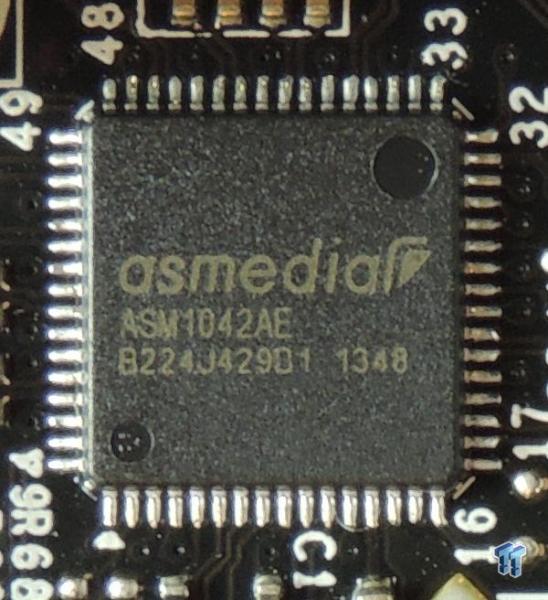 This is the ASM1042 that gets two PCI-E lanes, and in return, provides the USB 3.0/3.1 internal header. The ASM1061 provides two SATA6Gb/s to make for a total of six SATA connectors.
The board has M.2 directly from the PCH; however, I should mention that at this time, I was not able to boot directly from it.
The audio utilizes an ALC1150, but there is no differential on the output, possibly limiting how high the SNR will go with this particular Realtek codec. The cleanliness of the PCB in this area signifies that they did put a lot of thought into making the audio section separate from the rest of the board. You can say it is isolated, and the sound quality is actually very good.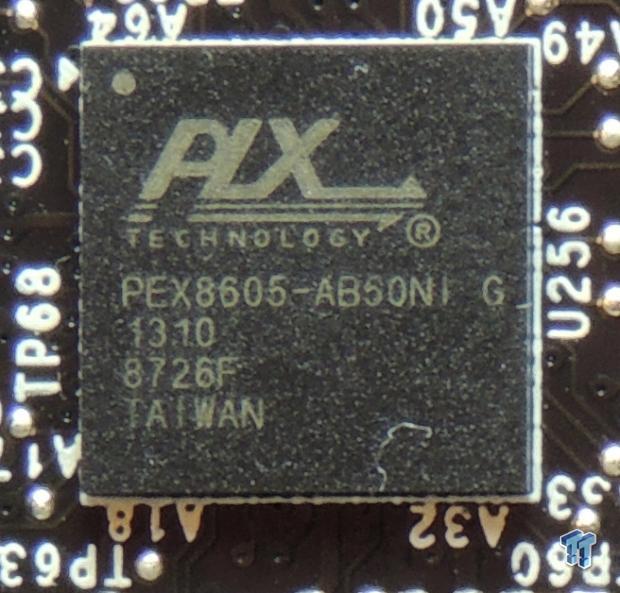 A PEX8605 is a four port switch that takes in one lane of PCI-E 1x 2.0, and makes it three lanes of PCI-E 1x 2.0, which are then used for the black PCI-E slots. There are also 6x ASM1480, which switch the CPU's PCI-E lanes from 16x/0x/0x to 8x/8x/0x to 8x/4x/4x in the blue slots.
A Nuvoton NCT6776D is used as the super IO. This is a very common super IO, and the board doesn't have issues with the readability of its sensors for other programs.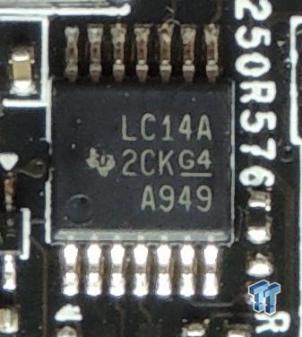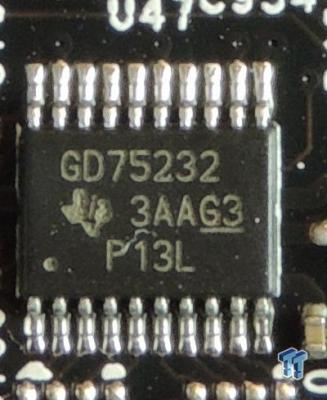 The Texas Instruments LC14A is a four port hex inverter, and is most likely used for the POST Code display, or for the OC button functionality. Texas Instruments GD75252 is a chip that allows for the serial port (COM). The super IO provides the TPM port.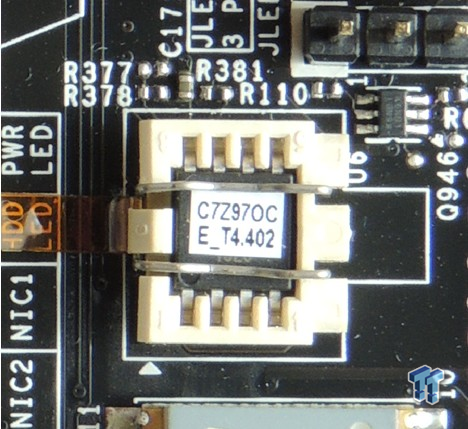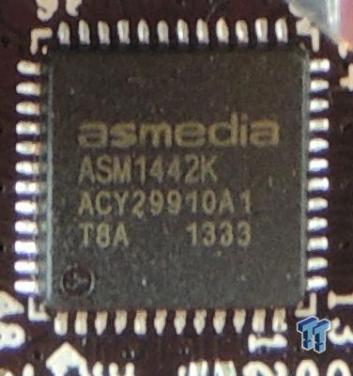 The BIOS ROM is actually a 128Mbit (16MB) part. I have only seen this on the GBT Z87/Z97 boards, and most X99 motherboards. This is a huge BIOS ROM, partially because of the backup boot sector, but also because this board was Supermicro's first shot at a UEFI featuring a GUI, and they didn't want any size restrictions to deal with. An ASMedia ASM1442K is a level shifter for digital video; it converts the digital video signal to HDMI/DVI, so you can have a HDMI port on the board.
Overclocking and BIOS Setup
Overclocking Results
In this section, I will go through the process of overclocking this board. This board is Supermicro's first attempt at an overclocking centered motherboard, and at the same time, it also carries their first UEFI.
CPU Overclocking
Max CPU Overclock can be found by setting the VCore to 1.4v, input voltage to 2.0v, cache voltage to 1.2v, CPU multiplier to 45x, memory and cache multipliers to 8x, and disabling any features that would result in CPU frequency fluctuation. After adjusting these settings, I proceed into Windows, and use software to increase the multiplier. In this case, I opted to use Intel's Extreme Tuning Utility, as it's the only software that can OC this board in Windows.
5.0 GHz is the maximum of our CPU on this board, and this is most likely due to the fact we had to use Intel's XTU, and it's not as light weight as other programs from other vendors.
Maximum AIDA64 Stable Overclock (BIOS settings below for this):
I was able to easily pull off 4.8GHz on the CPU with 4.2GHz cache, and a 2666MHz overclock on my memory by manually tuning the UEFI.
BIOS Settings for Overclocking
The UEFI lacks the ability to take a screenshot, so I had to take pictures with my camera.
Supermicro provides us with all of the settings we need to overclock; however, they are a bit scattered, and might be a bit confusing. For starters, you have to type in the values you want (make sure to click the "Expert" button at the top of the screen in different menus to show all options), but you must delete the previous values first. BCLK is in a weird format, the default value of 102.00 MHz is "10200," and if you want 100.00, you must delete "10200" with the backspace key, and type in "10000."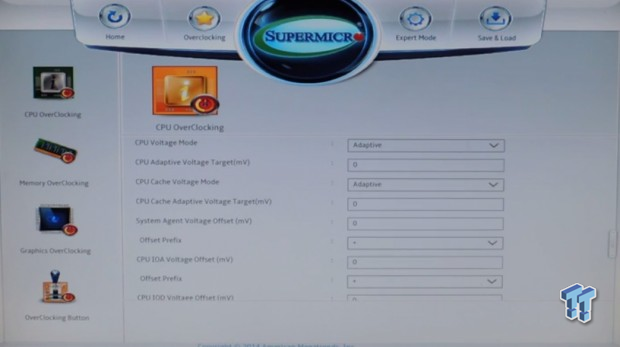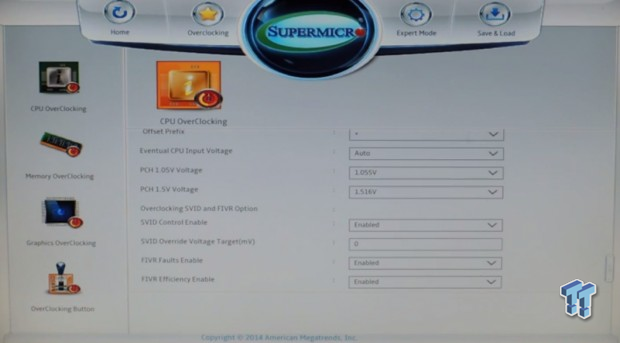 Voltages are also there, and are in units of millivolts, so "1300" is 1.3v. The System agent has a default offset of +0.55v to support the 102MHz BCLK. I would personally set 100mhz, and tune down the high SA offset.
The XMP values on my 2800MHz 16GB kit did not work. The board just wasn't able to boot at the 28x multiplier, but it was able to do 2666MHz with ease. One nice trick is that if you select XMP, and then immediately go to manual mode, all the XMP timings are still in place.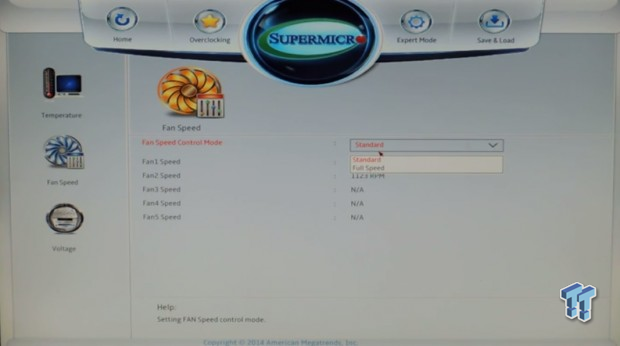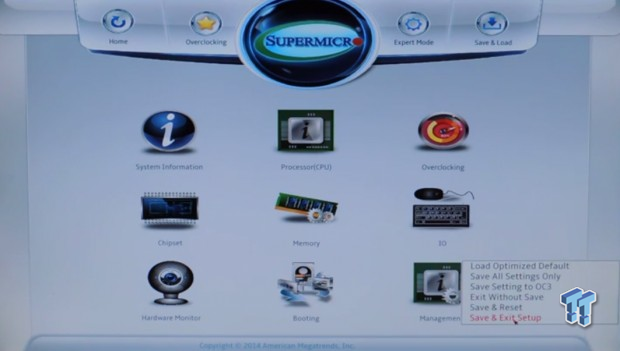 You can see the fan profiles above. The second image shows the save and exit menu. The reason I decided to show this is because you need to hit "Save & Exit," then boot into Windows, then shut down all the way, and start up again. If you do not do this, the OC settings will not take. This is because the board doesn't reset after exiting the UEFI, and if you restart unexpectedly from Windows, then all the BIOS settings automatically revert to default.
This becomes a hassle to deal with, but you won't ever hang up on POST, or really need to clear the CMOS, because it will just reset the settings for you if you don't boot properly, or if you reset abruptly. This makes the onboard clear CMOS button the same as a reset button (possibly why the board doesn't have a reset button). You can save some basic settings in the OC3 button profile, but not enough for some overclocks.
Test Setup, Feature Testing, and Conclusion
In this section I will test Supermicro's features.
Supermicro doesn't have a fancy software suite to go with its ultra-fancy hardware; in those terms, it is bloat-ware free. However, that does limit Windows based fan control, as well as overclocking. There is an overclocking driver included in the driver DVD, and this OC driver allows Intel's Extreme Tuning Utility to actually overclock the C7Z97-OCE in Windows, and in that regard, it worked flawlessly. All OC profiles are through the UEFI.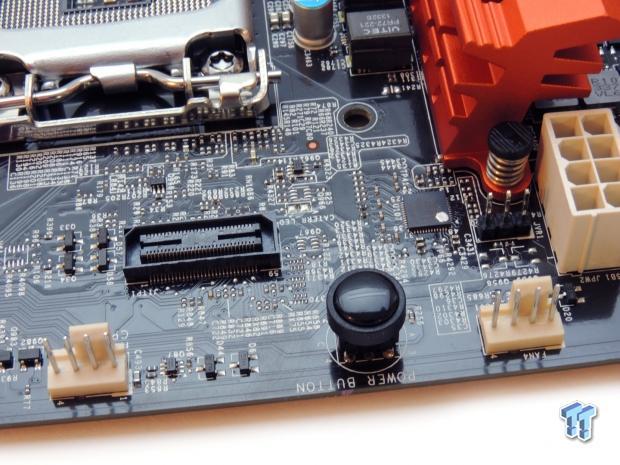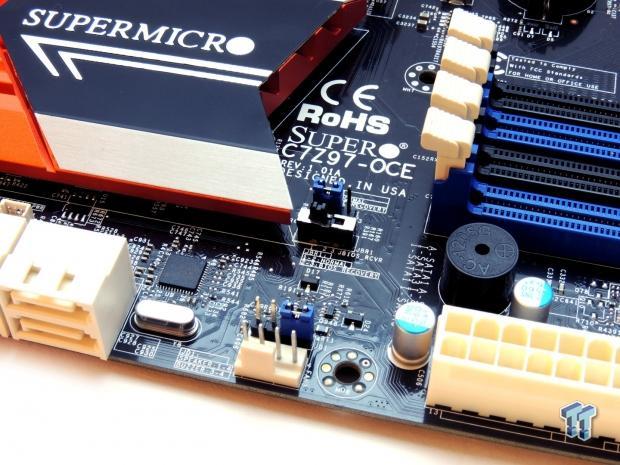 The one thing about the hardware layout of this board that is a bit off is the positioning of the power button. It's all the way at the top of the board, nowhere near the other buttons, and easily missed with a large heat sink installed. The board also carries a large number of jumpers, which are great for overclocking since you can use the jumpers to disable and enable features at a hardware level. You can disable every 3rd party controller this way, including audio, and the NICs.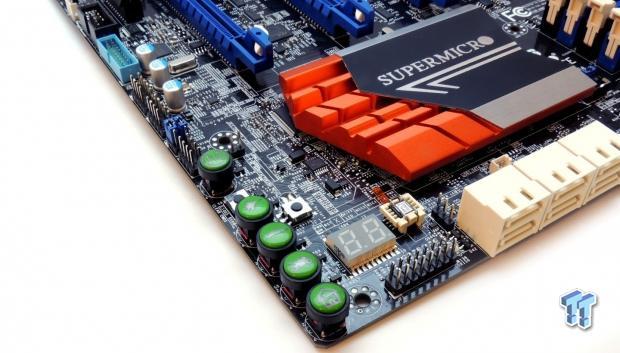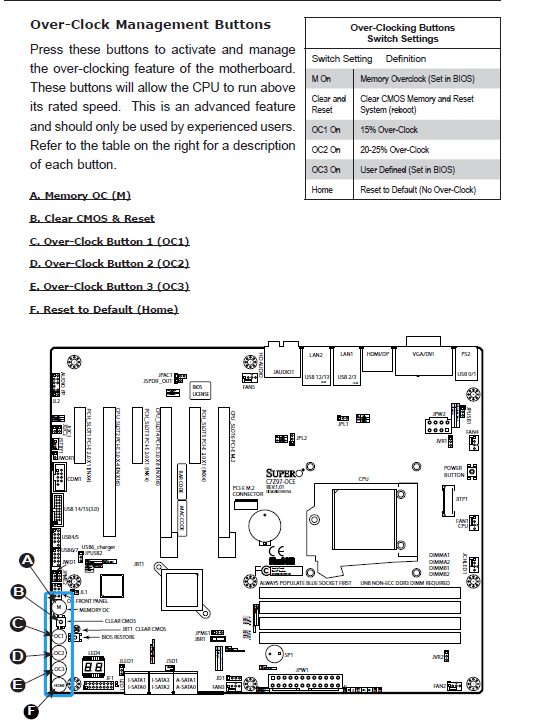 Even though this is Supermicro's first DIY board featuring overclocking, it still comes with buttons for ease of use when overclocking. The buttons' functions are also in the manual. Let's see what they do.
With the 4790K, the system is already at the point that is covered by the first 15% button. I tried the maximum OC UEFI profile, which was the same as the 20% OC button. This resulted in a 4.8GHz overclock, but the VCore and VCache were both set at 1.4v. This was too high to run any stability tests, but you can see the settings in Intel's XTU above.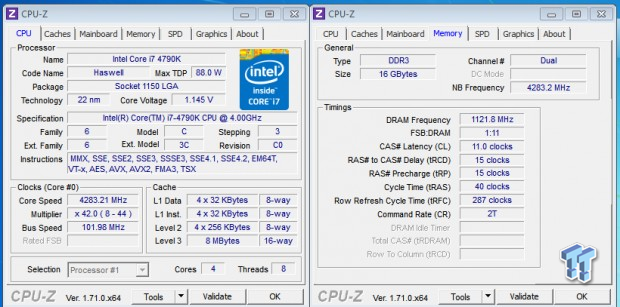 This is my 4.8GHz OC that I programmed into the OC3 button, and it did work as expected. Next, I wanted to try the last OC button, the "M" button to OC the memory. To my surprise, it overclocked the memory to 2240MHz with a 102MHz BCLK, and a 4.3GHz core speed on all cores. It didn't over-volt the CPU cores; instead, it left them at 1.15v, which is totally acceptable for that speed.
Power and Audio Testing
I tested the power at the wall socket, and at the eight-pin CPU power connector on the motherboard, which supplies the CPU power. Measurements were taken at 0% load for Idle, and 100% load (at max spikes) using IntelBurnTest.
The C7Z97-OCE is one of the most efficient Z97 boards I have tested - possibly because of its server level parts and engineering.
This is the testing done in RMAA5.5 with the audio, and the results speak for themselves. I test with RMAA a bit differently than others. I make sure to disable all audio enhancements in packaged software, and in the control panel, then I match bit rate and frequency, and finally run the test.
Final Thoughts
About five months ago, Supermicro asked me if I was interested in testing one of their new overclocking boards, a first of its kind from Supermicro. Not only is the C7Z97-OCE Supermicro's first overclocking/gaming motherboard, but it is also their first motherboard with a UEFI with GUI (and mouse control). The UEFI has come a long way since that first day, and I have to say that the system works fine without touching the UEFI settings.
However, if you do decide to overclock, then you should be aware that this board is unlike any other board in terms of typing in and applying settings. I strongly recommend you use the built-in profiles, and tune the rest from there. Otherwise, I think I have left you with a few tricks in the BIOS page to help you get started.
The board is able to compete very well with my other Z97 motherboards in 24/7 overclocks, but this board isn't meant for benchmarking, or liquid nitrogen overclocking. While it might survive a liquid nitrogen session, and while it has the proper hardware, its BCLK and memory overclocking aren't competitive above 105MHz, and above 2800MHz. The C7Z97-OCE does do great, and matches my other boards when it comes to 24/7 CPU overclocking. The C7Z97-OCE also keeps up and beats almost all of my boards when it comes to CPU power efficiency.
The C7Z97-OCE has a lot of great features; it is the first and only board I have seen to offer USB 3.1 for the future. Supermicro does this by routing two PCI-E 1x lanes to the ASM1042 controller. This isn't the only notable hardware enhancement. Basically every piece of hardware, other than some of the controllers, is sever-grade. This means that the longevity of the parts on this board is very hard to beat.
The engineers behind this board usually work on servers, so you know the trace routing and hardware layout is at enterprise standards. In conclusion, the C7Z97-OCE fits the bill if you are looking for a high grade board that can overclock the CPU high, and the memory modestly, yet maintain stability for years to come. At $195, the price of the C7Z97-OCE is also very reasonable if you consider the cost of the high-quality parts.
PRICING: You can find the Supermicro C7Z97-OCE for sale below. The prices listed are valid at the time of writing, but can change at any time. Click the link to see the very latest pricing for the best deal.
United States: The C7Z97-OCE retails for $194.99 at Amazon.
PRICING: You can find products similar to this one for sale below.

United States: Find other tech and computer products like this over at Amazon.com

United Kingdom: Find other tech and computer products like this over at Amazon.co.uk

Australia: Find other tech and computer products like this over at Amazon.com.au

Canada: Find other tech and computer products like this over at Amazon.ca

Deutschland: Finde andere Technik- und Computerprodukte wie dieses auf Amazon.de