Intel X99 Motherboards and DDR4 Memory Buyer's Guide (Launch Edition)
A handy guide for the Intel X99 platform based on products ready and shipping right now. Check out the selection of motherboards and DDR4 memory options!
Published Aug 30, 2014 2:03 PM CDT
|
Updated Tue, Nov 3 2020 6:59 PM CST
7 minute read time
Introduction and CPU Selection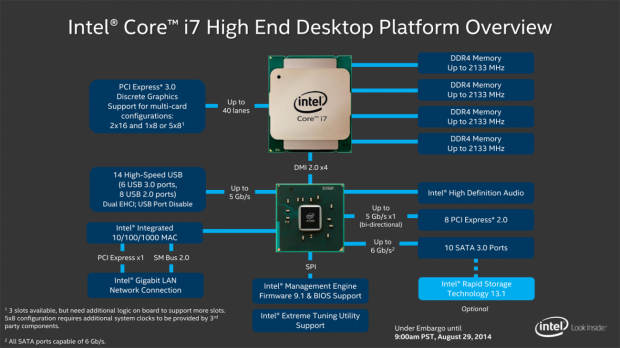 To complement the earlier article that Shawn wrote on the new Intel X99 chipset, I decided to publish an article solely based on publicly available facts, the majority of which were released yesterday on launch day, outlining buying options for those who want to jump on the X99 bandwagon early.
The purpose of this guide is to help speed up your research and narrow down your X99 motherboard choices, so you can focus on more specific motherboard research. While the X99 platform isn't necessarily a landmark platform, there is an abundance of choices for both the motherboard and memory segments. Not only do you have to pick out a nice X99 motherboard for your Haswell-E CPU, but you also must adopt the new DDR4 memory specification.
These parts are pricey, and while I was looking over the sites of major retailers, I spotted countless errors in motherboard specifications. One large retail site even had an x99 motherboard with two display ports, after checking and confirming the site was wrong, I decided to compile my own specification list.
For clarification, I should mention that the X99 platform has no motherboard video outputs as the site was claiming. After countless hours of searching, compiling, and confirming, I think I have put together a decent list of X99 motherboards and DDR4 modules, almost all of which are available to buy at this very moment. We tried to find motherboards for sale from Biostar and ECS, but we couldn't find them, so they won't be included here today, but the other big players are included.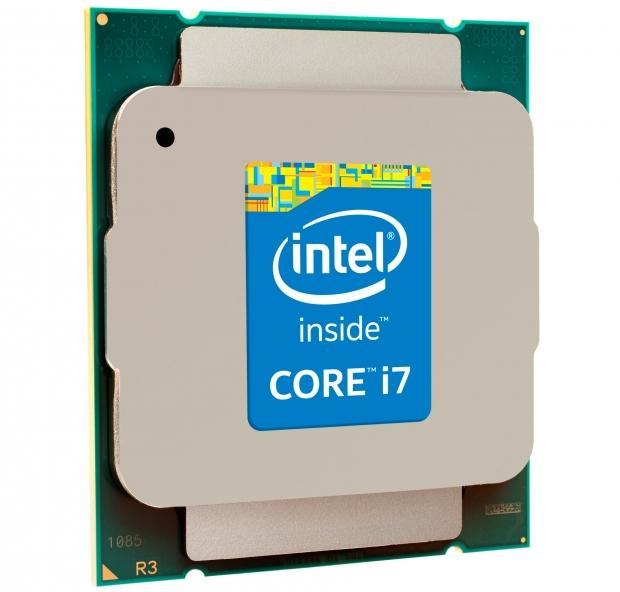 The new CPU's can be quite pricey, however, there is a less expensive option.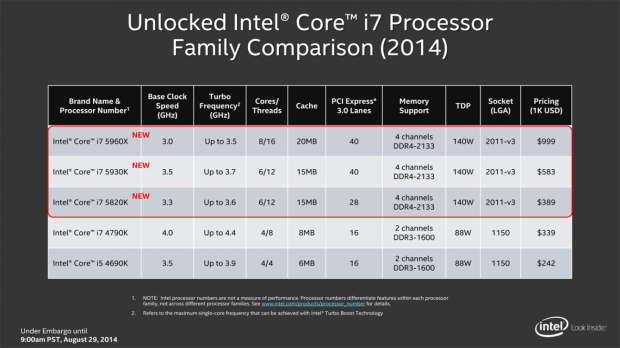 I would first pick a CPU because if you pick the cheapest CPU, the Core i7 5820K, you will not have the option of going 4-way SLI, as the number of PCI-E lanes are limited on this processor. Let's continue onto the next page now, and take a look at the motherboard options from ASRock.
PRICING: You can find Intel X99 Motherboards and DDR4 RAM at Amazon.
X99 Motherboard Specific Features: ASRock
ASRock X99 Motherboards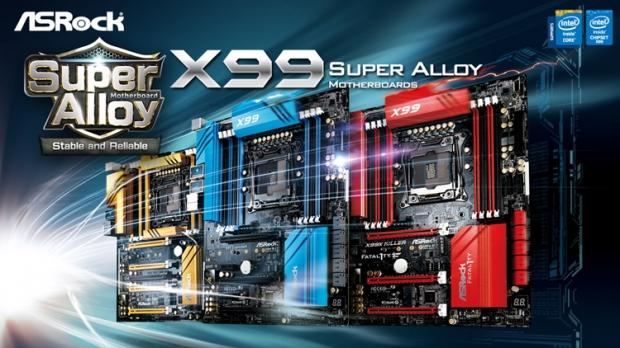 ASRock has released a formidable series of motherboards, with a total of seven models at launch. They feature bright strong colors and some pretty cool features. One of the most notable motherboards is their X99 WS, which is a new series from ASRock aimed at those who want a server-level consumer workstation motherboard. We are also happy to see that the Fatal1ty series has also been upgraded and improved upon.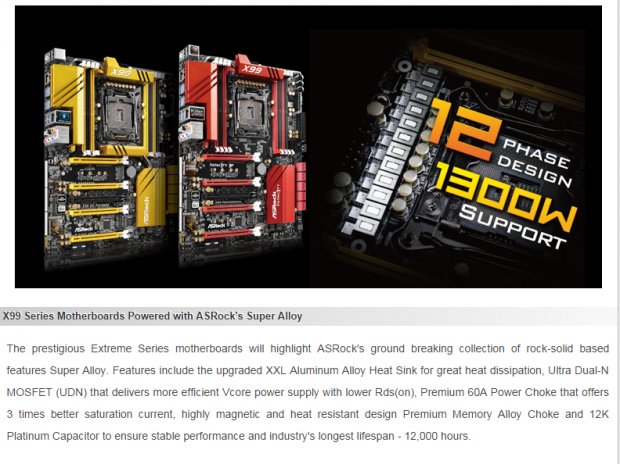 ASRock is advertising a 12 phase VRM with 1300W CPU support on two of its models, the X99 Fatal1ty Professional and the X99 OC Formula.
I would estimate that each phase is outputting about 50A to get that 1300W number. I should also mention that like other motherboard brands, ASRock has also beefed up power delivery across all their X99 models.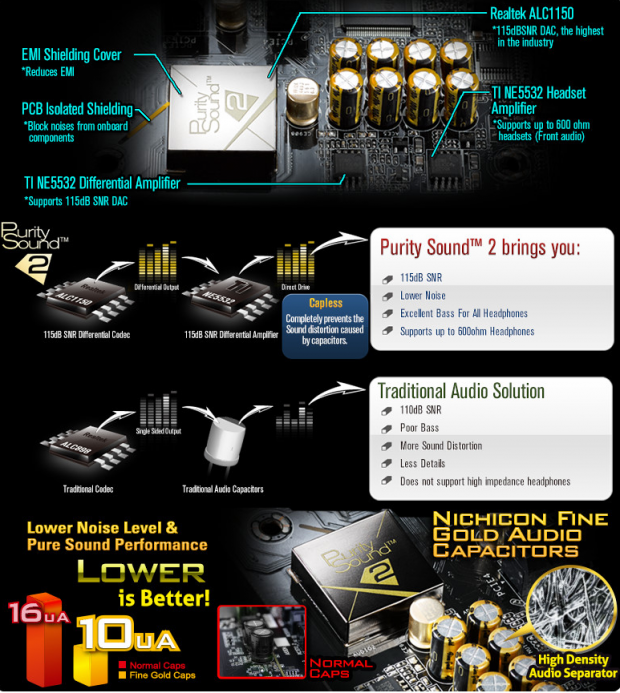 ASRock is also showing off Purity Sound 2.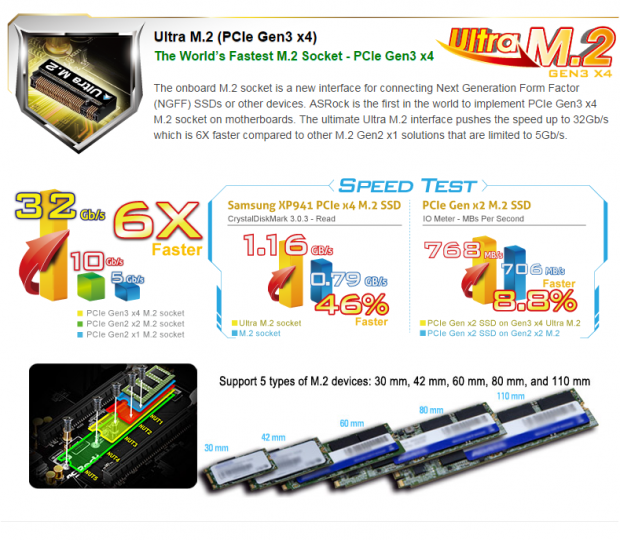 ASRock also seems to have focused a lot on M.2 this generation; all the ASRock boards we see on launch are using Ultra M.2 with 4x PCI-E 3.0.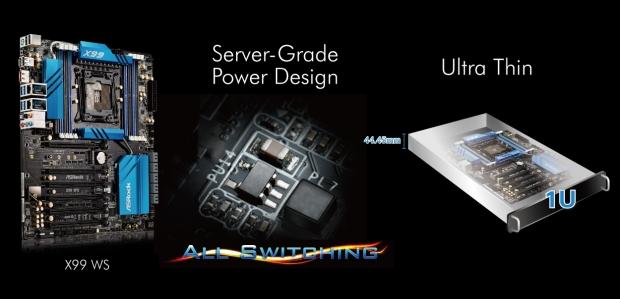 They are also advertising a thinner back plate so their X99 WS server workstation motherboard can fit in a server chassis.
PRICING: You can find Intel X99 Motherboards and DDR4 RAM at Amazon.
X99 Motherboard Specific Features: ASUS
ASUS X99 Motherboards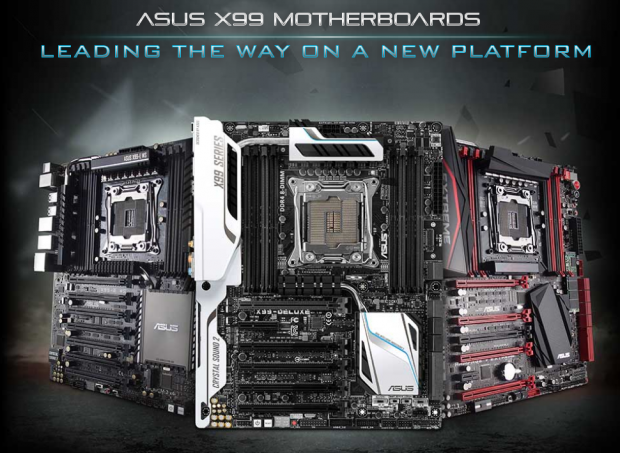 ASUS is featuring only three models on launch, and only two are available at this time. They are very high-end motherboards, which are feature packed. Surprisingly, the ROG flagship, the Rampage V Extreme, is front and center, and like always, takes center stage. ASUS has packed all three models to the brim with connectivity and exclusive features.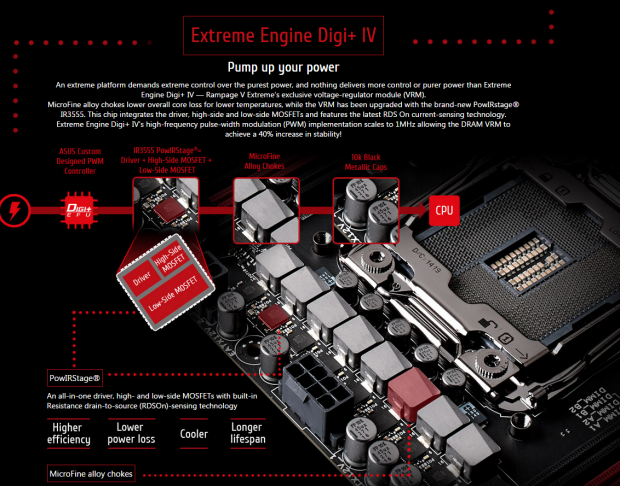 ASUS's VRM design for their Rampage V Extreme is very strong. We expect nothing less from ASUS in the VRM department, and if you were familiar with ASUS's X79 VRM design, they have moved from NexFETs to IR power stages, which provide a more integrated approach, as motherboard real-estate is limited on X99.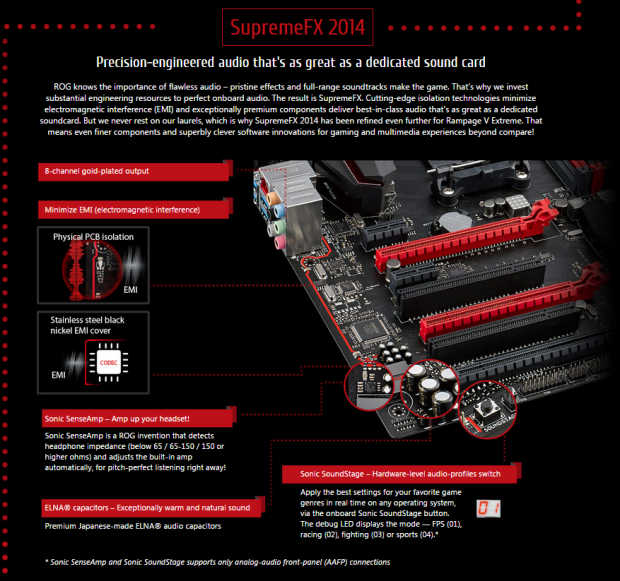 The audio design for the Rampage V Extreme.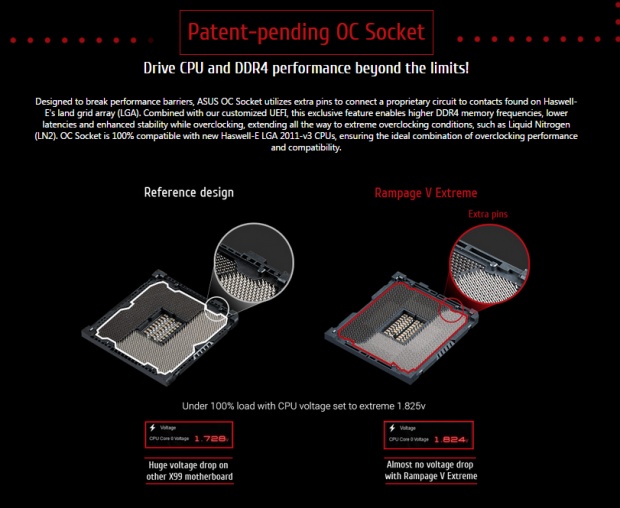 The CPU socket here features more pins than needed, I would think to ensure better contact as the socket is huge.
These highlights are from ASUS's X99-E WS, which features 16x/16x/16x/16x SLI/CF, and has a total of 64 PCI-E 3.0 lanes. This is the highest we have seen among all the boards.
PRICING: You can find Intel X99 Motherboards and DDR4 RAM at Amazon.
X99 Motherboard Specific Features: EVGA
EVGA X99 Motherboards

EVGA surprised everyone at this launch by having boards ready for purchase on launch day.
I am sure this isn't a first for EVGA, but it is the first time in years I have seen EVGA ready at launch, and the products look solid as well. EVGA brought back its Classified series, and is putting more effort into their line up, and we hope to take a look at one soon.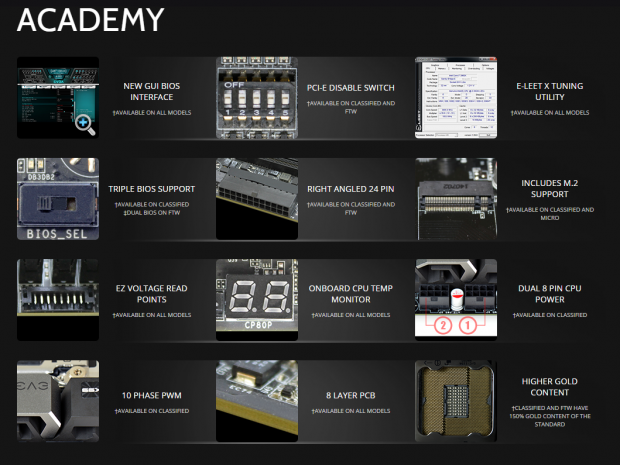 I couldn't find that much marketing on the EVGA motherboards, EVGA usually shies away from marketing and is more focused on word of mouth, however, they did put together a little PDF guide on their boards, which is where I got this image.
PRICING: You can find Intel X99 Motherboards and DDR4 RAM at Amazon.
X99 Motherboard Specific Features: GIGABYTE
GIGABYTE X99 Motherboards
GIGABYTE came out with the most models at launch, a total of eight boards. They do have their flagship models front and center, and readily available, including the X99 SOC Force and X99 Gaming G1. GIGABYTE had made some major line up changes with Z97, and they have carried over the good stuff to X99 and added a lot of new features.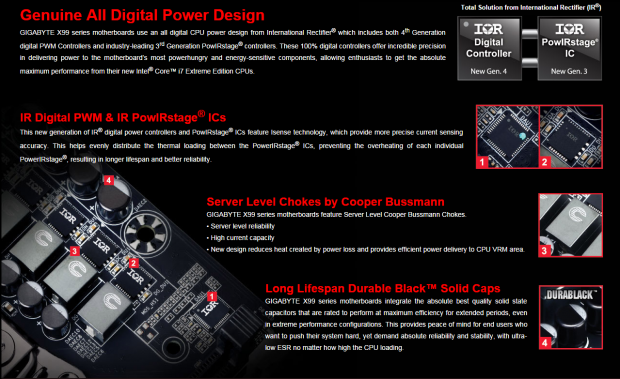 GIGABYTE is featuring the above power delivery upgrades on all of their models, which is pretty impressive, considering the X99-UD3 will be fairly reasonably priced. We looked up their server level inductors; they have a 76A saturation current. GIGABYTE had used IR power stages on their X79 boards and I am very pleased to see them return here, with even better inductors than their X79 motherboards used.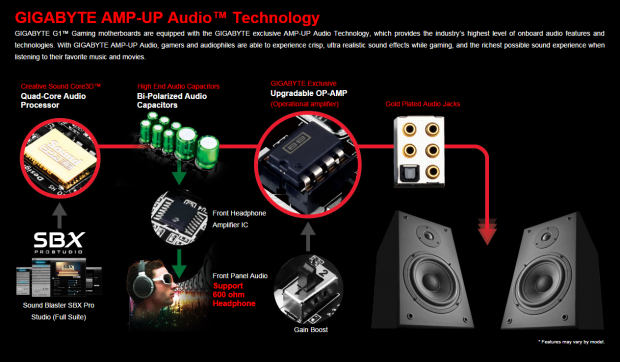 GIGABYTE's audio design for the gaming boards.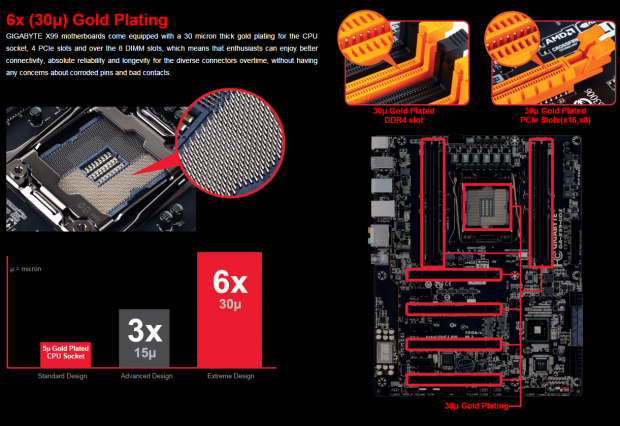 GIGABTYE is the first one to use 30 micron gold plating on their pins, I don't think anyone else is using above 15 microns.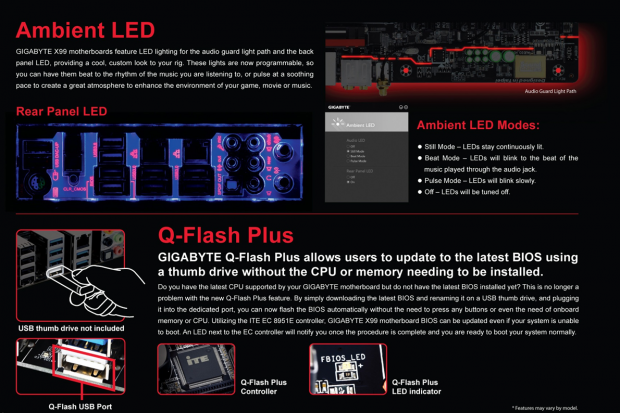 Back lit IO panel and BIOS rescue flash.
PRICING: You can find Intel X99 Motherboards and DDR4 RAM at Amazon.
X99 Motherboard Specific Features: MSI
MSI X99 Motherboards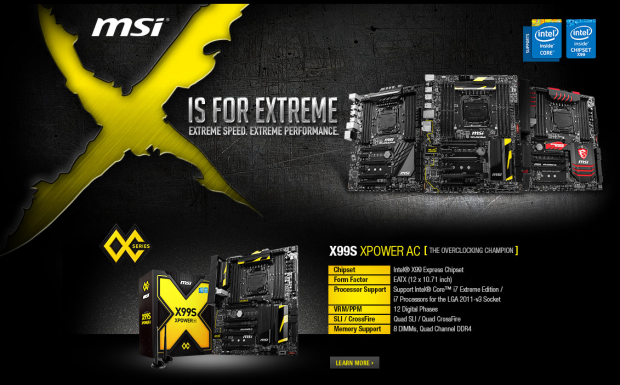 MSI has really stepped up their game the past few years, putting out some pretty solid products with nice designs. Most noteworthy is their entire black motherboard, the X99S-SLI Plus, which certain users had been asking for. Their Gaming series is also pretty abundant, featuring upgraded audio.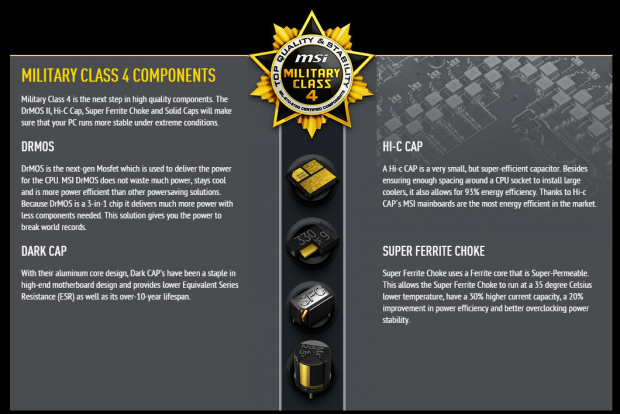 MSI's VRM highlights, they are also using integrated power stages, perhaps IR, either way they should be formidable. MSI does well when it comes to high-end VRM design, their X79 Big Bang XPower 2 featured a VRM heat sink with a Gatling gun, for X99 they have gone more compact, which is a good move.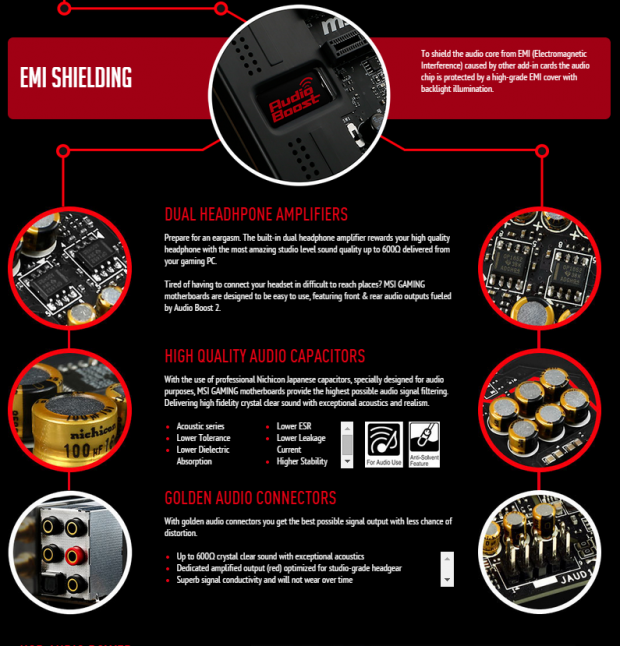 MSI's audio solution for their Gaming series.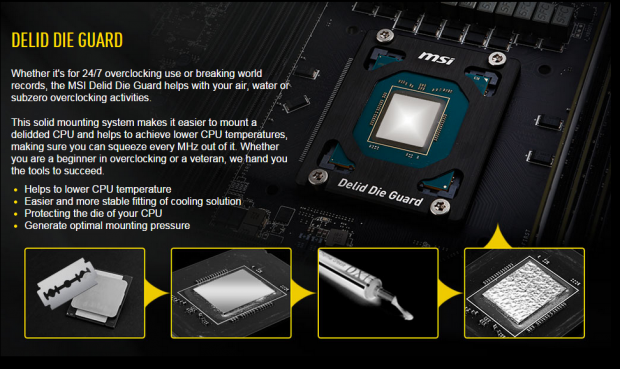 MSI also is paying special attention to the CPU socket, however, this time they are providing a shim to hold down a de-lidded CPU - it should be interesting to see how many users de-lid their CPUs.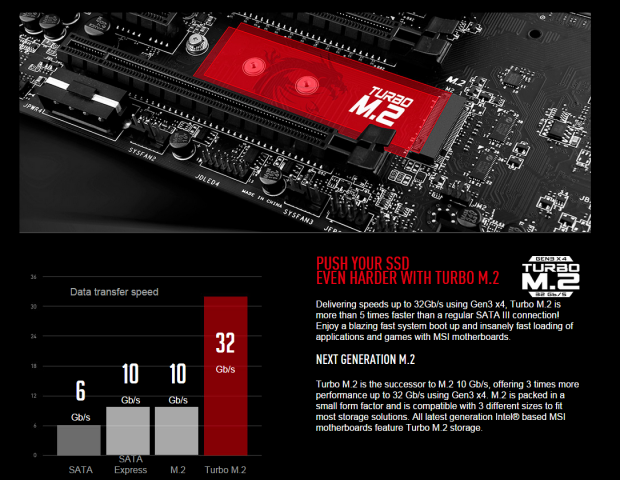 MSI is also featuring the Ultra M.2 with four PCI-E 3.0 lanes with up to an impressive 32Gb/s of bandwidth.
PRICING: You can find Intel X99 Motherboards and DDR4 RAM at Amazon.
X99 Motherboard Comparison Charts
Intel X99 Motherboard Charts
DISCLAIMER: I looked almost everywhere for the information on the following motherboards, however, many times different manufacturers label things differently, and many times specifications are misprinted or wrong. Therefore I want to make sure people understand that the information below is from manufacturer websites, but when that wasn't available, I looked at third party sources such as images.
In a perfect world, you should wait for reviews to come out before making buying decisions, as specifications alone don't mean everything, however, this could be a good option guide if you are thinking of X99. The purpose of this guide is to help speed up your research of X99 motherboards, so you can focus on more specific motherboard features.
Note: Prices as of 08/29/2014, lowest price from reputable retailers.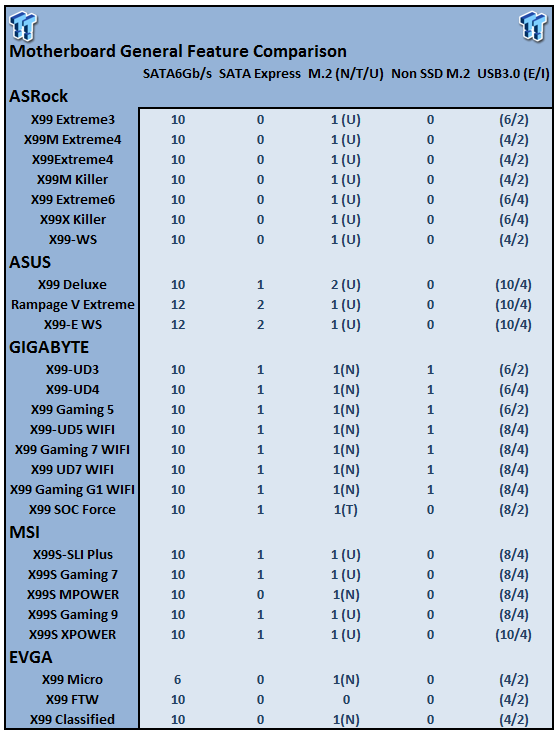 Note: If you utilize one SATA Express on any of the following boards, you lose two of the SATA 6Gb/s ports listed.
Note: M.2 (N/T/U): N= Normal (2x PCI-E 2.0 lanes), T= Turbo (4x PCI-E 2.0 lanes), U = Ultra (4x PCI-E 3.0 lanes).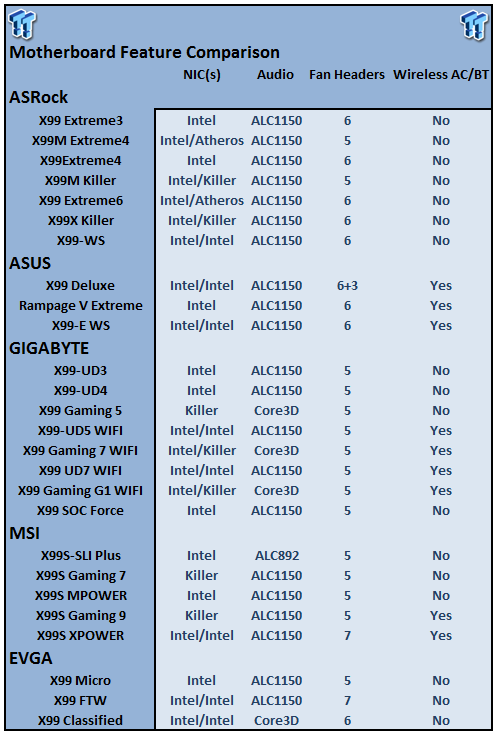 Note: ASUS 6+3, the +3 comes off an additional fan controller board included in the package.
I should also state that the X99 chipset doesn't offer more than 10 SATA 6Gbps ports or more than 6 USB 3.0 ports, so there is obviously a lot of bandwidth sharing going on in almost all the boards above. This means that on many of these boards, bandwidth is being shared, and not all the features might be available at the same time.
PRICING: You can find Intel X99 Motherboards and DDR4 RAM at Amazon.
DDR4 Options, DDR4 Comparison and Final Thoughts
DDR4 Memory Choices
There are four major brands with DDR4 ready and shipping at launch - ADATA, Corsair, Crucial, and G.Skill. Here are some pictures of how each brand currently presents its DDR4.
ADATA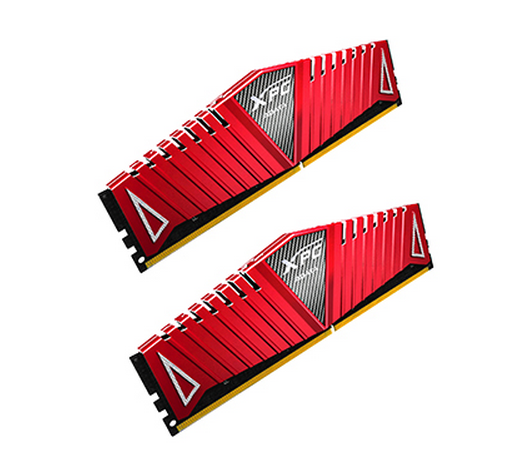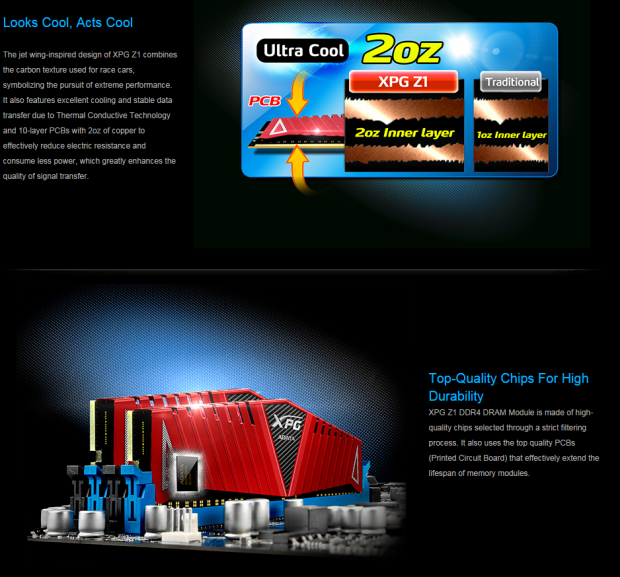 Corsair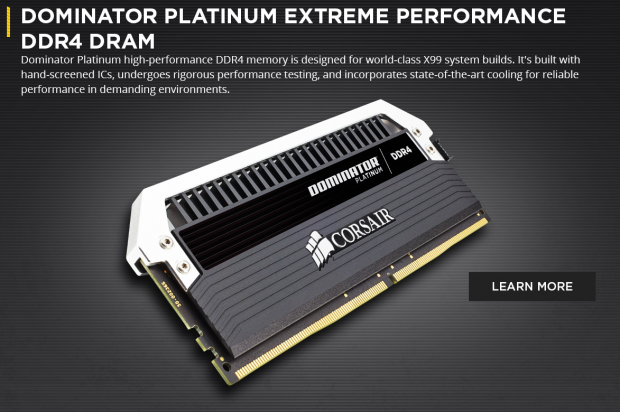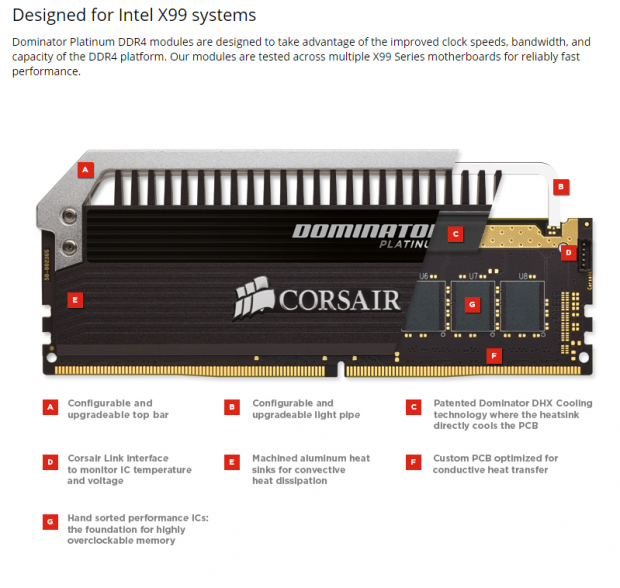 Crucial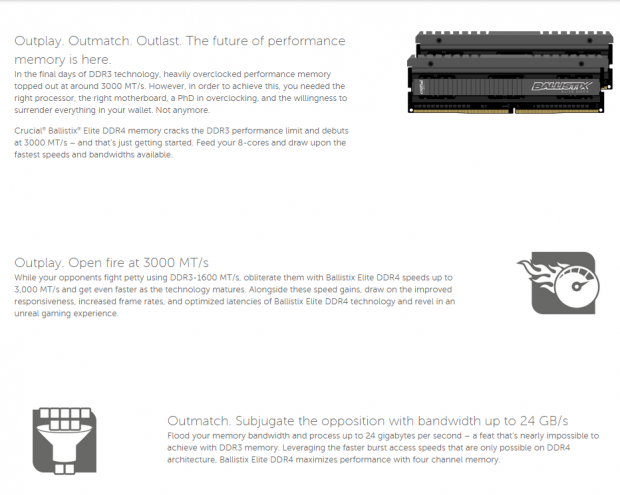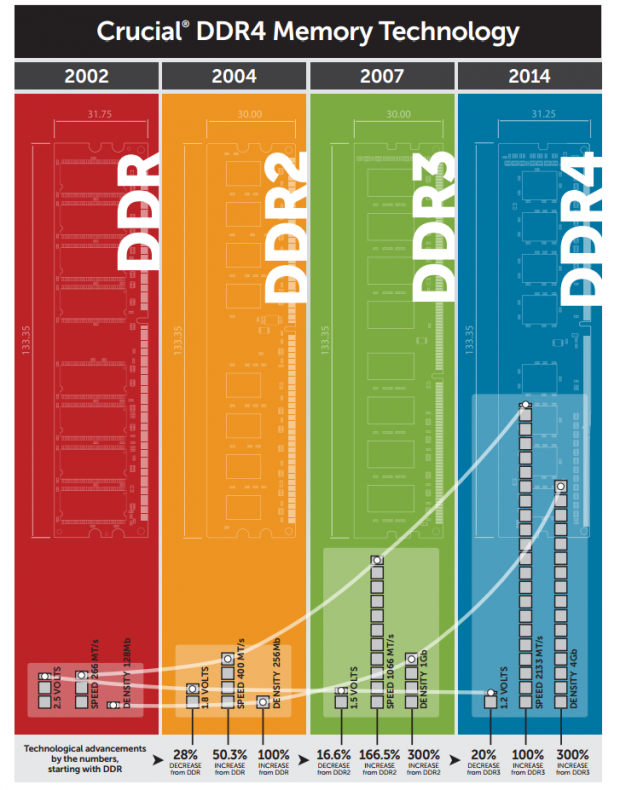 G.Skill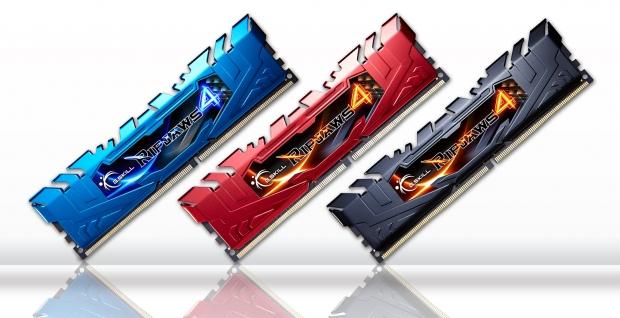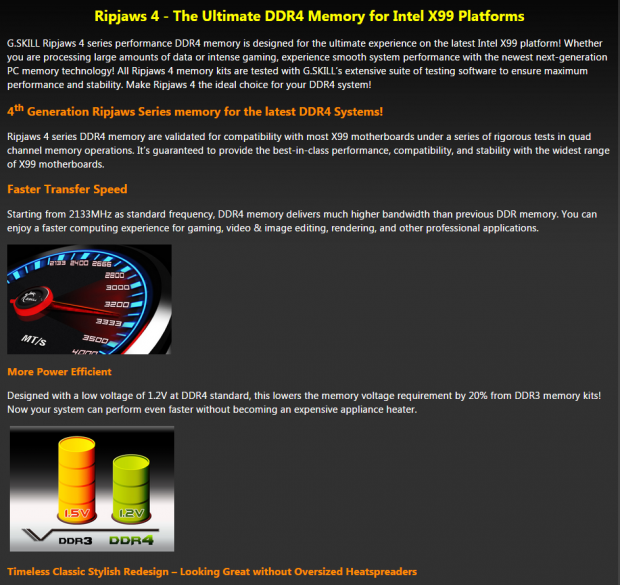 DDR4 RAM Comparison
This chart speaks for itself; it shows DDR4 kits all from Newegg.com with their price, speed, and CAS latency. Voltage on all kits is only 1.2v.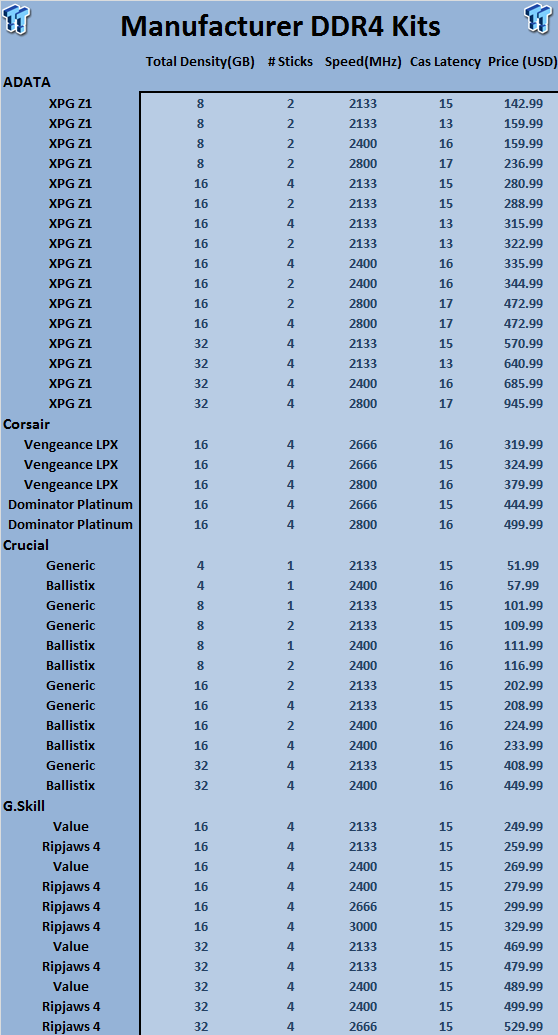 The DDR4 chart lists the major brands we found on Newegg, as you can see there are some pretty impressive kits, yet we do hope to see higher clocked kits as time progresses.
Final Thoughts
There are a very wide variety of Intel X99 options to choose from. This is a very cutting edge and interesting platform, and I am glad to see so many options. When choices are limited, competition also declines, however, this isn't the case here, as it seems all the manufacturers are competing and the playing field is getting crowded, this means lower prices and more unique features, which in the end benefits the consumer.
I'm not here telling you what to buy, however, if you are in the market for an X99 system, it wouldn't be a bad idea to look at the prices and features offered to narrow down your search. That way, you can spend more time looking at individual models and researching them. There are a lot more features than what I have listed, and you should research each model to find out what those are, and which ones suit your specific needs.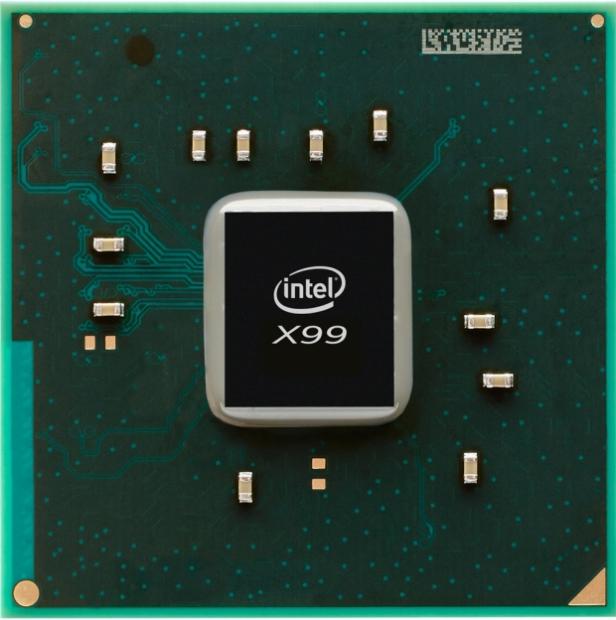 There are some interesting trends to be noted. Almost all brands are expanding USB 3.0 connectivity and using all the available Intel SATA 6Gb/s ports, many boards are offering dual NICs, and many are bundling AC Wi-Fi and BT4.0 modules with their boards.
When it comes to DDR4, it is nice to see some higher speed modules as well as some overclocking centric modules, but I hope to see more kits over 3000MHz. What is surprising is the attention motherboard manufacturers gave to the CPU socket, I don't really know the reason why, other than it's an integral part of innovation considering more and more is being integrated into the CPU, which I am glad is still happening at a decent rate within this industry.
Happy X99 shopping!
PRICING: You can find Intel X99 Motherboards and DDR4 RAM at Amazon.
PRICING: You can find products similar to this one for sale below.

United States: Find other tech and computer products like this over at Amazon.com

United Kingdom: Find other tech and computer products like this over at Amazon.co.uk

Australia: Find other tech and computer products like this over at Amazon.com.au

Canada: Find other tech and computer products like this over at Amazon.ca

Deutschland: Finde andere Technik- und Computerprodukte wie dieses auf Amazon.de