ASUS Z97 Pro (Intel Z97) Motherboard - Circuit and Overclocking Guide
A new feature TweakTown is Motherboard Circuit and Overclocking articles. Check out Steven Bassiri's first one covering the ASUS Z97 Pro motherboard.
Published
13 minute read time
Introduction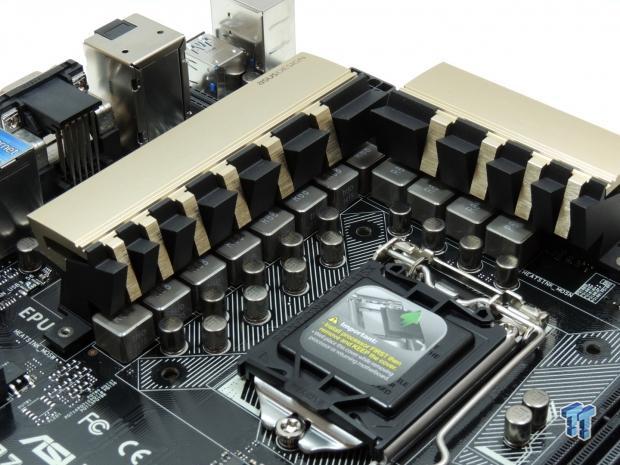 At first glance, the ASUS Z97 Pro is one loaded product; SATA Express, M.2, a robust VRM, and a plethora of exclusive ASUS features reside side by side at $187.99. Its glamorous heat sinks make you wish manufacturers made more champagne colored accessories, and that's coming from someone who doesn't care for gold anywhere, except in a safe or on a beautiful woman (or man if you prefer).
I will take a jump straight to the circuit level and show you how ASUS is able to expand the standard Z97 PCH bandwidth into enough lanes to support all these features, as well as explain the limitations that come with the expansion and how ASUS has dealt with some of them.
The ASUS Z97 Pro doesn't seem like it hides many secrets, but little anomalies arise while investigating the hardware, and those hold the key to understanding certain features. I will also cover exclusive ASUS features like 5-Way Optimization and TPU/EPU, as well as give you an in-depth look at overclocking this motherboard.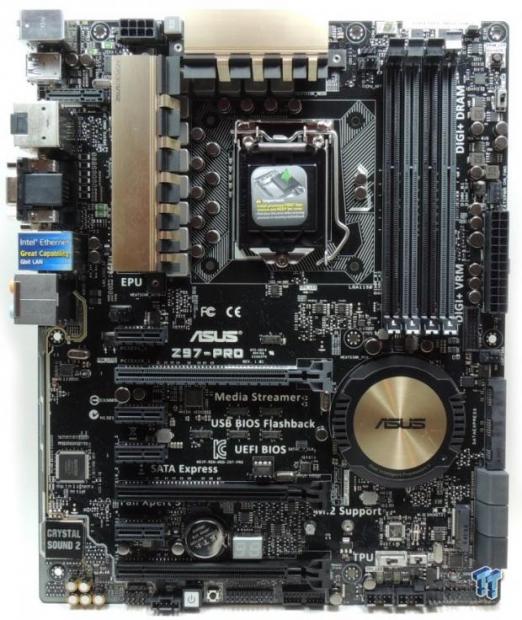 The ASUS Z97 Pro features six fan headers, five of which can be controlled in the UEFI and can operate in either DC (3-pin) or PWM (4-pin) modes. ASUS says the CPU fan header can change its mode from 3 to 4 pin (DC mode to PWM mode) automatically, which is a nice feature. The CPU_OPT fan header has no control.
PRICING: You can find the ASUS Z97 Pro for sale below. The prices listed are valid at the time of writing but can change at any time. Click the link to see the very latest pricing for the best deal.
United States: The ASUS Z97 Pro retails for $209.99 at Amazon.
Canada: The ASUS Z97 Pro retails for CDN$263.22 at Amazon Canada.
Voltage Regulator Circuit Analysis
Voltage Regulator Analysis
With more and more things being integrated into the CPU and PCH, there isn't much that sets motherboards apart, however, the voltage regulator is still one part of the motherboard that differs greatly between manufacturers, and even between models of the same brand. It is important to review the hardware to see exactly what you are paying for.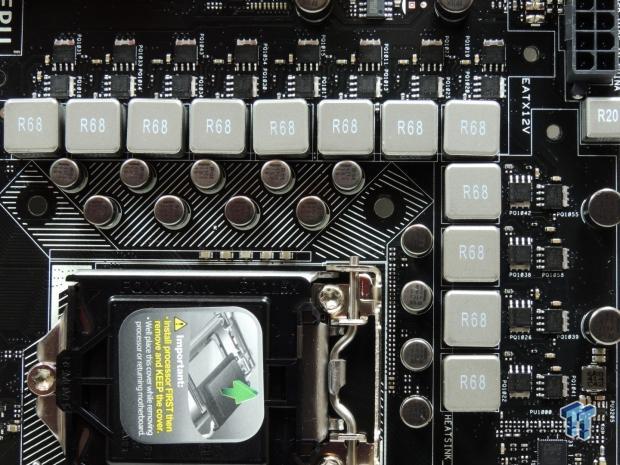 The CPU VRM features a total of 12 phases with NXP LF-PAK Low RDS(ON) MOSFETs. These LF-PAKs are common MOSFETs used by a wide variety of manufacturers in lieu of traditional D-PAK MOSFETs. There are a total of 13 output capacitors, and while this number is high in regards to some other brands, ASUS is mixing the capacitance as there are only 6x560uF and 7x100uF capacitors. This gives us a total of 4060uF total capacitance, which isn't that bad considering that the LGA1150 platform CPU has its own secondary VRM to filter out any other noise.
While the Z87 Pro used 5K capacitors, ASUS decided to upgrade the Z97 Pro to 10K black metallic capacitors, just like the ROG boards - this is a nice upgrade. ASUS is employing Trio metal alloy inductors, which were first employed on ASUS ROG boards.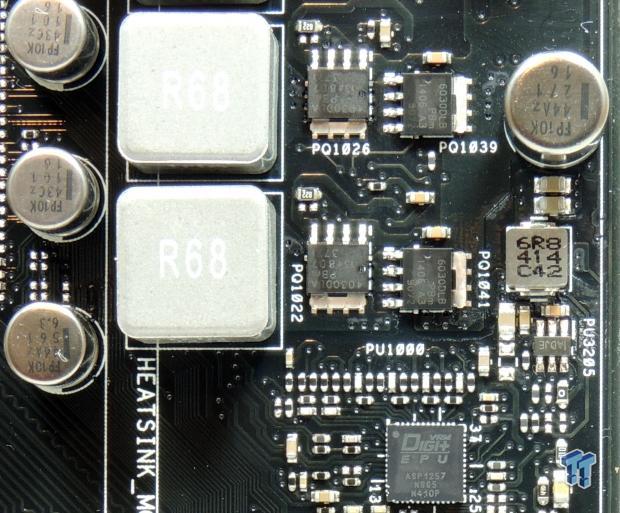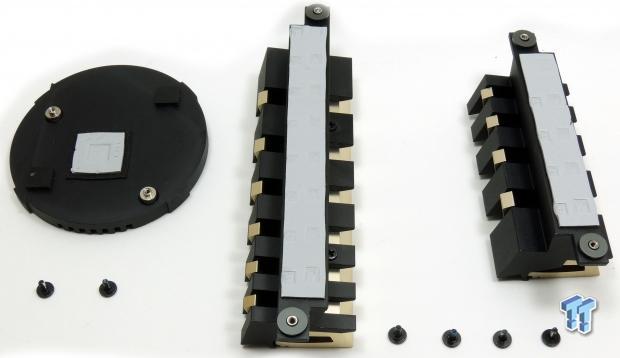 ASUS has used a PH4030AL as the low-side MOSFET and a PH6030AL as the high-side MOSFET, each phase gets one of each. The PWM is rebranded by ASUS, it says ASP1257, which is most likely an International Rectifier IR3580 or IR3590. It employs six phases which are then doubled to 12; this is the most common method to exceed eight phases on a motherboard. The shot of the heat sink reveals decent contact between the MOSFETs and thermal pads.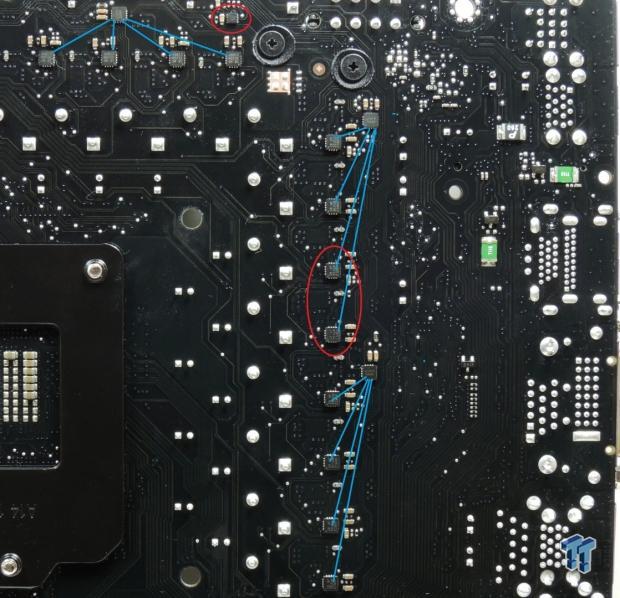 This is where things get interesting. In this image, you see 12 chips, which are drivers to drive each MOSFETs of each phase, and also three chips that double six phases to 12 phases. The blue lines indicate the doublers connected to their drivers, each doubler gets two PWM signals from the PWM controller and outputs four - you can think of it like a root system of a tree.
However, there is one extra IC, a tiny one overlooked by others, I circled it in red and also circled two drivers in red; coincidentally this little IC is connected to those two drivers as well, revealing one of those clues to how ASUS operates some of its features.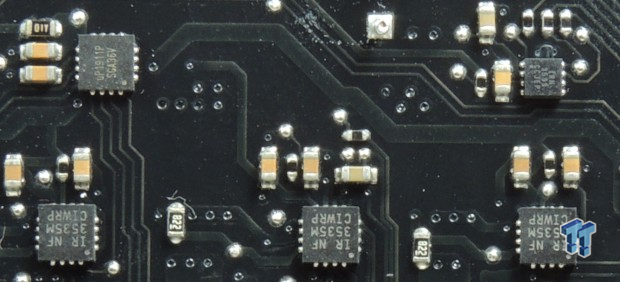 International Rectifier IR3535 a very common driver, uPI UP1911P are doublers, and the single chip discussed earlier is an International Rectifier IR3599 doubler/quadroupler. I traced back the traces leaving the PWM outputs of the IR3599 to two IR3535. ASUS has some very low power operating modes in use such as Away Mode and EPU (I measured 3W at the VRM), and I can think of only a handful of reasons to have a redundant doubler, the most likely of which has to do with branding. Certain features, such as single phase operation modes employed by companies like International Rectifier, sometimes only work when the entire system is made up of the same brand parts, in this case ASUS was able to use uPI doublers and add in a single IR doubler to use the single phase mode offered by the newer IR PWMs.
This ensures the end-user gets the best of both world's, what is more convincing of this is the position of the two drivers that are attached to the IR3599, they are in the center of the CPU power plane, providing optimal thermals.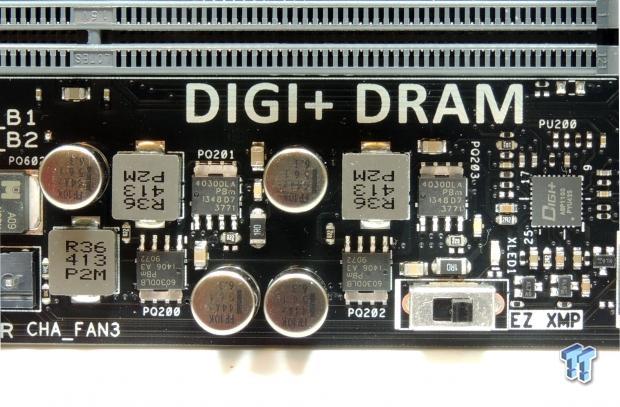 The memory VRM is made up of two phases using the same high and low side MOSFETs used for the CPU VRM. Another PWM is being employed, this time with integrated drivers, I would guess it isn't made by International Rectifier, but it's almost impossible to tell who makes it since ASUS decided to rebrand it.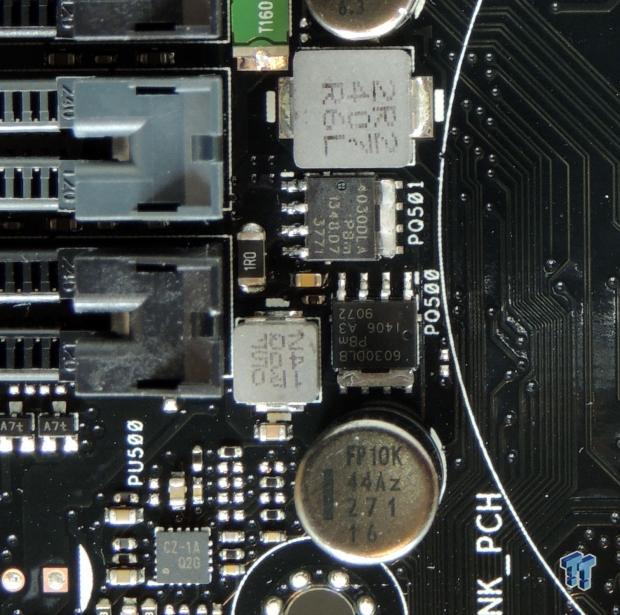 This is the VRM for the PCH. It is powered by a Richtek RT8100, the reason it doesn't say RT8100 on it is because the chip is too small to imprint that many characters, this is a common practice with tiny chips and there are guides which companies put out to identify them. It has an integrated driver which drives a single PH4030AL and a single PH6030AL, the same MOSFETs used in both the CPU and memory VRMs.
Motherboard Circuit Analysis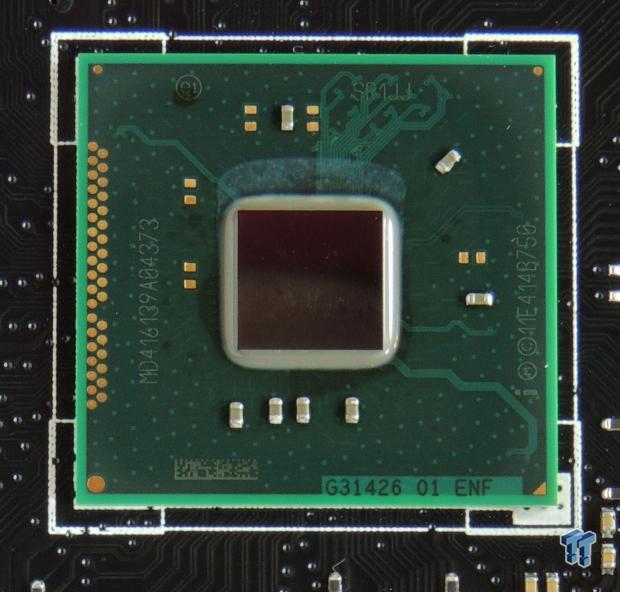 The Z97 PCH only provides eight PCI-E 2.0 ports, and if you want SATA Express, then you can only get six of those eight ports. SATA Express was made possible with Z87, Intel employed an IO solution referred to as FlexIO, originally it was to allow manufacturers to decide whether to trade USB 3.0 and/or SATA 6Gb/s for PCI-E bandwidth.
Board designers took advantage of this overlay of SATA and PCI-E and are now able to use the two FlexIO PCI-E ports designated to switch between SATA and PCI-E to work with SATA Express and M.2.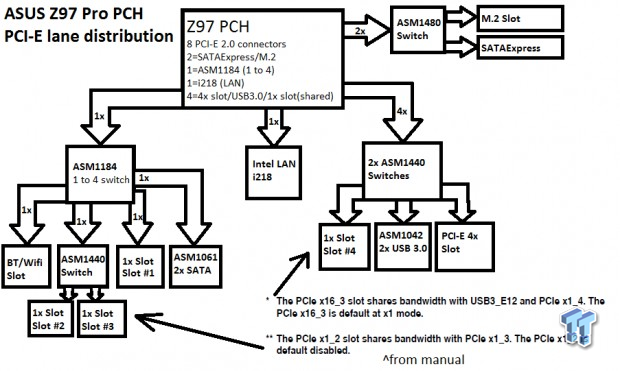 You could say that the Z97 Pro's connectivity is a juggling act employing countless switches continuously working to provide bandwidth to devices in use. If all the PCI-E connected devices sans the M.2 and SATA Express were to work at full speed, they would require a total of 12 PCI-E 1x lanes, however there are only six PCI-E 1x lanes left after SATA Express and M.2. ASUS uses a few different methods including swapping bandwidth, sharing bandwidth, and both swapping and sharing in some cases.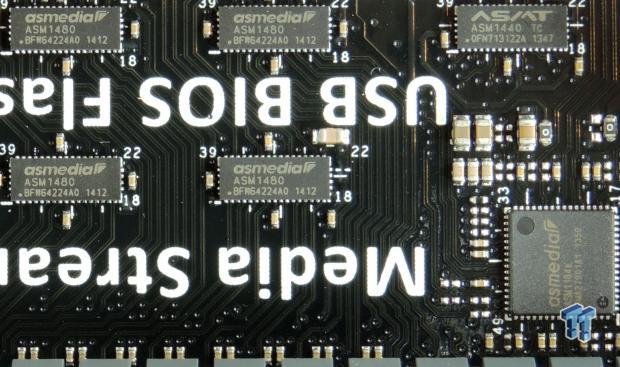 The ASMedia ASM1480's in the image above are only involved in switching 8x of PCI-E 3.0 from the CPU to either the first or second PCI-E 16x slot for SLI and CrossFireX. However, there are two other chips in the image, an ASM1184e and ASM1440. The ASM1184e takes in one PCI-E lane and outputs four; this is a common method to increase PCI-E lanes for devices that might not saturate it.
In this case, it provides PCI-E to the extra ASMedia SATA controller, three PCI-E 1x slots (two are switched through the ASM1440 in the picture), and the Wi-Fi/BT module. While the ASM1440 in the picture above decides whether one of two PCI-E 1x slots get bandwidth, there are two others on the board which help juggle bandwidth between the 4x PCI-E slot, a 1x PCI-E slot, and a USB 3.0 controller.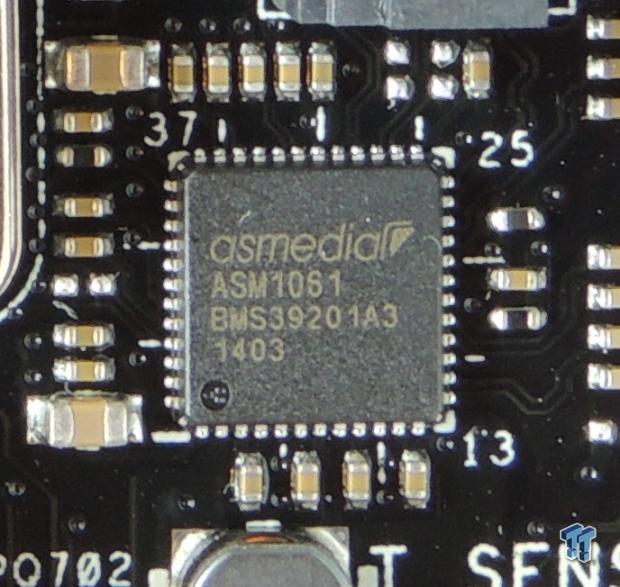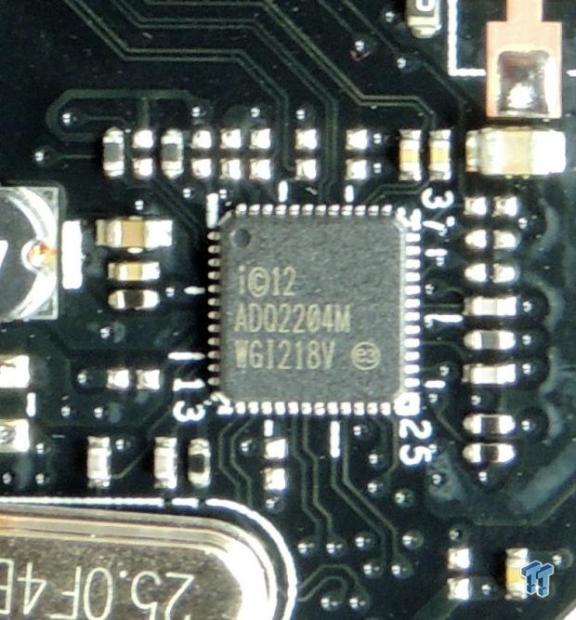 First we have the ASM1061, for the PCI-E bandwidth to get to the ASM1061, it must first go all the way to the ASM1184e pictured earlier, then back to the ASM1061. This IC provides two SATA 6Gb/s ports, ASUS says the two ASMedia powered ports are to only be used for hard drives. The Intel NIC is one thing you don't really want to route through a switch, the i218 above is Intel's latest iteration featuring ultra-low power consumption.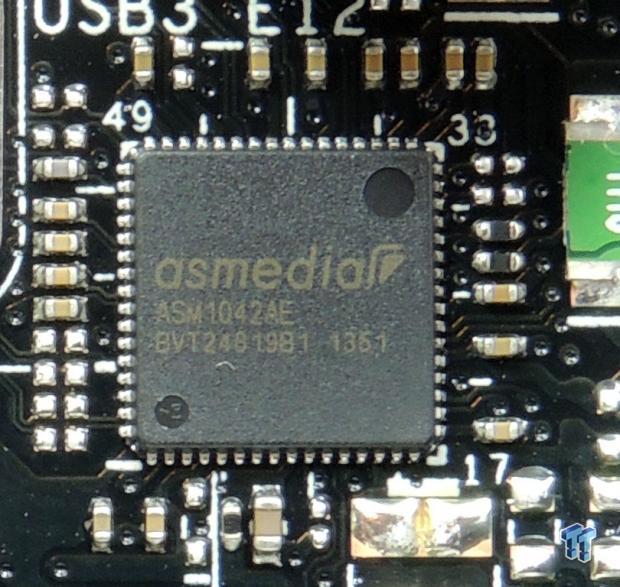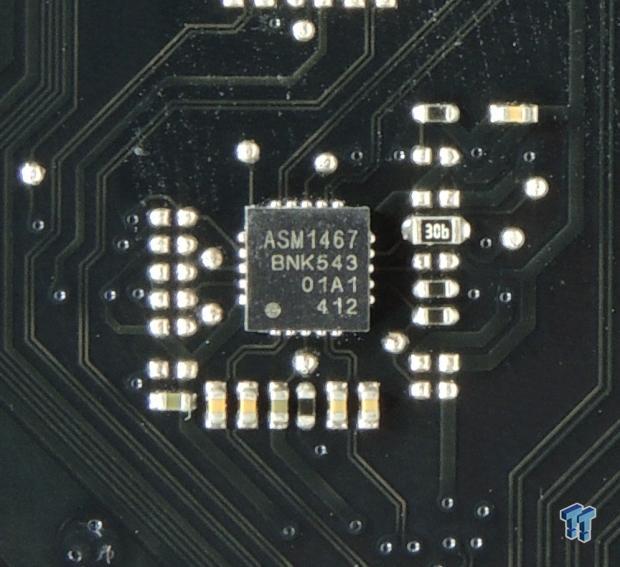 The ASMedia 1042 is a common USB 3.0 controller, it provides two USB 3.0 ports at the top of the back panel. For the PCI-E bandwidth to get all the way up there, it has to first go to an ASM1440, which could potentially impact PCI-E signal integrity, so ASUS employed a re-driver. The ASMedia ASM1467 sits on the back of the motherboard and it strengthens the signal allowing it to carry information back and forth across half the length of the board to the ASM1042.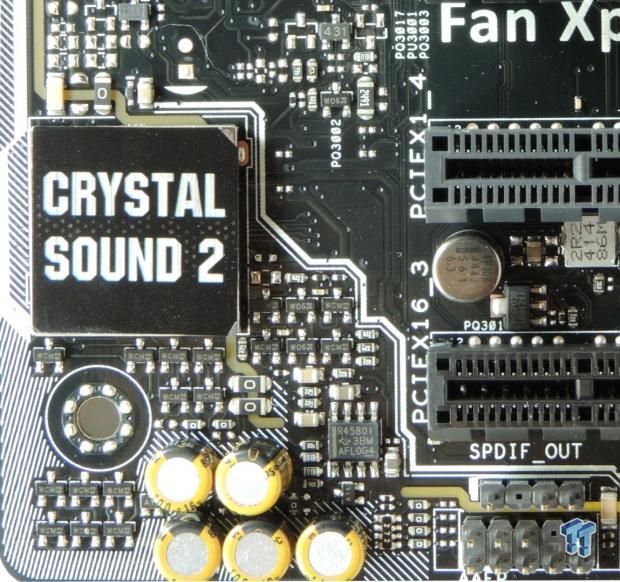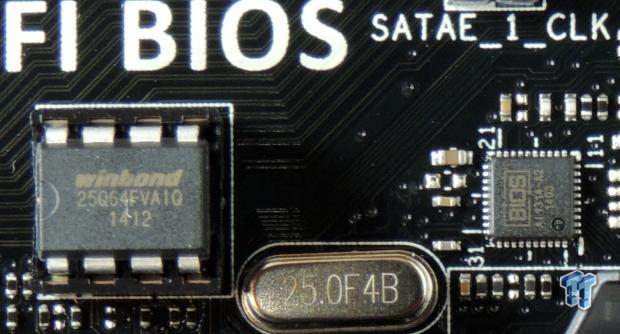 The audio part of this board is well done, the isolation is not only between digital and analog signals on the board, but also between the left and right audio channel. ASUS is using an ALC1150, which is under cover, however they decided to use a Texas Instruments RC4580I amplifier for the front headphone port.
ASUS has also decided to use a few Nichicon electrolytic capacitors for the audio which is a step in the right direction. The UEFI is on a 64Mbit/8MB ROM, a tiny little chip labeled BIOS is used for the USB flashback feature that ASUS has.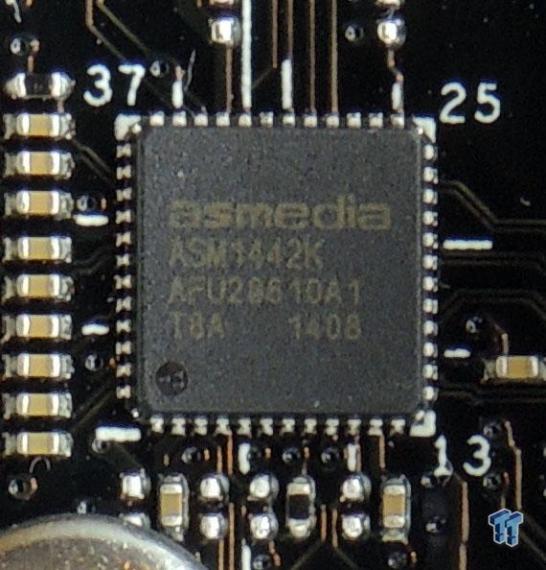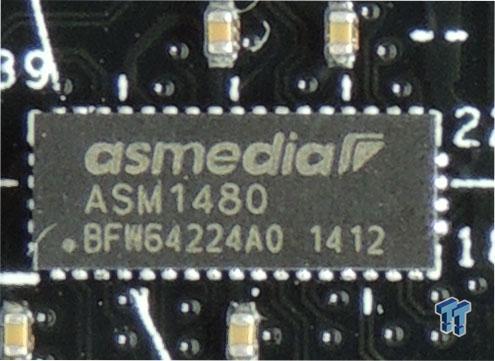 The ASM1442K is a level shifter, it allows HDMI signal to come from the digital output the integrated GPU in the CPU provides. The ASM1480 is a PCI-E 3.0 quick switch used to switch between M.2 and SATA Express.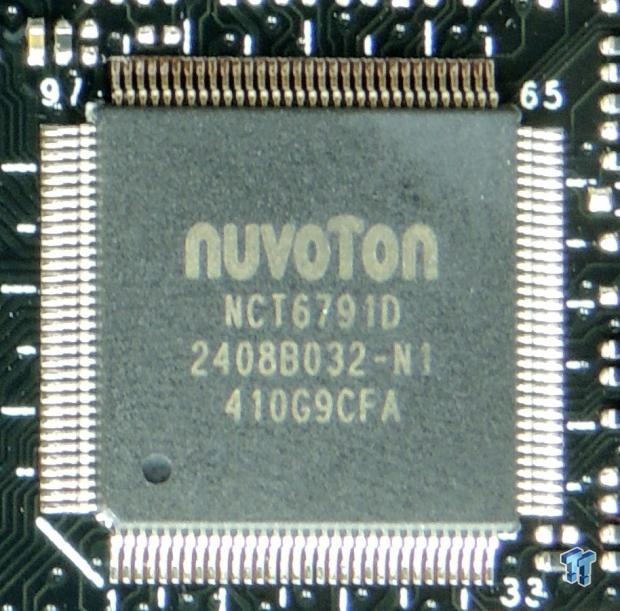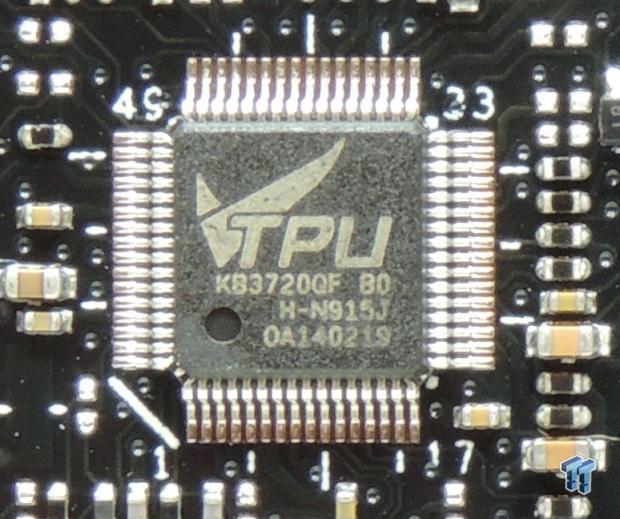 A nuvoTon (formerly Winbond) NCT6791D provides SuperIO capabilities such as voltage monitoring and fan control. A proprietary chip which is labeled TPU provides EC functions such as auto-overclocking.
Overclocking and BIOS Setup
Overclocking Results
In this section, I will go through overclocking this board. Overclocking (OC) is a strong indicator of overall tuning. I don't only OC the CPU, but also the memory, and even the base clock with the latter having more to do with board design and BIOS tuning.
CPU and BCLK Overclocking
Max CPU Overclock is found by setting the VCore to 1.4v, Input voltage to 2.0v, cache voltage to 1.2v, CPU multiplier to 45x, memory and cache multipliers to 8x, and disabling any features that would result in CPU frequency fluctuation (changing power mode to High-Performance in the control panel for ASUS boards). I then proceed into Windows and use software to increase the multiplier; in this case I opted to use ASUS's TurboV Core, which is a lite reduced version of TurboV.
5.1GHz is the maximum of our CPU on many boards; the Z97 Pro did as expected. Maximum AIDA64 Stable Overclock (BIOS settings below for this):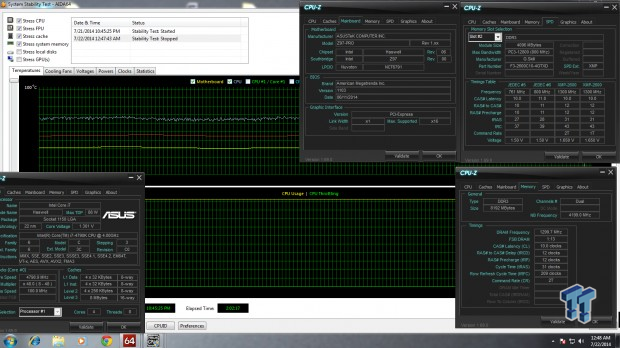 I was easily able to pull off 4.8GHz on the CPU with 4.2GHz cache and a 2600MHz XMP overclock on my memory manually tuning the UEFI. Later on I will cover ASUS's auto OC features and their overclocks.
Max BCLK is found at the 1.67x (if it's operational), with fixed PCH Core voltage of 1.25v and fixed PCHIO at the lowest the board will allow, I believe 1.05v here. All other ratios are tuned back to 8x to ensure they don't bottleneck the BCLK overclock.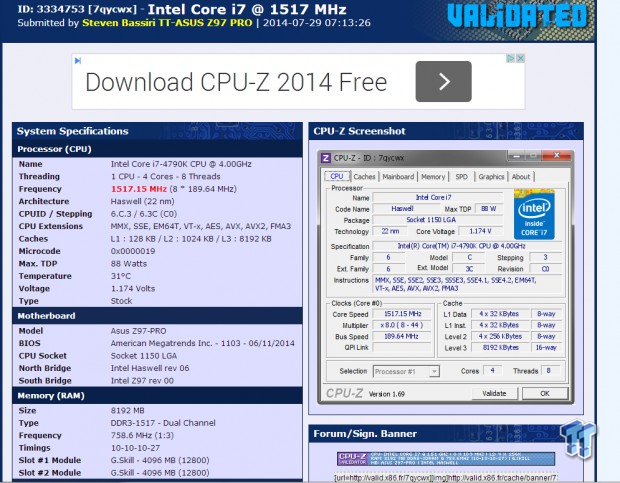 189.64MHz was the maximum BCLK OC I could pull off with optimal settings.
Memory overclocking with Hynix (double sided 8GB modules)
Maximum clock on this memory was done by using the 1.00x divider for BCLK, and then using timings of 12-15-15-35 2T, with 1.700v for DRAM voltage, and +0.20v for VCCIOA, VCCIOD, and System agent. The CPU and cache ratios were reduced to 8x to make sure they didn't affect the overclock. An efficiency test is also run, since every manufacturer sets their sub-timings differently, this test can also be used for comparison, same timings are set (no XMP of course), and a divider of 28x was used.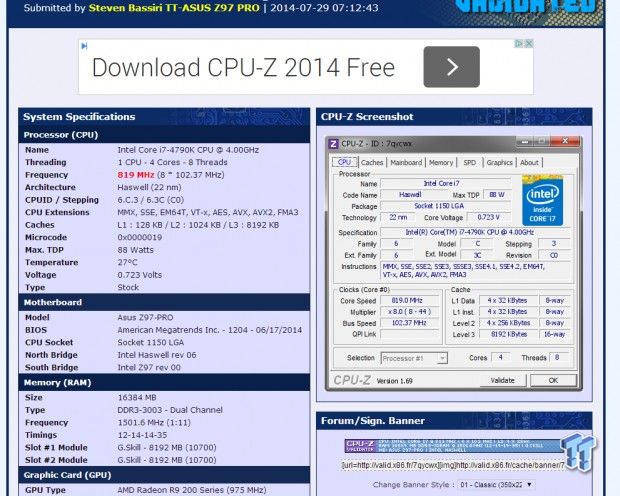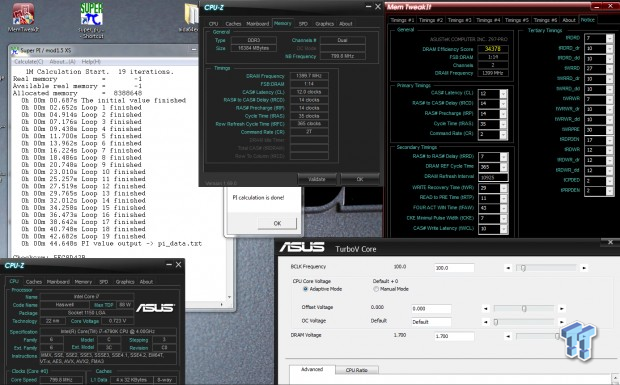 Memory overclocking with Samsung (double sided 4GB modules)
Maximum clock on this memory was done by using the 1.00x divider for BCLK, and then using timings of 9-12-12-25 1T, with 1.900v for DRAM voltage (Samsung likes voltage, and this is strictly for motherboard testing purposes), and +0.15v for VCCIOA, VCCIOD, and System agent. The CPU and cache ratios were reduced to 8x to make sure they didn't affect the overclock. An efficiency test is also run, since every manufacturer sets their sub-timings differently, this test can also be used for comparison, same timings are set (no XMP of course), and a divider of 26.66x was used.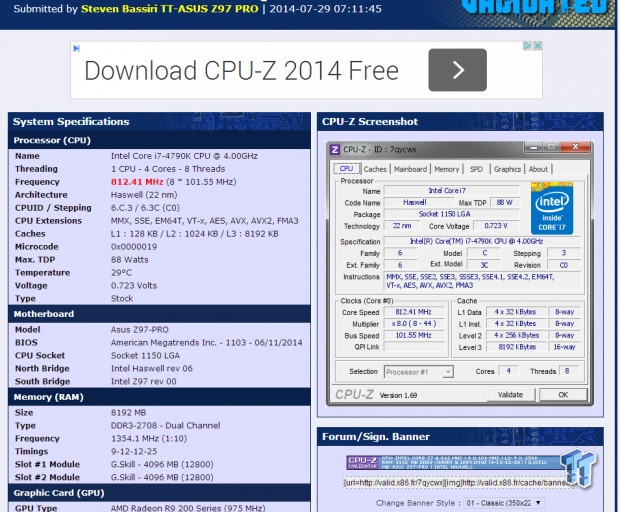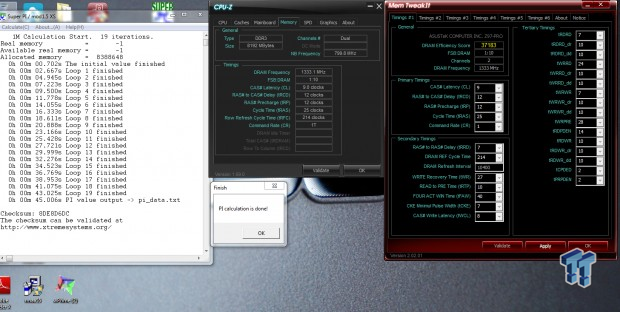 BIOS Settings for 4.8GHz Overclock with XMP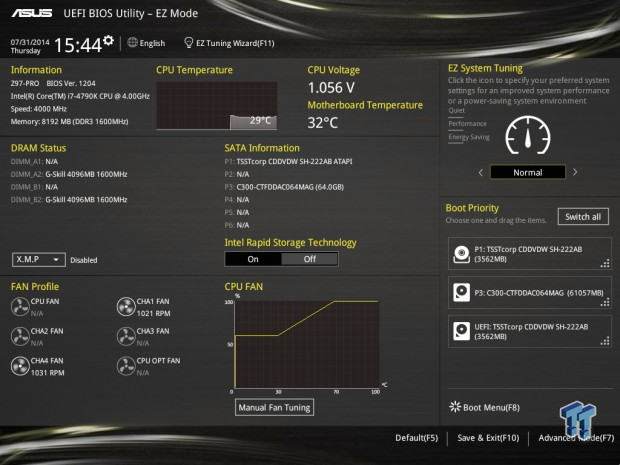 ASUS always includes a ton of options; to a novice it might seem a bit extreme and intimidating, so they have also included an EasyMode.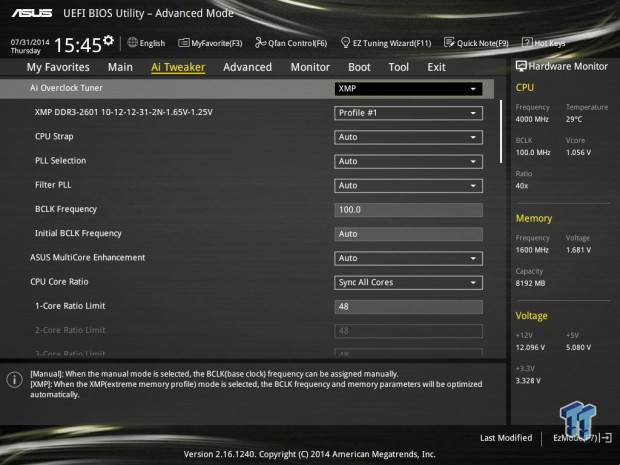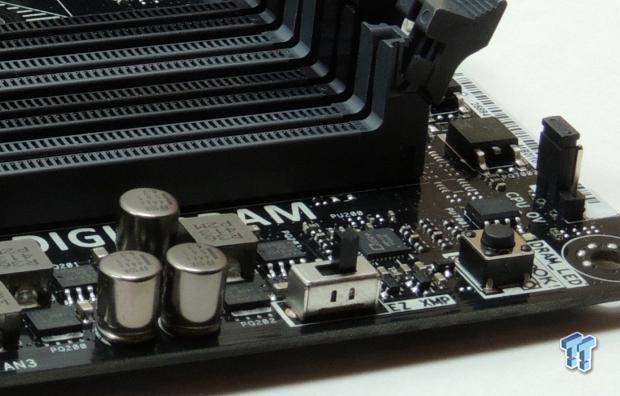 The first thing I did to get my overclock was enable XMP, you can do this with the switch on the board itself or you can enable it in the UEFI BIOS. I then manually entered in my overclock of 48x on all cores.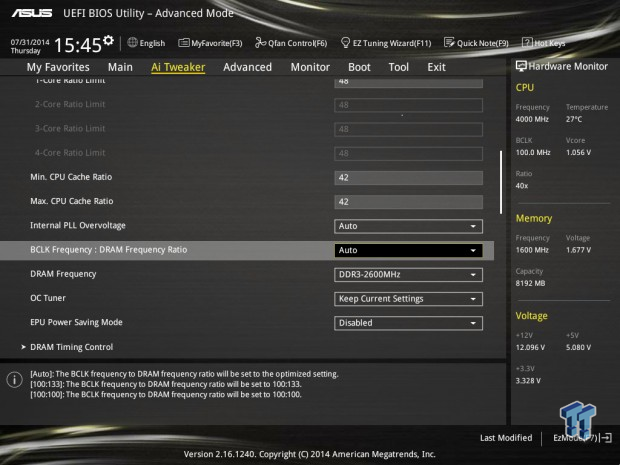 I also entered in my Cache Ratio to 42x, this is a bit low, you can go a bit higher if you want.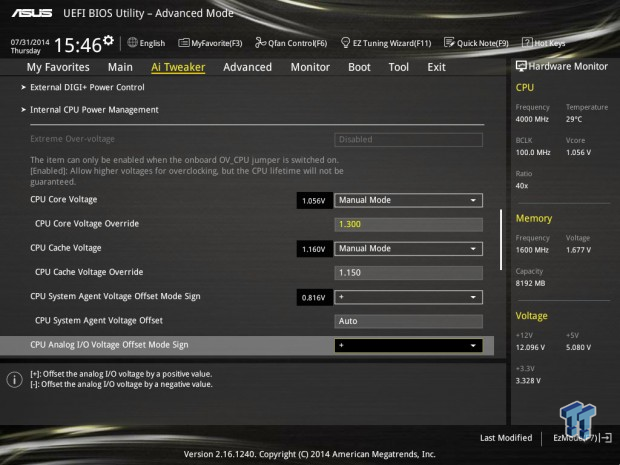 I selected manual voltage control under the VCore and cache voltages and entered in 1.3v for the CPU VCore and 1.15v for the cache voltage.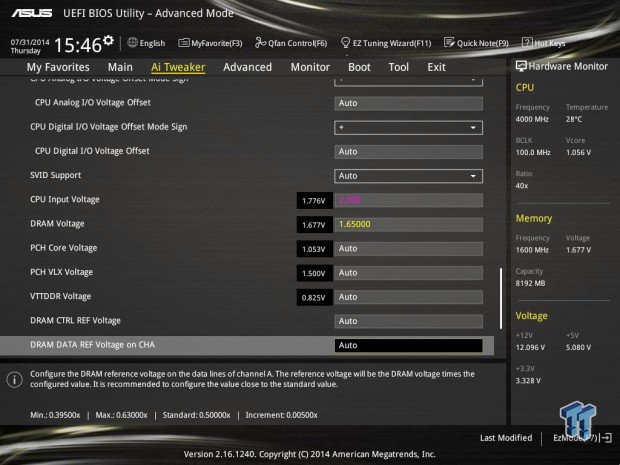 For some reason, this particular CPU likes higher VIN to be stable under heavy stress tests, I selected 2.0v here.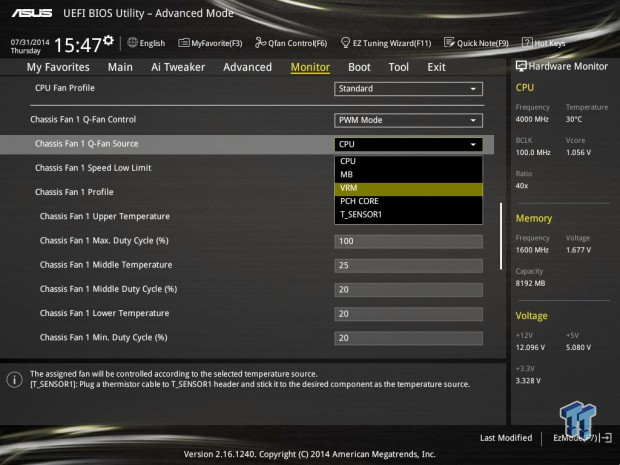 If you want to change your fan control settings, they are readily available and quite impressive.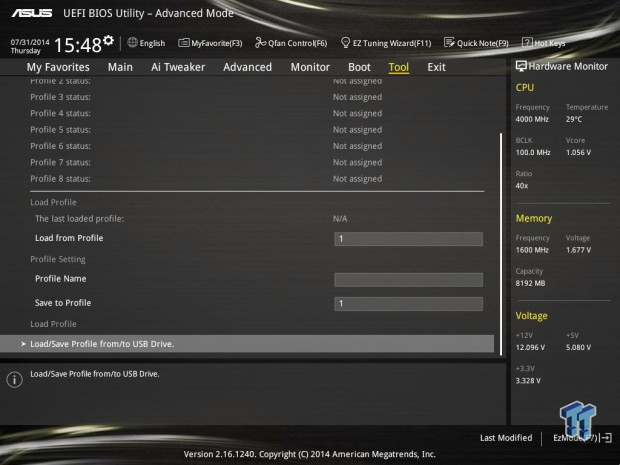 If you would like to save your BIOS profiles for later, you may do so in this menu, also clearing the CMOS won't necessarily get rid of these profiles.
OC recovery could be better on this motherboard, only once in a while does it pick up on a bad OC and then let me back in the UEFI; usually I have to manually flip the AC power on the PSU. Sometimes I have to clear the CMOS, which becomes an issue considering it's a jumper and not a button.
Test System Setup and Feature Testing
Test System Setup
In this section, I will test ASUS's features including TPU overclocking, EPU power saving, 5-Way Optimization (Auto OC Tuning), and audio output.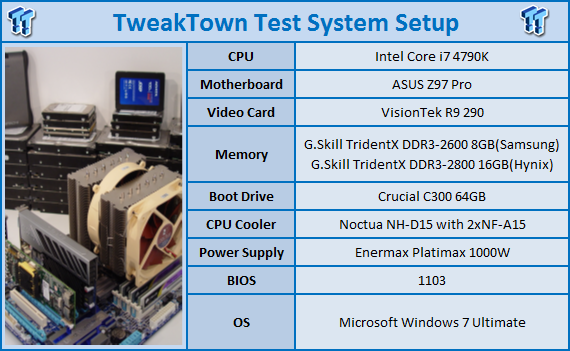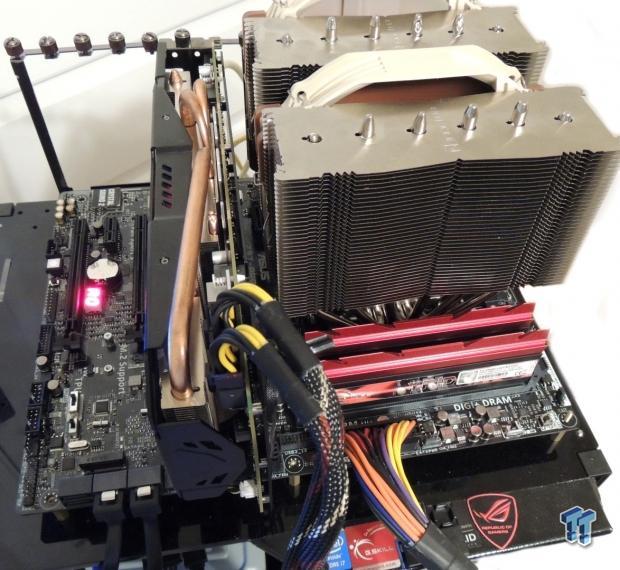 ASUS's TPU, EPU, and 5-Way Optimization
5-Way Optimization is ASUS's all-in-one system tuning with the click of a single button. You can of course chose options such as syncing all cores on the overclock or let the system chose (syncing all cores resulted at 47x, letting the system chose resulted in half the cores at 47x and the other half at 46x).
Besides auto overclocking, it can also tune your fans, change up power settings in the VRM, and even optimize your LAN and Audio setup. I am mainly interested in the CPU overclock.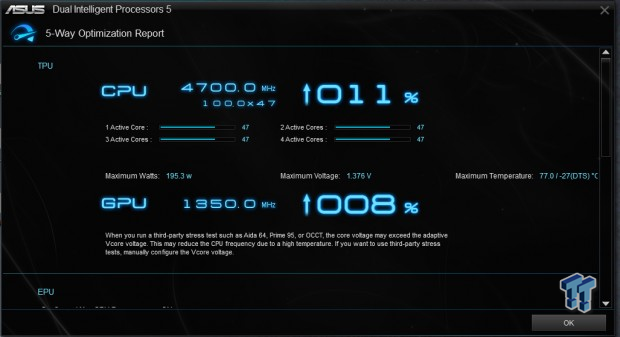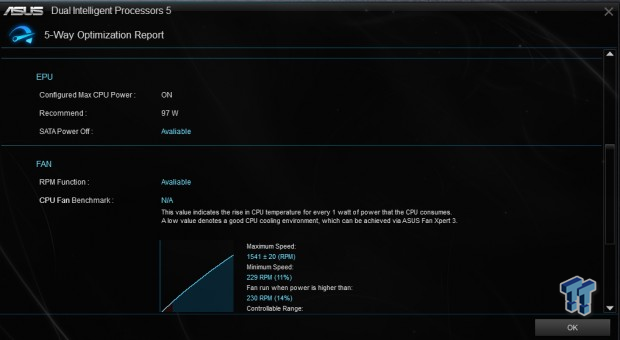 5-Way optimization resulted in a 47x OC on all cores (I picked the options to maximize speed and power), the VCore is at 1.376v which is a bit high, but regardless it is an impressive auto OC. This program actually tests CPUs on an individual level so other CPUs might fair differently. You can also see the fan optimizations it has done.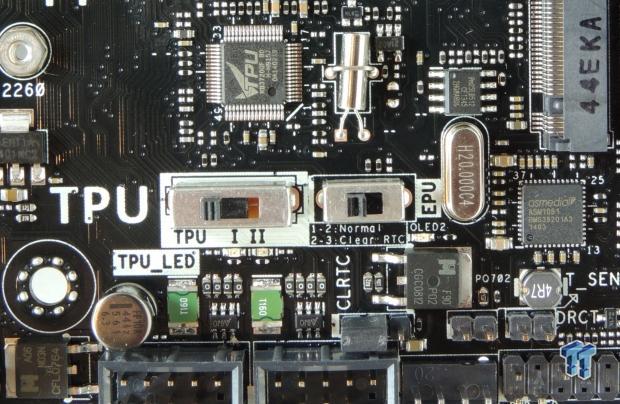 TPU is ASUS's known auto OC tool, with the flick of the TPU switch to position one, it overclocks the CPU and Memory on the default divider of 1.00x. When you move to position two, it uses the 1.25x divider for interesting results. The second position with the divider at 1.25x gave me a lower OC than the first position. On a side note, there is a little 2-pin header in the lower right hand corner of the image, that is meant to connect to a button, and when pressed it will reset the system and take you directly into the UEFI.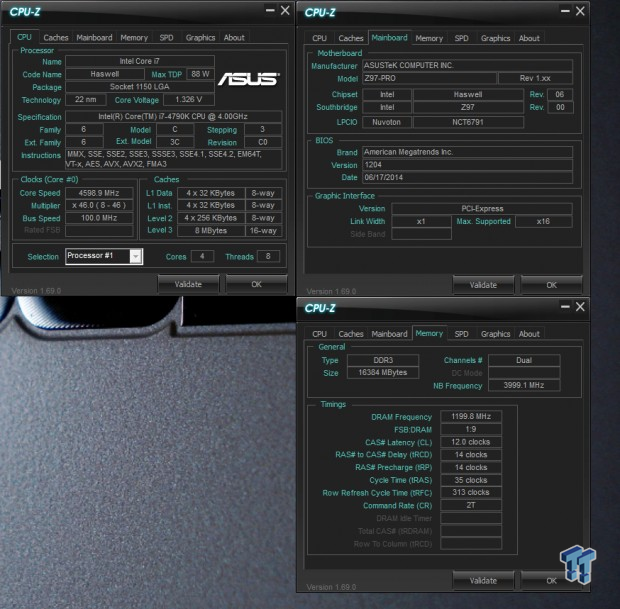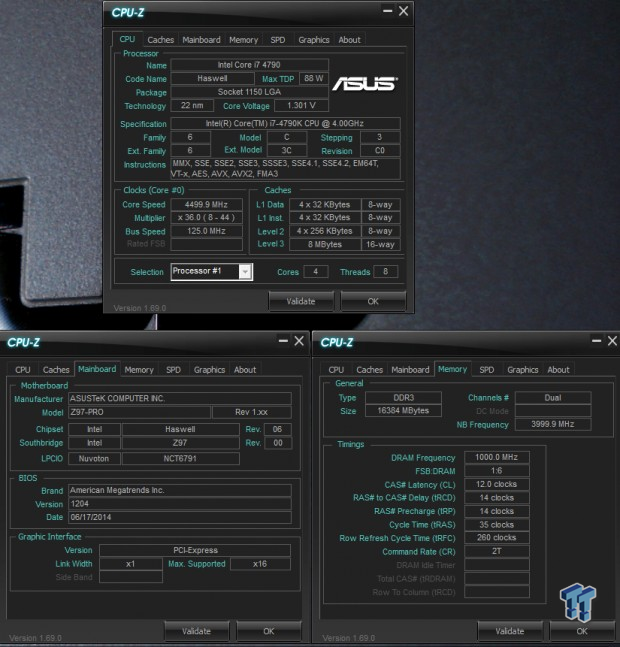 Position 1 yielded a CPU OC of 4.6GHz with memory at 2400MHz, and position 2 yielded 4.5GHz and 2000MHz memory clock.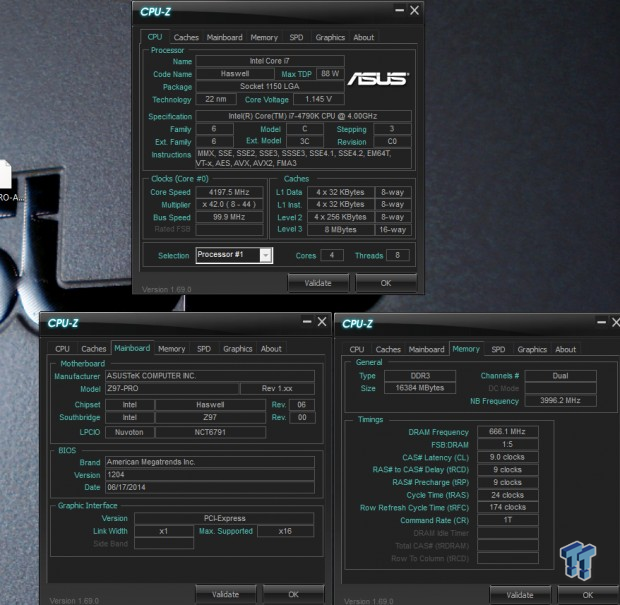 This is the EPU switch turned on. The EPU is used to reduce overall power consumption, it did down clock the CPU. The CPU Turbo fluctuated between 42x and 43x instead of going to 44x, which is standard max turbo ratio for the 4790K. Although you lose some speed, you do save some power, as you will see next.
Power Testing
I tested the power at the wall socket and at the 8-Pin CPU power connector on the motherboard, which supplies the CPU power. Measurements were taken at 0% load for Idle and 100% load (at max spikes) using IntelBurnTest.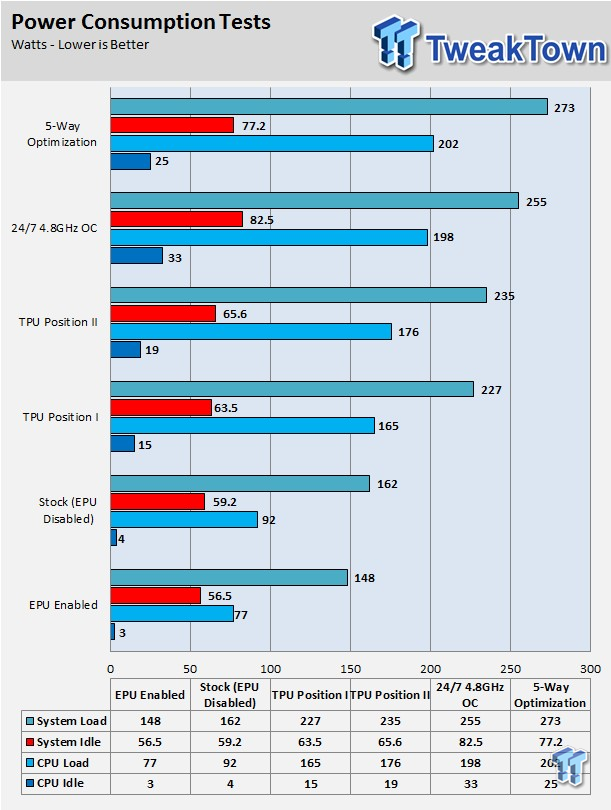 The results are interesting, EPU does seem to save some power and 5-Way Optimization pumping volts doesn't necessarily help power saving, however, I could have selected different options in the 5-Way Optimization program to reduce power consumption.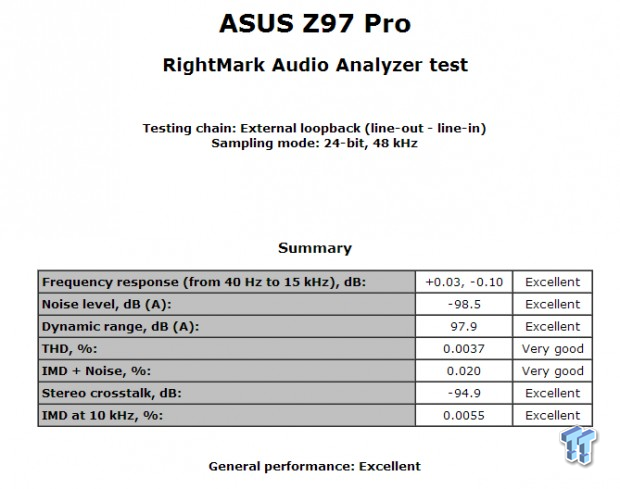 This is the testing done in RMAA5.5 with the audio, the results speak for themselves. I test with RMAA a bit differently than others; I make sure to disable all audio enhancements in packaged software and in the control panel, then I match bit rate and frequency, and finally run the test.
Final Thoughts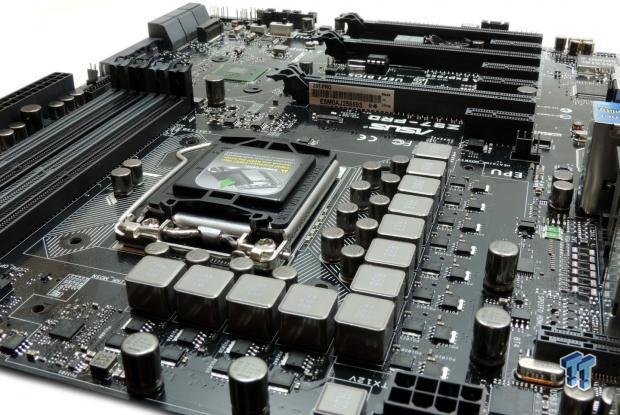 The ASUS Z97 Pro uses very good hardware for its voltage regulation, and while ASUS didn't use the IR branded doublers for all phases, they still get the same low power modes and the CPU can idle at 3w, which is impressive.
Although ASUS is taking bandwidth sharing to a semi-extreme level providing 12 devices with the bandwidth meant for 6 (through sharing or swapping), they have done it in a way that won't impact performance to where it would be noticeable. ASUS made sure to put the four devices that use the least bandwidth on the 1 to 4 switch chip, provide bandwidth intensive hardware the proper bandwidth it needs, and of course feed the NIC its own unaltered PCI-E lane.
ASUS even went as far as to provide a PCI-E re-driver for the USB 3.0 controller at the top of the board, so that its signal would be strong. This type of efficient engineering is what ASUS is known for in the industry, and it shines through here.
Overclocking the Z97 Pro is just like any other ASUS board I have used in the past; its CPU, BCLK, and memory overclocking is strong for the board's price. The 5-Way Optimization, TPU, and EPU provide nice profiles for those who don't know how to tune their UEFI, but in the end, they are just auto profiles which can be improved by doing things manually.
One thing I feel is missing from the Z97 Pro are voltage read points so that overclockers can read voltages in real-time, with the FIVR we can't just find read points like in the past, manufacturers have to build them in. Other than that little complaint, I conclude that the Z97 Pro is a solid board with great all-around performance.
UPDATE
There were some inquiries into how I run my power consumption tests which I would like to clarify here. When I test auto overclocks, I leave Power Option settings at "Balanced", when doing manual overclocks I increase the power settings to "High performance", and when I use special power saving features such as EPU, I use the "Power Saver" Windows mode.
I have also been made aware a handy feature; a special recovery mode in which you can hold down the Z97 Pro's power button for four seconds if POST fails, and that will engage OC recovery letting you into the BIOS.
There was also an inquiry into the way I do audio testing, ASUS asked that I put the volume of the output to 100% and increase the line in volume to where it would be optimal enough to run the test, when I did this I got the following results: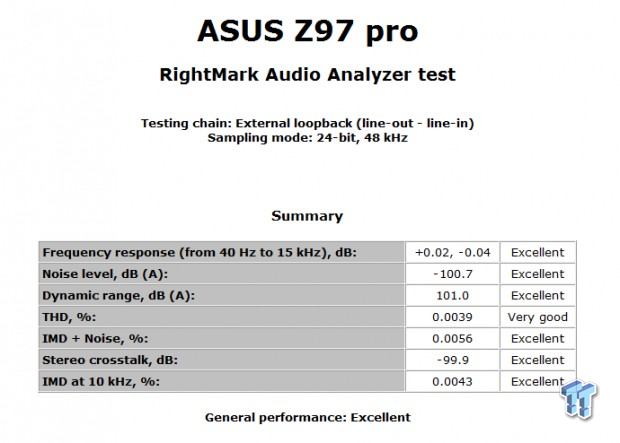 PRICING: You can find the ASUS Z97 Pro for sale below. The prices listed are valid at the time of writing but can change at any time. Click the link to see the very latest pricing for the best deal.
United States: The ASUS Z97 Pro retails for $209.99 at Amazon.
Canada: The ASUS Z97 Pro retails for CDN$263.22 at Amazon Canada.
PRICING: You can find products similar to this one for sale below.

United States: Find other tech and computer products like this over at Amazon.com

United Kingdom: Find other tech and computer products like this over at Amazon.co.uk

Australia: Find other tech and computer products like this over at Amazon.com.au

Canada: Find other tech and computer products like this over at Amazon.ca

Deutschland: Finde andere Technik- und Computerprodukte wie dieses auf Amazon.de