Introduction & Specifications, Pricing and Availability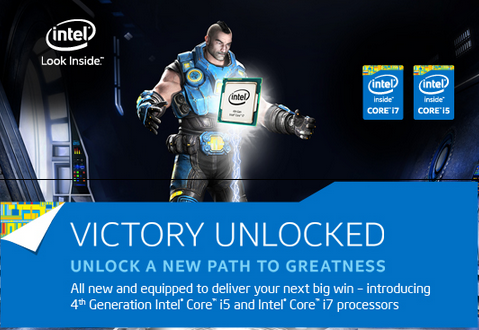 To coincide with Computex 2014, Intel launched three new unlocked processors based on the Haswell architecture. The processors are the Core i7-4790K, the model we're testing today, the Core i5-4690K, and a special edition dual-core Pentium model to celebrate Intel's 20th anniversary of the Pentium processor.
The Core i7 4790Ks we're testing today came with a marketing nickname, Devil's Canyon. The processor was designed specifically for overclocking and features a 4.4GHz TurboBoost speed, HyperThreading, as well as knobs to adjust everything from cache speeds to BCLK dividers.
Specifications

With a base clock speed of 4GHz that increases to a maximum turbo frequency of 4.4GHz at stock settings, the 4790K is Intel's flagship enthusiast processor. The 4790K will work with existing Z87 motherboards with a BIOS update, and is compatible out of the box with all Z97 motherboards. The 4790K is Intel's highest clocked quad-core CPU, yet it still boasts features such as integrated graphics and an exceptional dual-channel memory controller.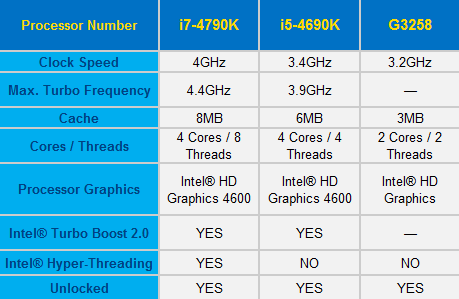 Two major differences set the Devil's Canyon CPUs apart from the original Haswell K-SKUs: updated thermal interface material (TIM) and extra capacitors on the CPU package. While the boost in CPU speed means that the 4790K has a TDP 4W higher than the 4770K, the upgraded TIM should prove to deal with this situation.
Pricing and Availability

The 4790K is priced at $340 at most online retailers; however, we purchased our CPUs from two local Microcenters, which have in-store specials as low as $280. The 4690K retails for $240, and the special edition dual-core Pentium edition (G3258) retails at $75.
The boxed 4790K carries the basic Intel CPU cooler, a warranty manual with sticker, and a free trial of McAfee LiveSafe. The standard warranty on the 4790K is 3 years. However, if you are worried about overclocking causing damage not covered under Intel's standard warranty, you can purchase Intel's Performance Tuning Protection Plan (PTPP), which covers any damage from overclocking. The Intel Performance Tuning Protection Plan offers extra protection at the low cost of $25; as long as you purchase the PTPP within one year of the purchase of the processor, Intel will replace your CPU one time due to damage caused by overclocking.
PRICING: You can find the Intel i7-4790K for sale below. The prices listed are valid at the time of writing but can change at any time. Click the link to see the very latest pricing for the best deal.
United States: The Intel i7-4790K retails for $329.99 at Amazon.
Canada: The Intel i7-4790K retails for CDN$446.01 at Amazon Canada.
Australia: The Intel i7-4790K retails for $470.99 AUD at Mighty Ape Australia.
New Zealand: The Intel i7-4790K retails for $499.99 NZD at Mighty Ape NZ.
Intel 4790K LGA1150 CPU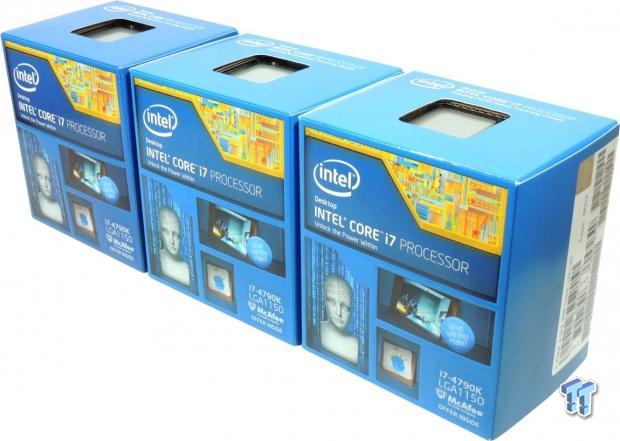 Today, we're looking at three Intel 4790K processors with an S-spec of SR219, C0 stepping. To ensure our overclocking results are relevant to your overclocking endeavors, we decided to invest in three retail CPUs to get a good idea of the overclocking ability of these new CPUs. We purchased them from two different Microcenter locations, but we still ended up with two from the same batch.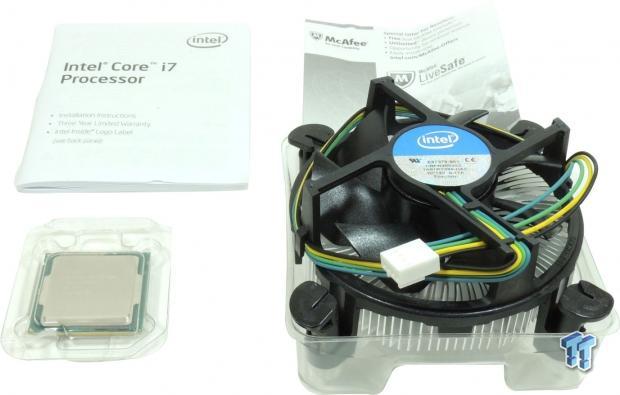 The contents of the package include a 4790K CPU, Intel box heat sink cooler, manual with sticker, and a promotion from McAfee (now an Intel company).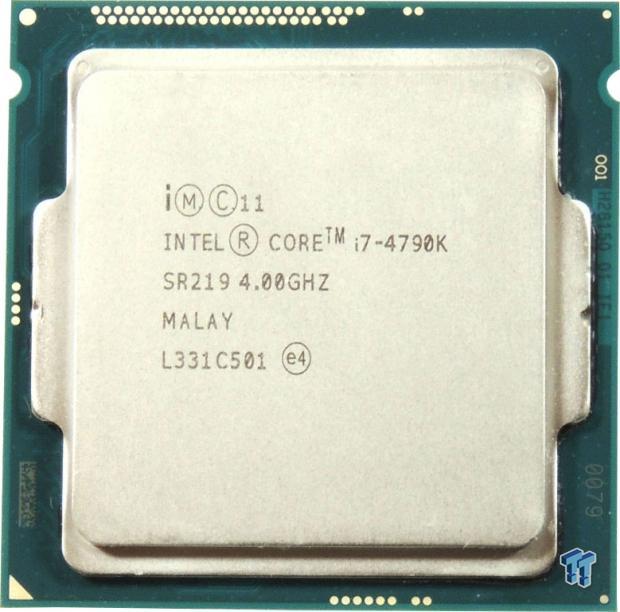 Intel teased that the 4790K would have improved thermal interface material (TIM) compared to the 4770K. Rumors were that the CPU die would be soldered to the integrated heat spreader (IHS), but the lack of a hole in the HIS, which Intel uses for die expansion/contraction as seen on LGA2011 CPUs, is absent. This means that they have either improved the paste itself or improved the contact between the die and the HIS. Either way, temperatures do seem to be cooler overall compared to the 4770Ks we have tested.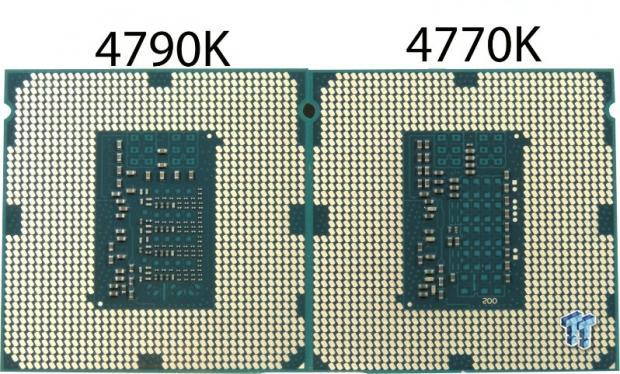 Intel has also added extra capacitors to the 4790K, possibly to stabilize the use of higher voltages needed for higher Turbo ratios.
Test System Setup
Desktop Test System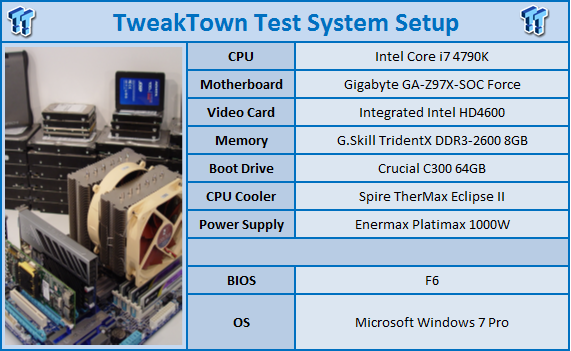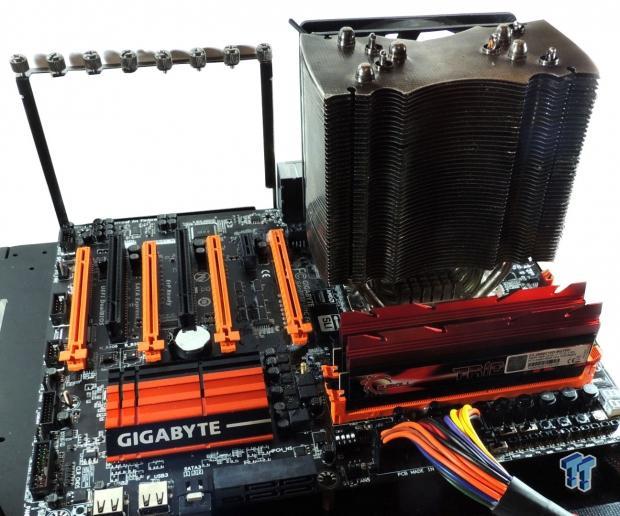 For this testing, we used a performance air cooler, the Eclipse II, along with a 110CFM fan at full speed. While this setup is noisy, it provides pretty good cooling performance that is in line with AIO water-cooling units. This article only focuses on CPU performance; the memory we used was only overclocked to 2000MHz, far away from its 2600MHz XMP profile. The motherboard, a GIGABYTE GA-Z97X-SOC Force, was flashed with its latest final BIOS (F6).
We used three 4790Ks with the following batches:
- 4790K A Batch #L329C241
- 4790K B Batch #L329C241
- 4790K C Batch #L331C501
The first character in the batch number, the L, means that the CPUs are from Malaysia. The next digit designates the year the CPU was made, in this case all three are from 2013. The next two digits designate the week number. The rest of the batch number is the lot.
GIGABYTE Z97X SOC Force BIOS Settings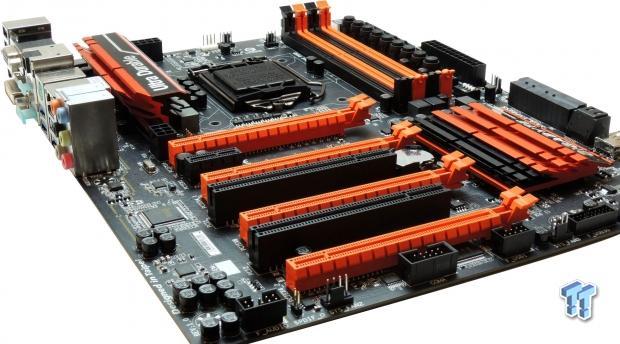 The GIGABYTE GA-Z97X-SOC Force is a board made for overclocking. Here it fulfills our needs just fine. In fact, we aren't even utilizing half of its features, most of which are made for sub-zero overclocking.
Memory and Uncore/Cache are set to 2000MHz and 4.0GHz respectively. Sometimes a BCLK divider of 1.25x was used; in that case, it was still possible to maintain 2000MHz memory and 4.0GHz Uncore/Cache.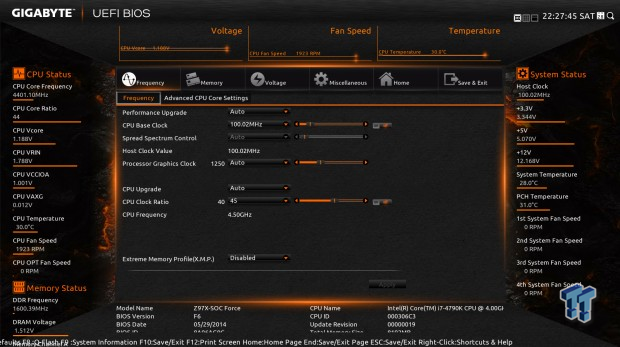 Base Clock (BCLK) is changed to 100.02 to make sure it is at 100 MHz. The CPU Ratio is changed to what is needed. I like to set 45x and then increase or decrease with software or the OC Touch buttons.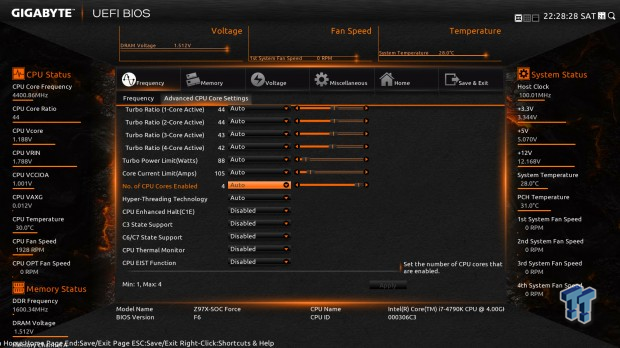 I leave all the Turbo settings on auto and disable all the power saving features. This ensures I run 24/7 with my CPU ratio. This procedure may differ on other motherboards. In this menu, Uncore/Cache ratio is set to 40x to make sure it doesn't impact CPU stability too much.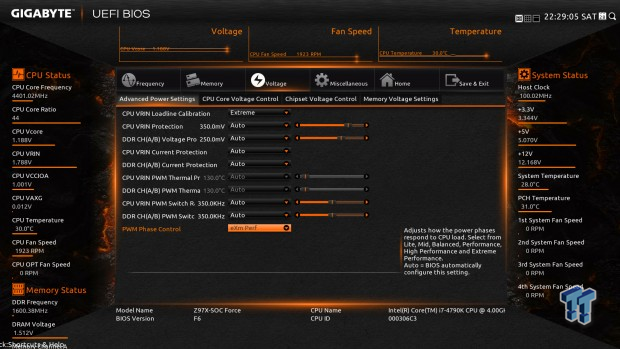 I like to set LLC to Extreme, and I like to set the digital PWM to care about performance more than overall temperature.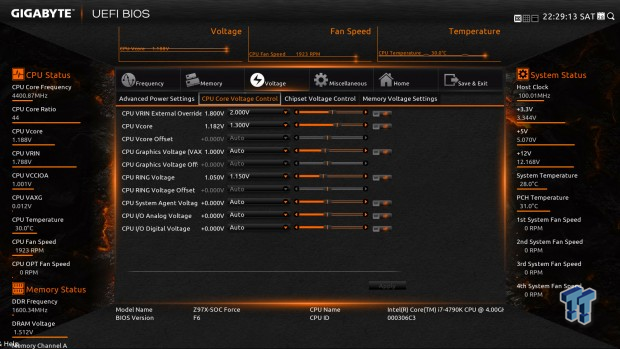 Voltages other than VCore are set like this for boot up, but software in Windows (GTL-GIGABYTE Tweak Launcher) allowed us to make on-the-fly adjustments when needed. We kept the input voltage around 2.0v; for some higher speeds, 2.1v was required for stability (such as our 4.85GHz stability run). An increase in the Uncore/Cache voltage to 1.15v helps stabilize things.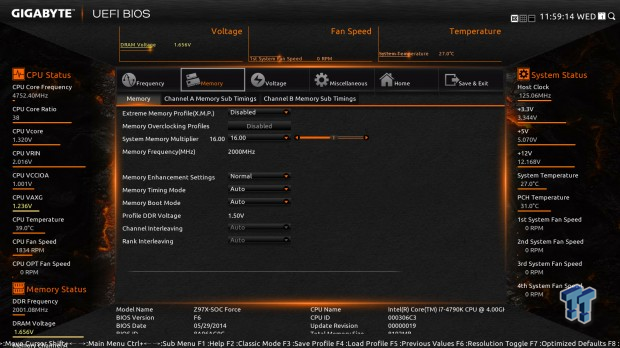 The memory speed above was captured when the 1.25x BCLK divider was engaged, thus a 16x memory multiplier with a 1.25x BCLK divider yields 2000MHz memory speed.
CPU Frequency Testing
Two programs are used for testing maximum CPU frequency: CPU-Z and AIDA64 Extreme Edition.
CPUID CPU-Z
Version and / or Patch Used: 1.69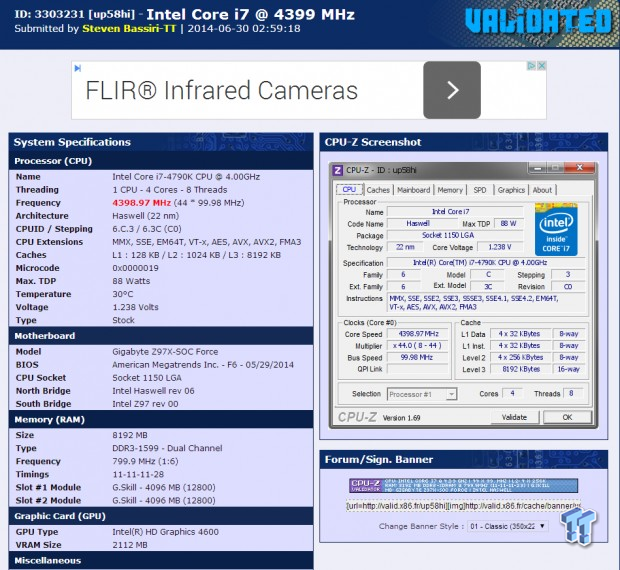 CPU-Z was used for maximum CPU frequency testing, otherwise known as a validation. This is common for world records. When you see a manufacturer claim a 7GHz Haswell overclock, they are referring to a CPU-Z validation.
AIDA64 Extreme Edition
Version and / or Patch Used: Build 3011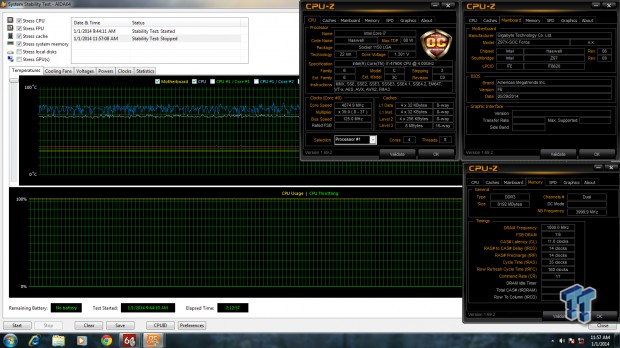 AIDA64 was used for its stability test module; we expanded the amount of RAM used to maximize the stress on the CPU.
Results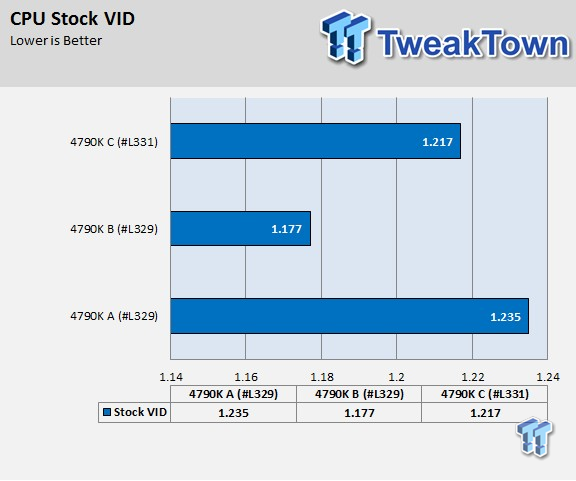 The stock VID is commonly used as a quick way to bin (sort by maximum speed) CPUs. However, our results might shock you: the CPU with the lowest VID was one of the worst performing.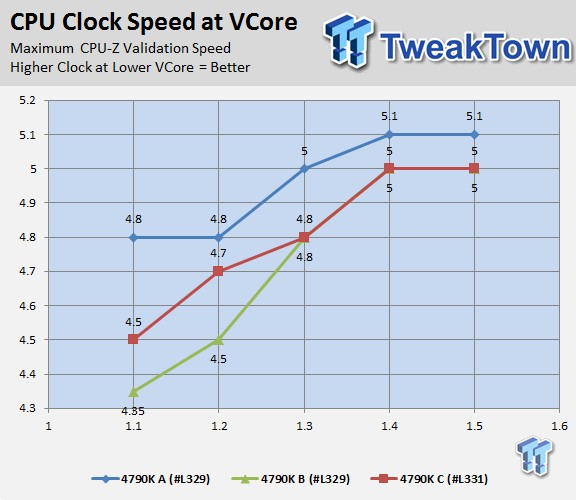 Maximum CPU-Z validations are used all the time for world records, usually as marketing for companies. However, CPU-Z validations do not require more than a single second of stability to attain.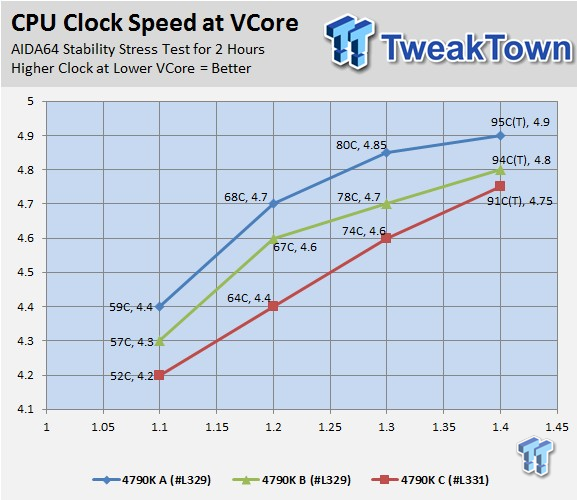 These maximum stable CPU frequency results are quite interesting; overall, we are able to attain 4.6GHz to 4.85GHz stable within an acceptable voltage range. The max load temperature is also listed next to each data point. The 1.4v results almost all throttled a little bit; this is designated by a (T).
Voltage Scaling and Final Thoughts
Voltage and Temperature Scaling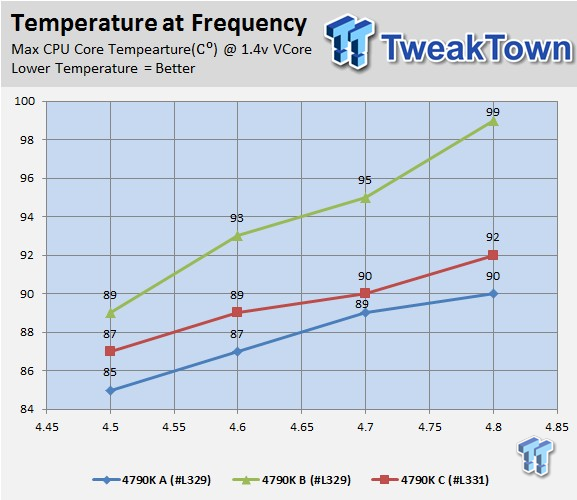 For this test, we set the vCore at 1.4v, apply 100 percent load, and record the maximum temperature at different frequencies. This test tells us how each CPU handles the same voltage and frequency settings; you can notice that 4790K A constantly maintains the lowest temperatures while performing the best in the other tests.
Interestingly enough, the CPU with the lowest stock VID has the highest temperatures by a substantial margin. Stability is not an issue for this test, and it's performed fast. All of our CPUs were able to maintain full load at 4.8GHz for a short period of time.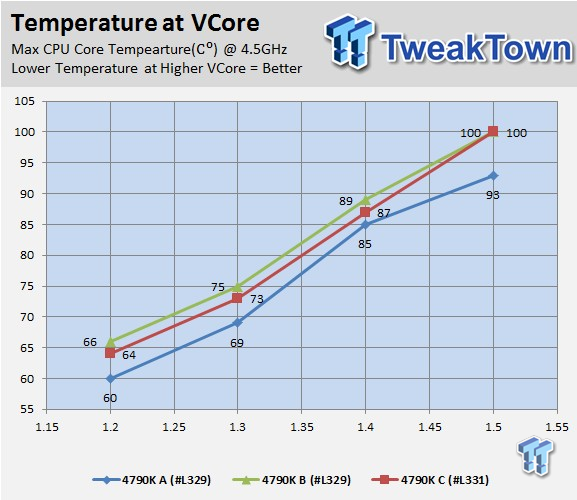 For this test, we lock the CPU frequency at 4.5GHz, and we turn the knob on the vCore from 1.2v to 1.5v while keeping every other setting constant. This test reinforces the results from the previous test.
Final Thoughts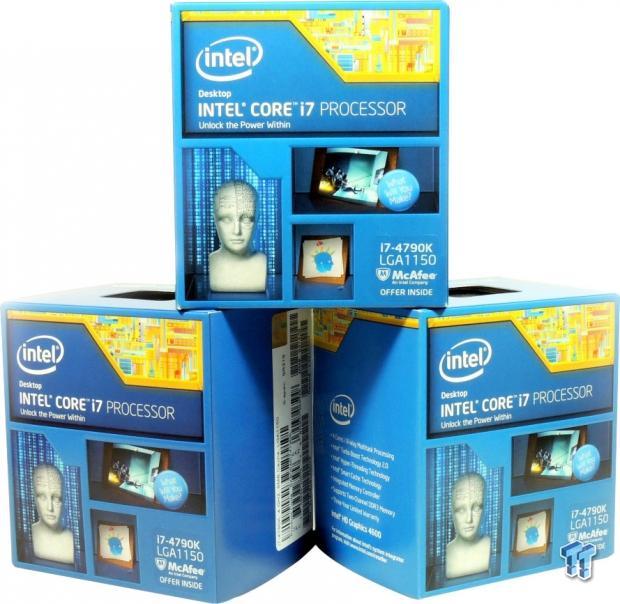 To be honest, overclocking the original 4770K on air was a bit disappointing when compared to previous Sandy Bridge processors. Even maintaining a stable 4.5GHz overclock was challenging for some. However, it is quite easy to see that the new Devil's Canyon 4790K brings great improvements in that regard, even comparable to Sandy Bridge overclocks, but with the performance that comes with the 22nm Haswell node.
The temperatures seen with these CPUs would have been unheard of with the 4770K, unless you were daring enough to de-lid the CPU. With the improvements in temperature comes the ability to pump more voltage into the CPU core, and Intel seems to have anticipated this and nurtured it with a change in the capacitor allotment on the CPU. The two small changes in the TIM and capacitor allotment that Intel made have provided higher overclocking headroom, which is clearly apparent.
Interestingly enough, the stock VID doesn't correlate to maximum CPU speed like we are used to seeing. Perhaps this is because of the binning process and the need to sustain a 4.4 GHz overclock. Perhaps some CPUs exceeded their TDP threshold and required a lower stock VID to compensate and keep the CPU within the proper TDP limits. Either way, lower VID seemed to mean higher temperatures; at the same time, maximum clocks were not directly related to having a low VID. While our sample size of three CPUs is quite small to draw any conclusive results, it is enough to show us that the batch number really doesn't indicate much.
As Intel improves their yields, this should change, perhaps in time or with another stepping if Intel decides to make one. Overall, the 4790K overclocks pretty well. Our worst sample maxed out at 4.6GHz, and our best maxed at 4.85GHz. While this isn't a huge overclock over the base turbo, it's a very high speed to be operating at, especially compared to the 4770K. All of our CPUs were able to get to 5GHz, but with little stability. However, you can easily improve on this with better cooling. We would say that Intel has provided a viable replacement for the 4770K, one with more overclocking potential, which should make overclocking much more enjoyable for those of us who choose to partake.
PRICING: You can find the Intel i7-4790K for sale below. The prices listed are valid at the time of writing but can change at any time. Click the link to see the very latest pricing for the best deal.
United States: The Intel i7-4790K retails for $329.99 at Amazon.
Canada: The Intel i7-4790K retails for CDN$446.01 at Amazon Canada.
Australia: The Intel i7-4790K retails for $470.99 AUD at Mighty Ape Australia.
New Zealand: The Intel i7-4790K retails for $499.99 NZD at Mighty Ape NZ.