Introduction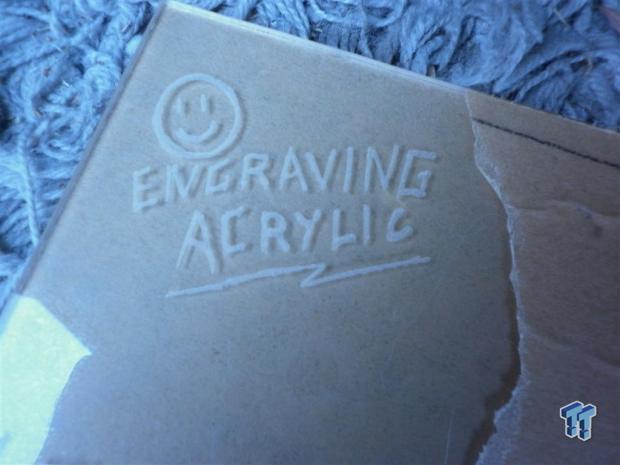 For as long as anyone can remember, humans have been carving and engraving wood, stone and other materials to express a range of different life or historical events.
In primitive times caves were carved to keep track of seasons or to tell tales of successful hunts. In World War II the infamous "Kilroy was here" started appearing in occupied territories etched and scrawled into fences and houses, and more recently your name on your high school desk out of boredom in those never ending classes.
Anyone who has watched the Flintstones will immediately think of prehistoric birds chiselling letters into stone tablets, but no matter what the application is, it is undeniable that engraving and carving is one of those mediums that truly has lasted the stretch of time.
With all this in mind let's take a look into how we can apply this timeless "art form" into our own modern day use, that being etching/engraving acrylic sheets and panels for PC modding.
Tools and Preparation
To get underway with our engraving we need a few tools and materials. Let's begin with the acrylic sheet itself.
Probably the most obvious starting point would be with the acrylic panel. For my etching I am using a clear 3mm thick sheet, which is perfect for window panels, although colour and thickness is completely up to your own personal needs. Prices can vary massively from store to store so I suggest shopping around, as I have found sheet prices in my area can vary from $10 up to around $35 for the exact same size and quality piece.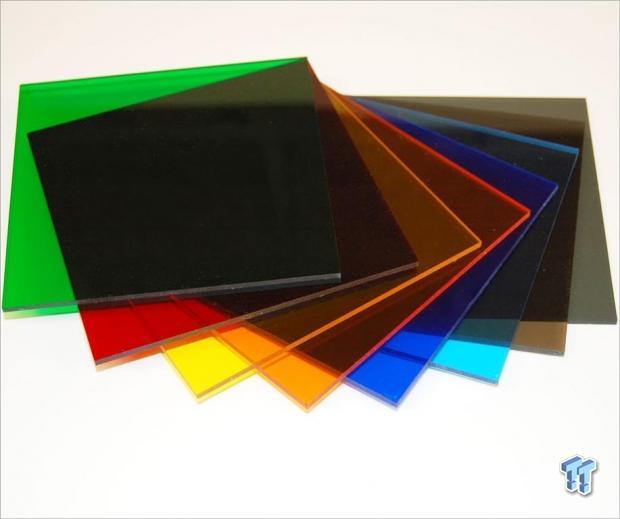 The other vital component for this project is a rotary tool. If you don't already have one, they can be purchased for as little as $30 from most hardware stores and really are a great investment. I can guarantee you will use it over and over again - they are a very versatile little tool. At the moment I am using a mid-range Ozito rotary tool, which is a lot better than the more expensive "brand" name one I was using.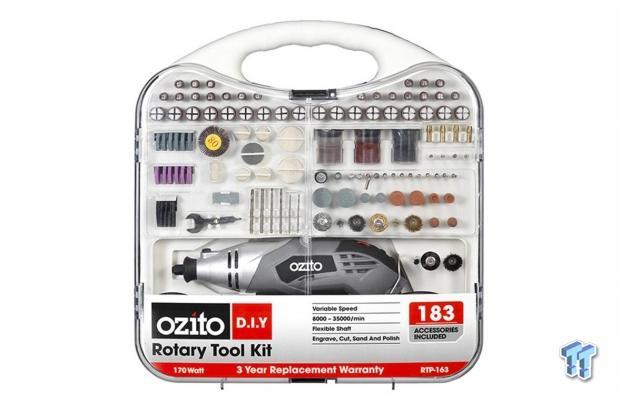 If you have a rotary tool flex shaft attachment I would also recommend using it especially when doing more complicated or larger etching projects. These extensions are a lot lighter and easier to manoeuvre than the rotary tool itself, saving you a serious case of dead wrist, after a few hours of engraving.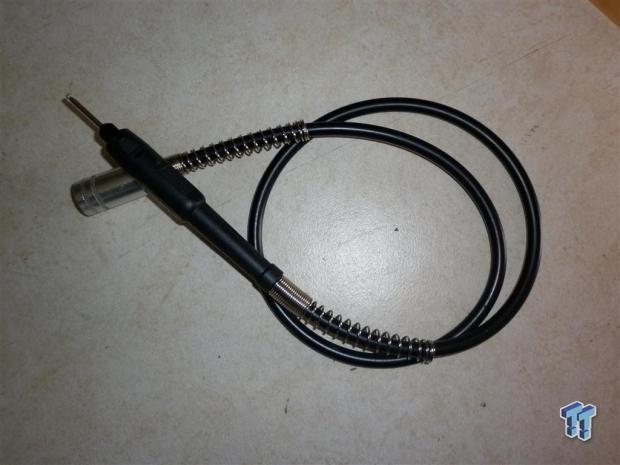 Next up we need some engraving bits. Fortunately when I bought my last rotary tool it had a full accessory kit, including the bits used for engraving. The main engraving bits that I use are the small round head type, specifically the "Dremel" branded engraving/cutter bits #105, #106, #107 and #109.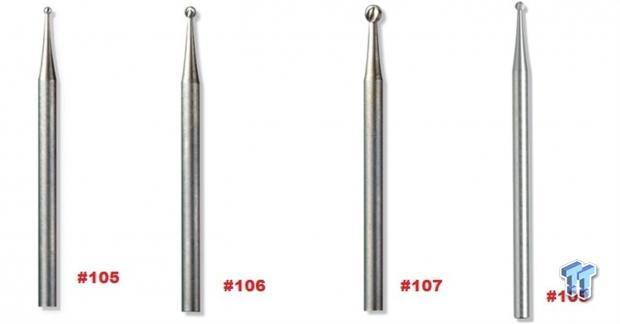 The last few items on the list are usually easily found around the house. Find some soft clean cloth to place over your working area to save your acrylic from scratches and another to clean away debris. It is also very important to have an extremely well lit area. I like to use one of my sheds work lamps as it floods the whole area with nice clean white halogen light.
Again keeping in mind how easily acrylic scratches, remove any jewellery or abrasive clothing (buttons mess acrylic up real good). Finally don't forget your safety glasses, the last thing anyone needs is a hot piece of sharp acrylic flicking into your eye!
Outline
One key thing to note before hacking into your acrylic like some sort of twisted modding Picasso is that all of the etching will be applied to the inside of the panel. This means that whatever design you choose will have to be printed or sketched in reverse, so don't forget to "flip" the design before printing. I have decided on the Tweak Town "TT" logo and my screen name for my panel and as you can see the print out has been flipped ready for application to the front of the acrylic sheet.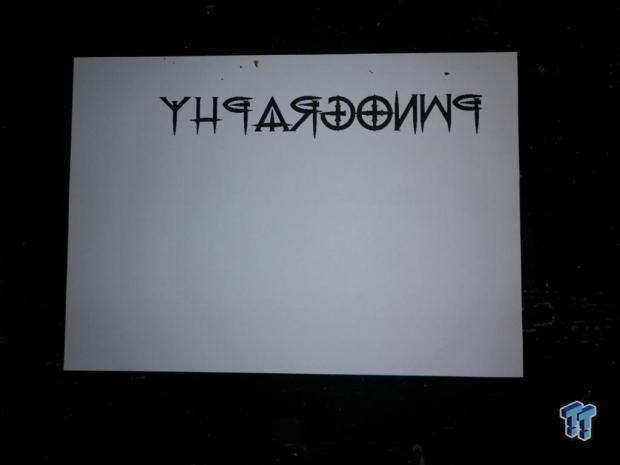 Use this chance to also check that the overlap of the acrylic and your case is not going to obscure or chop off any of your design. I usually mark exactly where the edge of my case is on the acrylic and work from there.
[img]7[img]
Once the logo is printed, I use a piece of tape to attach the design to the acrylic. The reason I only tape the one edge down is so I can easily flip the design away from the sheet to check on the progress without having to remove the whole design, hence potentially risking alignment when reapplying.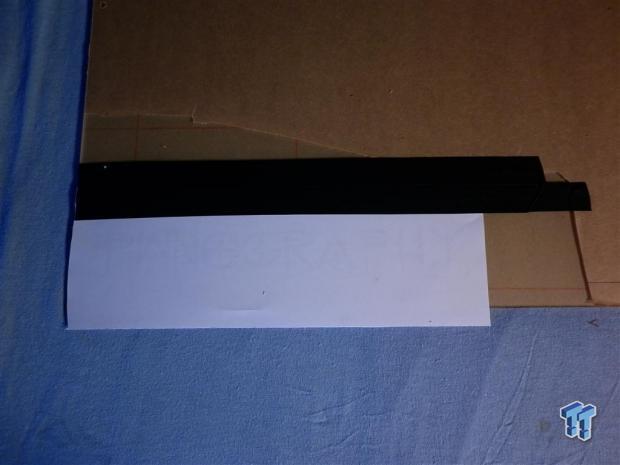 With the design secured, place your acrylic face down on your soft material, making sure that everything is in the right position and is adequately lit up enough to easily see the "stencil" clearly beneath the sheet.
We finally reach the time to actually put engraver to acrylic - don't panic, it is a very straight forward procedure, which is kind of similar to tracing a picture on paper. Like always, if you are unsure, try experimenting with some acrylic offcuts first before jumping into the main event. Set the rotary tool to a low speed - I like to set the tool to speed two for lining out and slow it back down to speed one for shading in.
Starting with the smaller #105 bit, concentrate on doing short, shallow and precise lines. These lines will create a guideline to work from so try to stick to the original as closely as possible. As they say, the devil is in the details.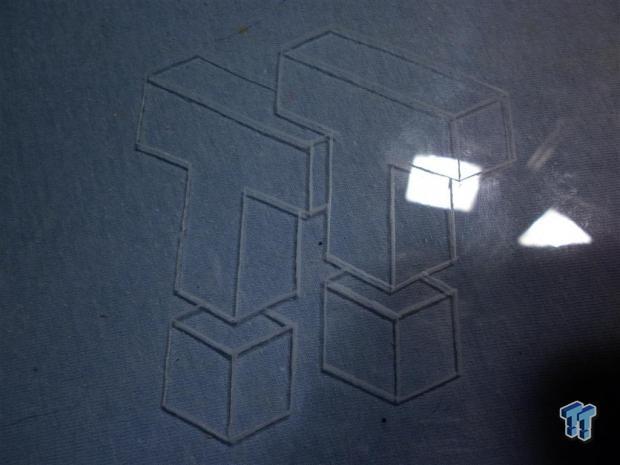 Slowly work your way around the design, stopping to clean the shavings and checking line work or alignment whenever necessary. Working on a slow speed is very important - if the tool is on a higher setting, it will melt the acrylic or leave an uneven finish, which is difficult to redeem. Try to work looking directly down on the piece, looking at the stencil on an angle tends to blow out the lines through the spectrum of the acrylic.
The depth of the engraving doesn't really matter as long as it is even. Although shallow shading and lines will leave the option of deeper highlighting lines later, this is especially helpful when doing more complicated designs.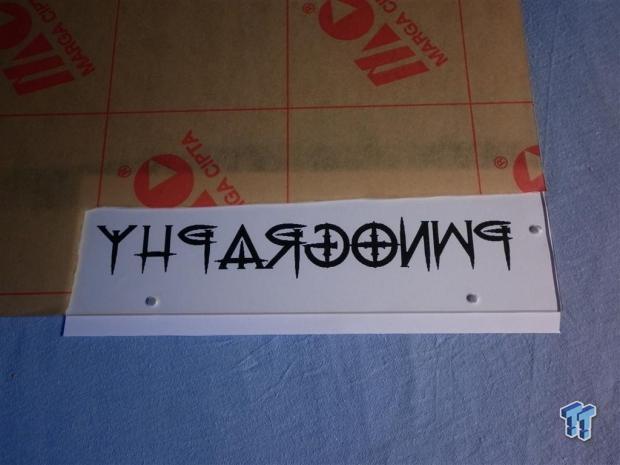 It is also really important to try to be gentle when wiping away the debris, as even these shavings can damage the surrounding work areas.
Shading and Final Thoughts
Shading
After establishing your guidelines, it's time to start shading in. For the TweakTown logo I am going to just shade in the front face of the design. For the initial shading I set the rotary tool down to the lowest speed and worked from the left edge to the right edge fairly lightly at first, which of course would be reversed for left handers.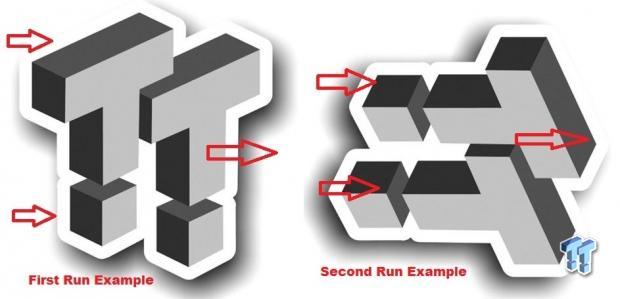 After reaching the far side, turn the piece 90 degrees and go over the shaded areas again, only this time we will be working across the piece from the opposite angle. Following this pattern means all the sections, except for the very edges, have been gone over twice. Carefully wipe away the debris and decide whether another once over is needed to thicken the highlights up. Once satisfied with the larger areas, we can now slowly shade our way into any sharp corners or remaining un-etched areas.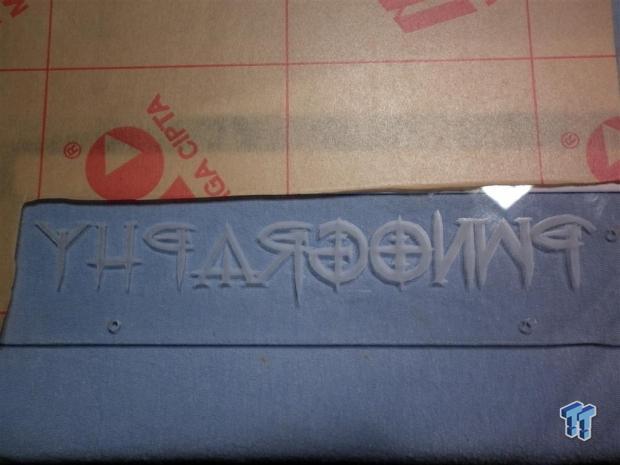 After satisfied with the shading, we can go back and make the outlines a bit bolder and add some thicker highlighting lines.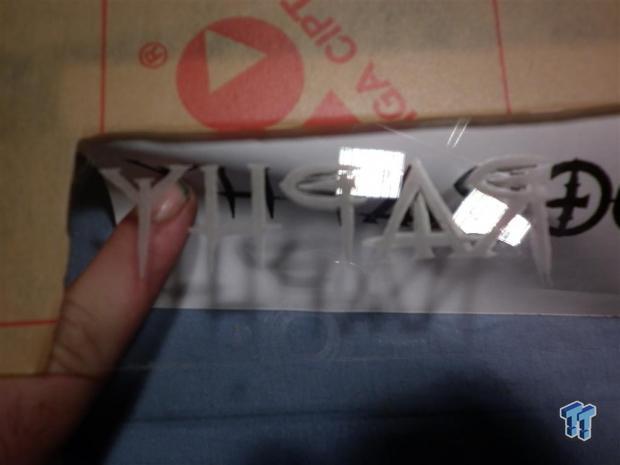 Shading in will take time so take a break, if need be grab a bite to eat, or play some Battlefield 3 - patience is the key, so don't rush no matter what! Once the etching is finished, give the acrylic a good polish with some soft material to remove any fingerprints or scuff marks, and admire your own handy work.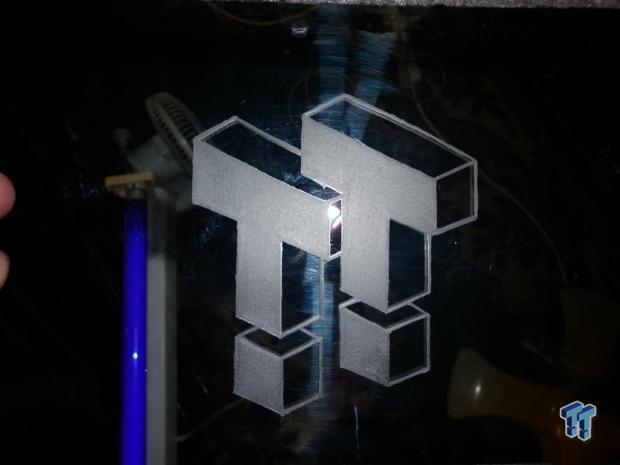 Final Thoughts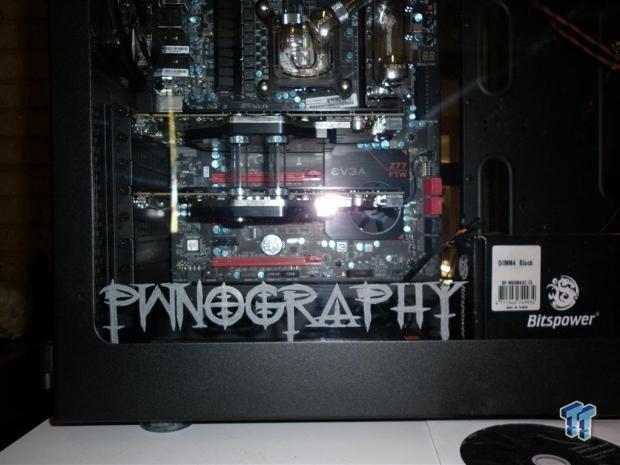 Engraving can be used for a huge array of projects and is not only limited to clear acrylic windows. Give it a try on some coloured acrylic or maybe with a combination using Di-Noc vinyl to make a custom name plate. For an even more stunning finish, the addition of some UV LEDs or CCFL lighting will really make your engraving come to life.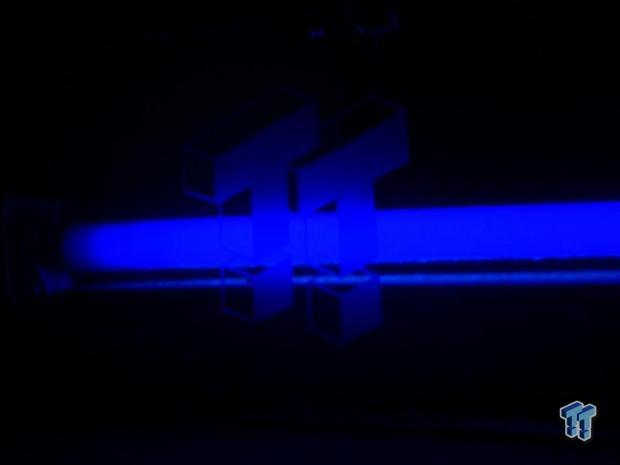 Window etching is an excellent way to add another layer of personalization to your pre-existing or newly installed case window, with endless possibilities from massive full panel battle scenes to screen names or company logos.
Why not unleash your artistic side and give it a try?