2006 Holiday Shopping Guide: Building a high-end Gaming PC!
Want to build a high-end gaming PC these holidays? We provide a guide on the best parts and components to use!

Published Dec 11, 2006 11:00 PM CST
|
Updated Tue, Nov 3 2020 7:04 PM CST
11 minute read time
Introduction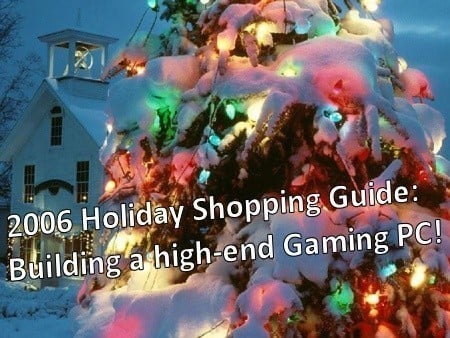 Christmas and New Year holidays... this is the season to be jolly, they say. We say it's a time to ignore your budget and go out and build yourself a kick-ass new high-end gaming PC. Besides eating too much and avoiding confrontations with your family, what else will you do during the holidays? Play games and try and make your fast PC even faster!
In this guide we will provide computer component recommendations for building a high-end gaming PC these holidays. It won't be an ultra extreme beast as found in our "Slayer" system in our System Builders Guide section but it will still pack a bunch without sending you broke for the next year or more.
We are going to cover all the bits inside your case and some of the main parts outside of it such as mouse, keyboard, speakers and monitor. A lot of the parts which we will recommend are actually used by the editors here at TweakTown and we give them our personal seal of approval. They'll be no cheap parts in this system, so performance is going to be really good. That means the system will not be cheap but our aim is to build a beastie system which will not cost an absolute fortune.
Please note throughout the guide that we will be using our shopping.com code which provides the best prices on the hardware used to build the 2006 Holiday high-end PC. We receive revenue for every click - if you want to support our website and our advertisers, use the URL links to the retailer websites throughout the guide.
Let's get started - we'll begin with the brain of the beast and then work our way outside of the system to the keyboard, mouse and so on. Don't be bored this holiday season, read our guide and build yourself a new high-end gaming PC!
Inside Parts (CPU, Mobo, RAM and VGA)
High-end PC - Inside Parts (CPU, Mobo, RAM and VGA)
We'll start with the inside components and then work our way to the outside of the system.
- CPU Selection
Undoubtedly the best gaming processor on the planet at the moment is the Intel Core 2 Duo. AMD had it their way for years with their Athlon 64 series of processors but after some serious head butting of the engineers at Intel, they have worked their way back to the top and their latest Socket 775 CPU beats AMD's best offerings.
We choose the Core 2 E6700 processor because the higher-end X6800 Extreme is priced a lot more and really only offers a small performance increase - and we haven't seen too much of the QX6700 Quad Core yet. During your holidays, you are going to have time for overclocking your new gaming PC and it's not hard at all to reach an FSB of 300MHz on most Socket 775 and then you're already sitting at 3GHz and already a little faster than the more expensive X6800 Extreme CPU. We'll be recommending parts that have no issues with overclocking, so don't fear and give it a go!
And while you could just use the standard CPU cooling fan which comes with your new Core 2 Duo processor, where is the fun in that? We have selected the Zalman Fatal1ty FS-C77 CPU cooler as it offers very good air cooling abilities and will aid in processor overclocking, if that is something you choose to do.
- Motherboard Selection
You will need a kick-ass motherboard to go along with your Core 2 Duo processor. In the Socket 775 motherboard market there are plenty of great choices around, especially boards using Intel's 975X and P965 chipsets. Although, nVidia recently come back into the chipset market with a big hit, the nForce 680i chipset.
nForce 680i based motherboards are packed full of great features, performance is as good as 975X and in cases sometimes better and overclocking is brilliant - nVidia even made this chipset with overclockers and tweakers in mind! You can even adjust your DDR-2 memory speed independent of the CPU FSB clock speed which means your RAM will be running as fast as possible.
Right now there are several choices for nForce 680i boards but some are still hard to find. ASUS recently come out with their Striker Extreme motherboard which offers huge OC but it's equally uber expensive. For that reason we are recommending the eVGA board which has a more respectable price tag but still manages to please overclockers. In our review of the board, we managed to get the CPU FSB all the way up to almost 500MHz.
- DDR-2 Memory Selection
When it comes to choosing high-end memory which enjoys overclocking, there are quite a few choices - Corsair, Mushkin, G.Skill, TEAM and Super Talent (for example) all offer high quality memory. We have chosen the OCZ PC2-8500 SLI-Ready Edition Dual Channel 2GB kit as it matches the rest of our system parts and they will work well together in our opinion.
This memory kit includes the nVidia Enhanced Performance Profiles (EPP) which will optimize the memory performance on the eVGA nForce 680i motherboard by fine tuning the settings. The memory is able to run at 1066MHz DDR with its EPP timings of 5-5-5-15 but you'll be able to push the RAM even further since the 680i chipset allows for unlinked memory and FSB bus speed overclocking.
The memory is by no means cheap but this is one part of the system where we do not want to be cheap especially if you're looking at pushing your system to the max. OCZ recently released their PC-9200 FlexXLC water cooling memory but that is too expensive and makes our system too expensive.
- Graphics Card Selection
Next up on the list is the graphics card selection and although it would seem like we are favoring nVidia over other companies that is only because nVidia have the best products out for building a high-end gaming PC at the moment.
We have selected the brand new PCI Express based XFX GeForce 8800GTS graphics card with 640MB memory for several reasons. For one, it has DX10 hardware support and that means it is going to last you for some time and you'll be able to play future games like Crysis and UT2007, in all their glory. Performance is very good and while the price tag is expensive, it's still about $200 USD cheaper than its bigger brother, the GeForce 8800GTX. If you're into overclocking, you'll be able to push the GeForce 8800GTS very far and you should be able to reach near-GTX performance at a lower price.
While we would love a couple of GeForce 8800GTS cards in SLI dual graphics mode but that will end up costing you close to $1000 USD - you can always buy a second card later anyway. Don't get us wrong though, a single GeForce 8800GTS is going to offer kick-ass performance for your new holiday gaming rig even when you run a high resolution such as 1920 x 1200 and a high level graphics quality and AA and AF settings all turned on.
Inside Parts (PSU, Storage and Sound Card)
High-end PC - Inside Parts (PSU, Storage and Sound Card)- Power Supply Unit Selection
Much like memory, when it comes to selecting a power supply, you can no longer choose a no name cheap unit - those days are long gone! If you want to push your system to the extreme, you need a solid and clean supply of power coming into your components. Again, there are a bunch of companies such as OCZ, Seasonic, Tagan, ThermalTake and others that make really good power supplies by our choice here is the Corsair HX 620-watt modular power supply.
It supports the latest ATX12V v2.2 and EPS12V 2.91 standards and is backwards compatible with ATX12V 2.01 systems. Best of all though, it is nVidia SLI certified which means it will work just fine with our selected components in this guide and naturally running SLI dual graphics won't be an issue.
Besides impressing our editors here at TweakTown in terms of performance, usability is also very good with a modular design which allows you to only use the cables you need, which goes a long way to improving airflow within the case.
- Hard Drive, Optical Drive and Pen Drive Selection
Since we are building a high-end gaming PC and we are not working with mission critical data, we are going to setup a RAID 0 array for performance using the SATA-2 ports on the eVGA motherboard. Keep in mind though that if your RAID 0 array fails (say if one of the drives in the RAID decides to die), you will lose all your data and it's very hard to get back. You should always backup important data but it's even more important when running a RAID 0 array, which has zero redundancy.
We are selecting a couple of Seagate 7200.10 320GB SATA-II hard drives. There are other hard drives out there such as Western Digital's Raptor X which offer better performance but they are really over-priced and don't offer much value for money at all. Right now, Seagate are aggressively pricing their 320GB drives and a couple of them will only cost you around $200 USD, which is brilliant value. We have tested these drives in RAID 0 in our labs on a Gigabyte P965-DQ6 motherboard and managed to break 400MB/s burst speed in HDTach, so performance is great and price is even better. And you get 5 years of warranty to boot!
As far as optical drives go, there are so many choices. When it comes to DVD-RW burners, most drives offer the same features, so really it comes down to brand and price. We picked the Pioneer DVR-111D DVD±RW Dual Layer burner because we've had good experience with the Pioneer brand in the past. As well as that, it's cheap and is able to read and burn just about all optical media besides HD disks. While we would love an internal HD-DVD drive, they are simply not enough of them at the moment and the price is ridiculously expensive - unless you buy an Xbox 360 HD-DVD drive and connect it via USB, which is always an option.
The last item on the list when it comes to storage is a USB pen drive. While obviously not a requirement for a gaming PC, it's always good to have some portable storage on hand.
We recently tested a whole bunch of different USB 2.0 pen drives and found the Crucial Gizmo! overdrive to offer the best performance of them all. It's cheap, looks great, build quality is excellent and read and write speeds are the best we've ever seen. You can't go wrong!
- Sound Card Selection
These days, onboard sound on motherboards has improved vastly, since Intel decided that HD Audio was a good idea. Since we are building a gaming PC, we want an add-on sound card which will offer all the 3D audio features such as AC3, DTS-ES, Dolby Digital EX, ASIO 2 and EAX along with great sound quality.
The X-Fi Platinum is not the most expensive sound card from Creative but it manages to impress with its high quality audio reproduction, drive bay panel and remote control which will make a good addition to your new gaming PC.
Outside Parts (Case, LCD, Speakers, etc)
High-end PC - Outside Parts (Case, LCD, Speakers, Keyboard and Mouse)- Computer Case Selection
Now that we have chosen all of the parts to go inside the system, it's time to find a good case which will give them a home.
Again there is a great magnitude of computer cases on the market but again we are recommending a product which we actually use and find to be a good product. I've personally be a long time fan of Lian Li computer cases but once Gigabyte sent me their new 3D Aurora tower case, I found a new love in the casing department.
While it not only looks good and isn't crazy expensive, it is stacked with features that overclockers and case modders will enjoy. There is a stack of room inside the case, which makes it easier to work with when installing your components. It was also designed with water cooling users in mind, which is great if you want to go down that road later on.
- LCD Monitor Selection
Throughout this guide we've tried using components which we know will work well together and parts that editors at TweakTown actually use and recommend. The Dell UltraSharp 24" is the first LCD monitor I have ever used and it is lovely - the price is not too bad either. Offering a 6ms response time, plenty of input connections (only misses out on HDMI really) and maximum resolution of 1920 x 1200, it is a brilliant monitor for a gaming PC!
While we would love to recommend the 30" version of the monitor, which is simply stunning and drawl-worthy, it is very expensive and will end up making the complete system much more expensive at the end of the day.
- Speaker Selection
Logitech have come out of nowhere over the past few years and have come leaps and bounds ahead with their range of computer related products. Several of our editors at TweakTown use the Logitech Z-5500 speaker system for their gaming systems and HTPC and it's a great choice, indeed.
Besides being visually pleasing to the eye, sound quality is quite good for the price, producing around 70 watts RMS which is fine for a gaming PC. You can really pump up the volume (without any distortion) and get into the action but make sure you live in a place where the neighbors aren't too close or you may find yourself getting into arguments with them about noise complaints (speaking from experience!) Equally, make sure you get wife or girlfriend approval before hand.
- Keyboard and Mouse Selection
As we move onto the keyboard and mouse, there really is only one choice - Logitech!
As for the keyboard, we are picking the G15 as it is simply the best gaming keyboard that money can buy. Since we haven't actually used this product, we'll let Logitech do the talking here: "
The Logitech G15 keyboard offers gamers an unprecedented level of in-game information, programmability and control. Its adjustable-tilt, backlit LCD display shows you crucial information during game play, and lets you set timers to keep track of game events. The 18 programmable G Keys allow you to execute macroslike casting spells in World of Warcraftwith a single button press, and the backlit keys are great for lights-out play. The G15 also features a switch that turns off the 'Windows' key, so hitting that button accidentally won't end your game. The Logitech G15 keyboard is completely customizable to help you play better. Try it and you'll never go back to a standard keyboard."
Simply the best!
Logitech keep making our job easier. When it comes to gaming mice, the best of the best comes from Logitech in the G5 mouse. Many of our editors have been using this mouse for quite some time now and we find it to be the best for not just gaming but general use in your OS.
Again Logitech have designed this product with the PC gamer in mind with the ability to adjust the weight and balance as well as providing extreme accuracy using a 2000 dpi laser that sends 500 USB reports per second. Need we say anymore?
Summary of Components
Now that we have finished recommending the parts and components for our 2006 Holiday high-end Gaming PC, we are ready to summarize what was used and how much it will cost you.
The listed prices are only valid at the time of publishing and may and most likely will change. Prices are listed in US dollars and we chose the lowest price listed on our
shopping price website
and rounded up to the nearest dollar.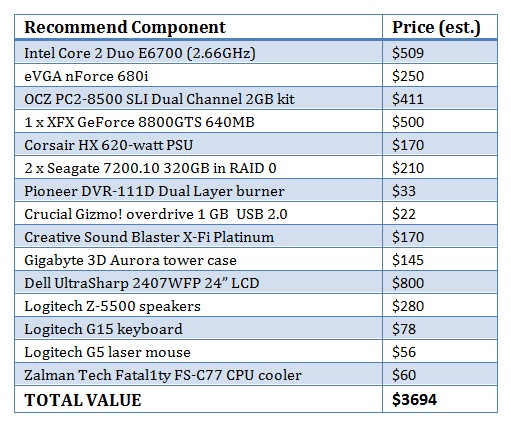 As you can see, the system turned out to be quite expensive coming in at around $3700 USD. Keep in mind though, you haven't just built a box full of fast and future-proof components but you have one of the best gaming LCD monitors around along with other gadgets to improve your gaming experience.
Now we will list direct links to our shopping price comparison website where you can buy the products, if you are interested:
Intel Core 2 Duo E6700
,
eVGA nForce 680i
,
OCZ PC2-8500 SLI-Ready Edition Dual Channel 2GB kit
,
XFX GeForce 8800GTS 640MB
,
Seagate 7200.10 320GB
,
Pioneer DVR-111D DVD±RW Dual Layer burner
,
Crucial Gizmo! overdrive 1 GB USB 2.0
,
Creative Sound Blaster X-Fi Platinum
,
Gigabyte 3D Aurora
,
Dell UltraSharp 2407WFP 24" LCD
,
Logitech Z-5500 speakers
,
Logitech G15 keyboard
,
Logitech G5 laser mouse
and
Zalman Tech Fatal1ty FS-C77 CPU cooler
.
All the best building your new high-end gaming PC over the upcoming holidays!
PRICING: You can find products similar to this one for sale below.

United States: Find other tech and computer products like this over at Amazon.com

United Kingdom: Find other tech and computer products like this over at Amazon.co.uk

Australia: Find other tech and computer products like this over at Amazon.com.au

Canada: Find other tech and computer products like this over at Amazon.ca

Deutschland: Finde andere Technik- und Computerprodukte wie dieses auf Amazon.de
We openly invite the companies who provide us with review samples / who are mentioned or discussed to express their opinion. If any company representative wishes to respond, we will publish the response here. Please contact us if you wish to respond.