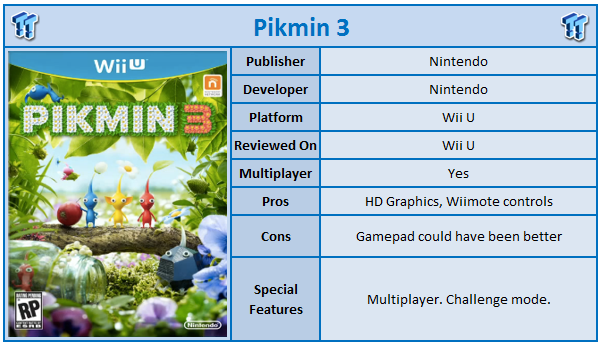 It's fair to say it's been a quiet time of late for the Wii U. No games released recently and Nintendo has been struggling to keep the market happy and the console selling. It was always seen that Nintendo felt Pikmin 3 was going to be a game to turn the tide and get gamers buying the system. It's been clear that Nintendo felt this was a major title for them with numerous Nintendo directors dedicated to the game and Miyamoto being one of the main key designers on the title. Fortunately for Nintendo, this has paid off as the game is fantastic, but it's definitely not for everyone and has a few flaws that are almost hard to believe.
Pikmin 3 takes a step away from the previous two titles with the main protagonist Olimar being replaced by three new characters. These human characters are from a planet which has run out of food and is stranded in space. They are sent as the last real chance to save the human race from starvation and are sent to an island where food has been detected. Little do they know there are many challenges and obstacles to gain that food and it is that which forms the core gameplay of Pikmin 3.
Not much has changed in the gameplay stakes from Pikmin 2, but there are definitely additional challenges to tackle. First of all the change to three characters has been a major positive. This leads you to be able to have three different groups of Pikmin spread over the map to finish tasks. Every so often the game will force you to work in these groups (or at least, it's not possible to finish some levels without doing it) to reinforce the fact that this strategy can be used. Tasks range from bashing down walls, to carrying fruit and defeating boss characters. The other strategy involved is the various Pikmin on offer which have differing abilities, such as the new winged Pikmin.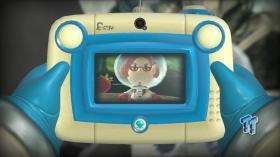 The core gameplay remains three fold; gathering Pikmin, controlling Pikmin, and finding fruit to survive. For those who have not played the previous titles in the series, Pikmin are smaller creatures that the leaders can move around and control with the blow of a whistle. They are a small army you can use to achieve tasks and generally the more you have, the better. Managing Pikmin is the main aim of the game - keeping Pikmin alive. Pikmin you have in control at the end of one day, carries over to the other.
The main challenge with Pikmin 3 is managing time and fruit. Each day has a set time and if you are not controlling Pikmin when the sun goes down, they will perish and so time management, one of the hallmarks of the Pikmin series, makes a return and is key. You will find yourself having some days where you are just consolidating a previous day's work, such as finding fruit or bringing a dead boss back to the ship. It is important to gather fruit, because if you do not, eventually the crew runs out of food, and it is game over.
The biggest surprise we found with Pikmin 3 is the lack of handholding that the game offers the player. The first few hours do feel a bit like a tutorial, but there is nothing like what we have seen in recent Nintendo games. First of all there is no super guide to speak of, and in general, the game opens up on a brand new day and says go for your life.
However, this isn't a major problem, as one of the key aspects of the Pikmin series has always been exploring the game map trying to find new Pikmin, a boss character or new objectives. In many ways this is one of the least casual friendly games Nintendo has released recently, but also a game that should appeal to the casual market. This is why it's a surprise Nintendo decided to leave most of the formula alone.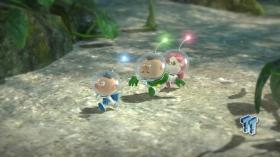 Perhaps the biggest surprise with Pikmin 3 is how much better the game plays with a Wiimote and nunchuk combination. That is not to say that the gamepad is useless - it is not and contains important information (as well as offers the opportunity for off TV play) for the player. However, Pikmin 3 with a Wiimote is an entirely new and different game. It just feels right to play it like this and we are going to go as far as say if you want to play Pikmin 3, you simply should have that combination to play with. Utilizing the gamepad for controls is not as accurate or finite as the Wiimote, and it certainly makes the game a lot more of a challenge.
Aside from the main game mode, there is a single player and multiplayer challenge mode, which tasks you to take down as many enemies as you can in a set time frame, progressively getting harder. The game also has the ability for you to play the main campaign multiplayer as well, however, inexplicably Nintendo has limited the multiplayer options to local only. The game itself should take you around ten hours to complete first time through, and there certainly is room to go back and better your score, because you can jump to any point in the day cycle, at any time.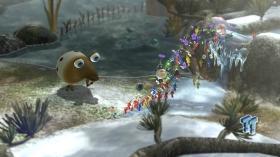 Being one of Nintendo's first big releases on the Wii U and of course the HD era for Nintendo, all eyes were on how well the game was going to look. We can happily report that the game is beautiful to look at and the higher powered Wii U really does take the Pikmin series visually to another level. Pikmin is a universe that offers unique characters and vistas and they really shine on the Wii U. There is also a mode in the game allowing you to take screenshots from the leaders view and again the graphics quality shines through when viewed like this.
Pikmin 3 is Nintendo's big hope to shift Wii U consoles out of stores. There is no doubt that this game is a success, but there is huge doubt that this is the game Nintendo thinks it is going to be. It's a fantastic game for Wii U owners that you simply must play if you have one of the consoles, but whether it is worth picking up a console just to play this game... well, that is debateable.